FTC disclaimer. This post contains affiliate links, and I will be compensated if you purchase through one of my links.
Were you looking for some inspiring volleyball quotes for the sport you love deeply? We got you covered.
Also, find some motivational volleyball quotes for Instagram posts too.
Volleyball is a fantastic sports activity where your overall physical stamina increases, helping you value team spirit, increase the presence of mind, and deeper communication with other players.
Do you know volleyball was earlier referred to as Mintonette and was introduced in the U.S at the beginning of the 19th century?
Volleyball is highly popular in the United States, with many club teams; high schools and universities have regular tournaments.
We hope our volleyball quotes by famous players boost your mood and drive you to succeed in upcoming tournaments.
It is found that professional volleyball players have greater self-confidence, better self-image, and self-worth and live comparatively lesser stressful lives.
Best Volleyball Quotes and Sayings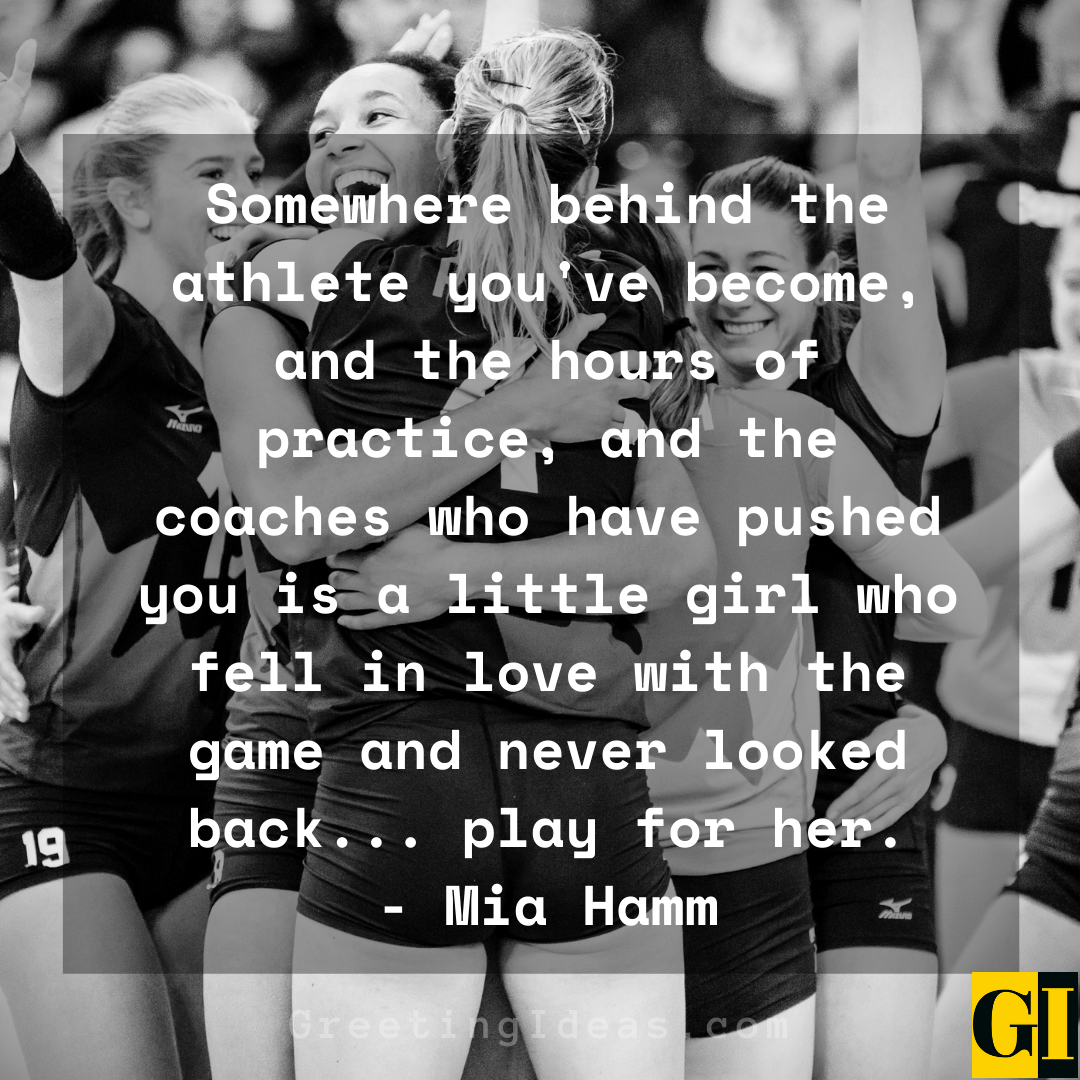 Also Read: 20 Famous and Inspiring Underdog Quotes Sayings in Sports
Volleyball is like going to church. Many attend, but few understand.
– John Kessel
Volleyball: Invented by men, perfected by women.
– Unknown Author
Somewhere behind the athlete you've become, and the hours of practice, and the coaches who have pushed you is a little girl who fell in love with the game and never looked back… play for her.
– Mia Hamm
Volleyball anchored me at a time in my life when I needed it. It gave me a reason for being this big, big girl.
– Gabrielle Reece
You can't just beat a team, you have to leave a lasting impression in their minds so they never want to see you again.
– Mia Hamm
Look past the volleyball (look past the ball). Look past the squawking gull (look past the gull). Ignore the mountain of discarded falderal.
– John Flansburgh; John Linnell
Volleyball is one of the most interactive games going. It is a game of intuition, imagination, improvisation – but most of all, of reciprocity – of teamwork. There is no way to free-lance in volleyball.
– Marv Dunphy
Win Setter Volleyball Quotes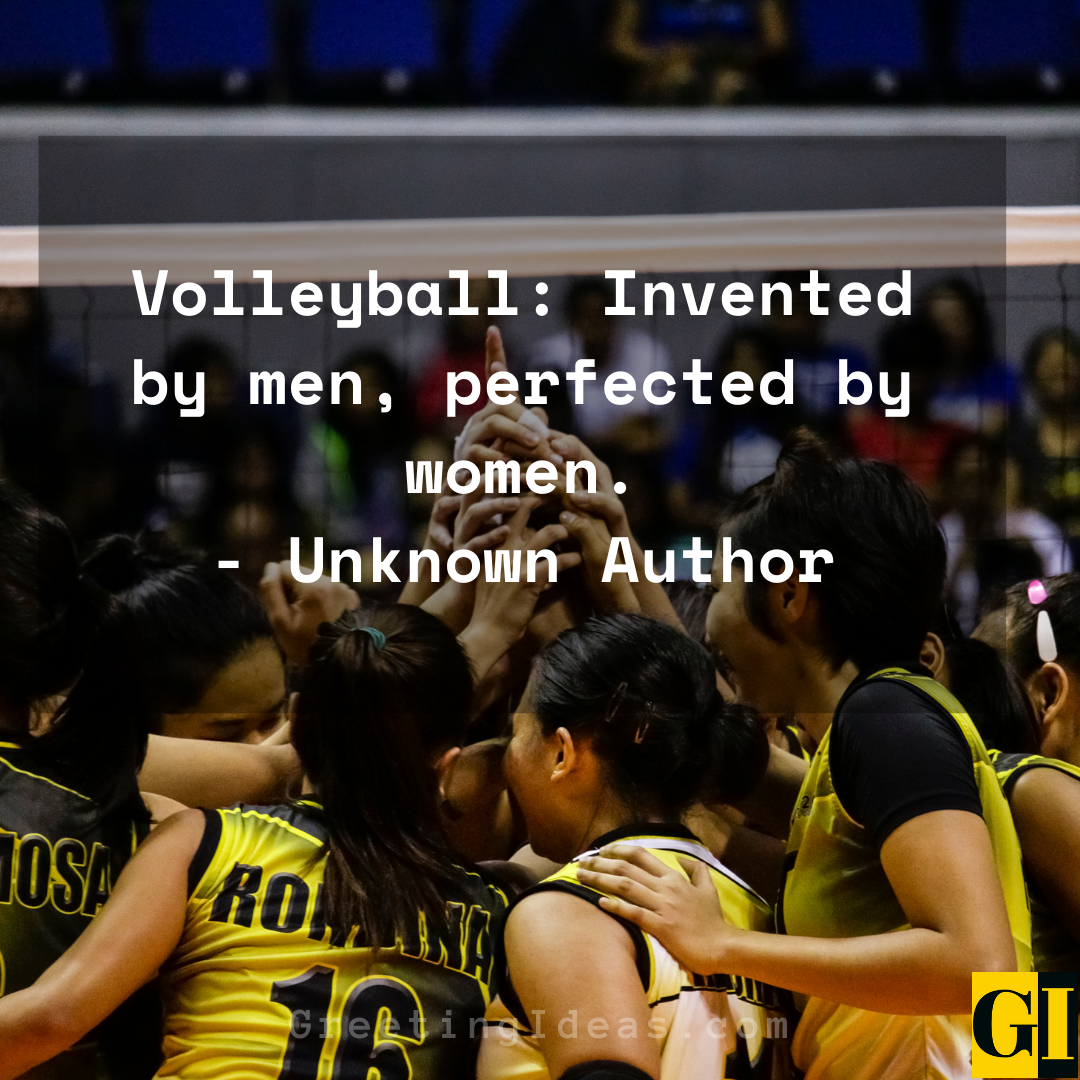 Also Read: 30 Famous Athlete Quotes on Hard Work, Success, and Failure
Volleyball: It's in your heart; or it's in your face.
– Unknown Author
No volleyball play can begin without a serve, and the serve is the only technique that is totally under your control. In other endeavors, you cannot succeed without believing in yourself, and that belief is completely under your control.
– Karch Kiraly
The beach game taught me great lessons about how to elevate the play of my teammate, or teammates, and how to anticipate and expect the ball so much more than the indoor game ever could. It taught me – even forced me – to be a much better-all-around player.
– Karch Kiraly
Volleyball is not just a sport, it's a way to express your anger without hurting someone.
– Unknown Author
It takes a lot of hard work and dedication just like any pro sport. Especially for beach volleyball you don't have to be tall or as fast as other sports. You just have to have the skills.
– Misty May
Kerri and I stay motivated because we hate to lose. What's great about beach volleyball is you can always find something to get better at. I don't think about losing. It could happen. I just go out there and play. I couldn't tell you any numbers or winning streaks. I just go out and do it.
– Misty May
Breathe, believe, and battle. My former coach, Troy Tanner, told us that before each match. Breathe – be in the moment. Believe – have faith that you can rise above it. Battle – you gotta be prepared to go for as long as it takes.
– Kerri Walsh
Short Inspirational Volleyball Quotes and Sayings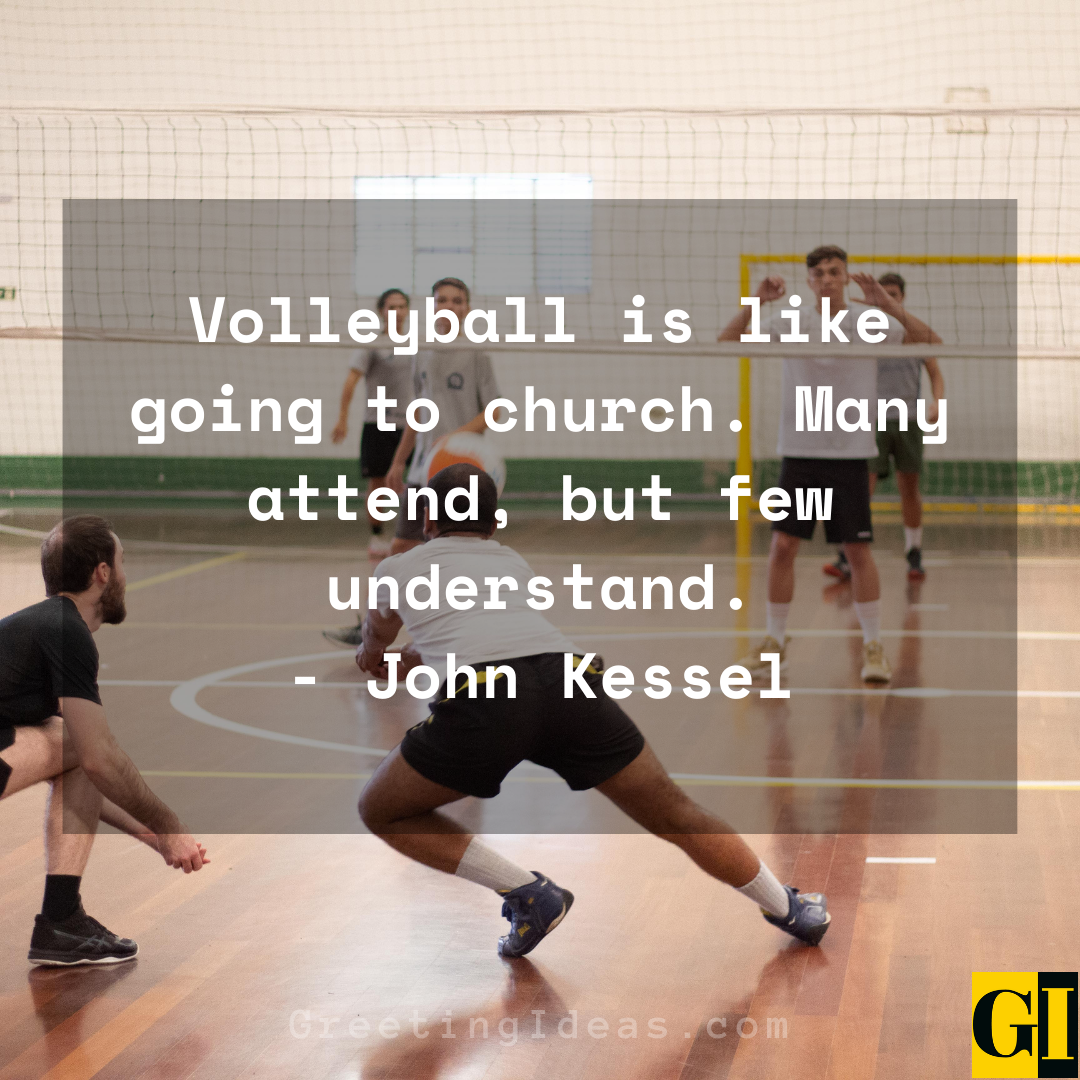 Also Read: 50 Best and Famous Athlete Motivation Quotes and Sayings
Don't ever let the ball hit the ground without a body hitting the ground with it.
– Unknown Author
A good team can win a volleyball game when they are ahead, but only a great team can win when they are behind.
– Unknown Author
There is pressure on every play. You can't make a mistake, but that also means your opponent can't make a mistake. It makes the matches more exciting to watch.
– Holly McPeak
Volleyball is the sport through which I am able to express my God-given talents of being an athlete. It is a sport which involves relating, pushing, and encouraging your teammates.
– David Beard
It was unbelievable. It was so great to work like that and be able to pull it out at the very end. We played so well together, helping each other out at just the right time. We never gave up and it all worked out better than we could have hoped for against such great opposition. We were in one of the toughest matches I've ever played.
– Sarrah Stratton
Sometimes your opponents will try to intimidate you by staring at you before they serve. You can avoid the cold-war tactics by staring at the ball instead of their eyes. It tells the server: Hey, I'm ready for anything you've got – give it to me.
– Karch Kiraly
Volleyball wasn't just a sport, it was a religion.
– Mike Hebert
Uplifting Team Volleyball Quotes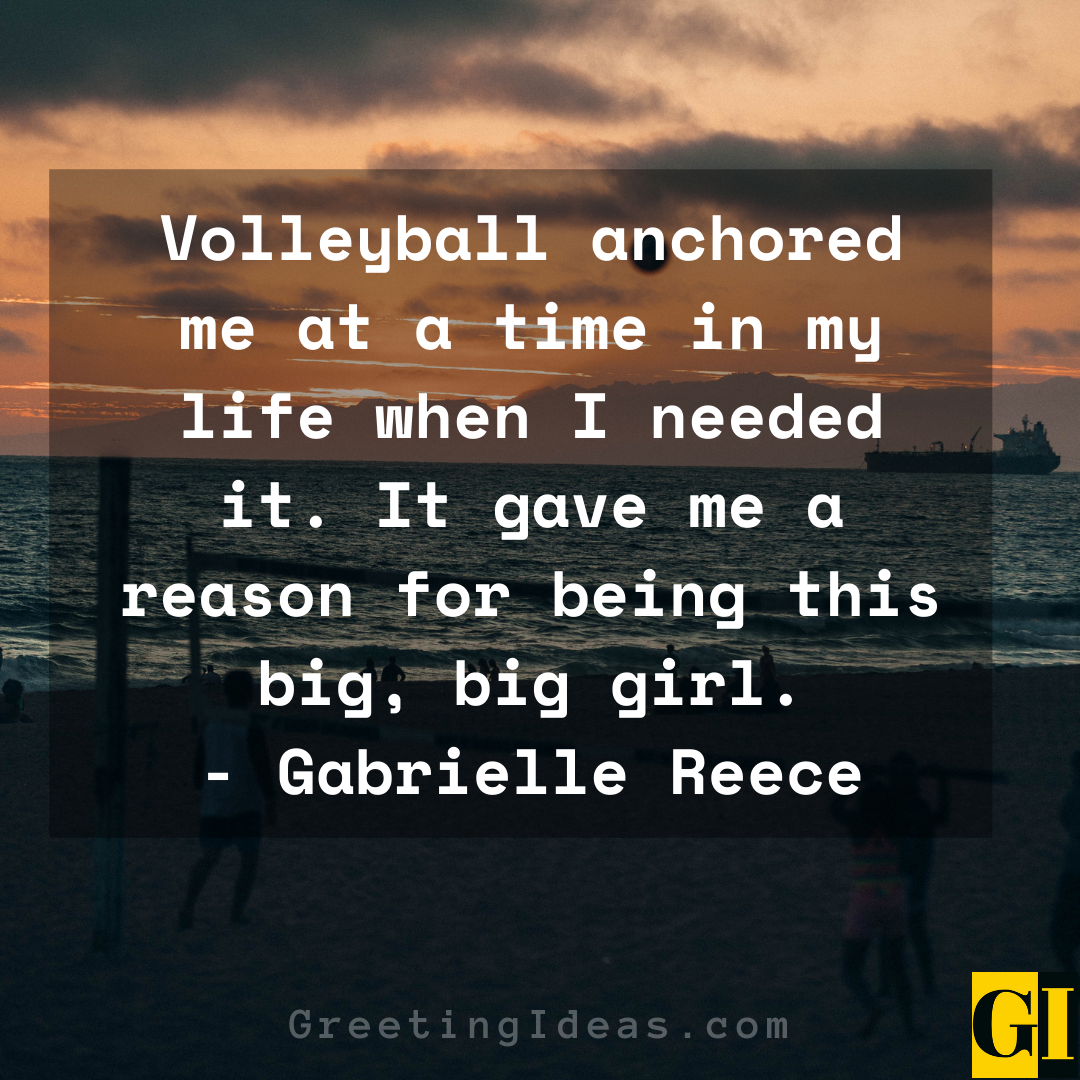 Also Read: 20 Inspiring Anchor Quotes and Saying on Life and Strength
Effective blockers are unquestionably the keystone of a successful defense.
– Don Shondell
I was throwing up volleyballs today, and they were spiking them for kills.
– Erik Hanson
A mere forty years ago, beach volleyball was just beginning. No bureaucrat would have invented it, and that's what freedom is all about.
– Newt Gingrich
Most people think that volleyball is twenty-two people on the beach who quit playing when the the hamburgers are ready.
– Steve Timmons
Men are more likely to get sports injuries than women. Except in three sports—volleyball, bowling, and gymnastics. There, women lead the pack.
– Alicia Alvrez
I'm not that good in the technical skills, but I jump very high, which people like to see.
– Daenan Gyimah
Don't you DARE look down! Volleyball is a sport where you are always looking up!
– Keishin Ukai
Motivational Volleyball Quotes and Sayings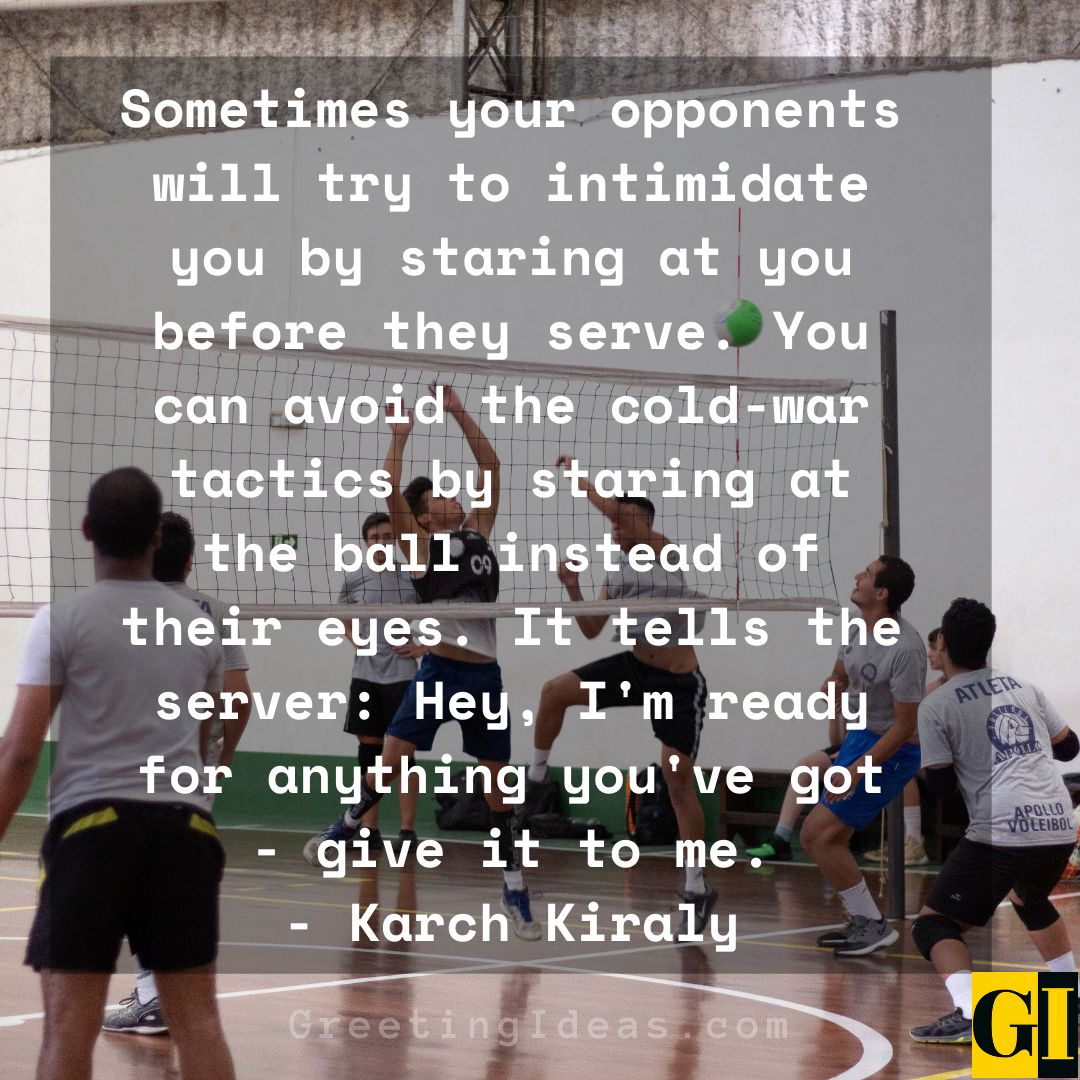 Also Read: 30 Best and Inspiring Hustle Quotes and Sayings for Life
My coach tells me to give about 75% to volleyball. If I give 100%, my serve will kill someone, and my coach doesn't want to deal with the paperwork.
– Unknown Author
Be a leader. A setter should be high energy. It's important that you learn how to give positive, constructive criticism. It's crucial that you make your teammates feel comfortable. You should never be the most silent player in the gym.
– Lindsey Berg
I got the nickname Spitfire for a reason. I burned inside to play volleyball. I loved the competition of it.
– Summer Altice
As some people the fact. That volleyball is done and is enjoyed. When it's hot we spin in water. Like the fact that it goes.
– Stacy's Cousins
Even volleyball is racquet-less team ping pong played with an inflated ball and a raised net while standing on the table.
– George Carlin
I love that our sport is sexy. I think it is appropriately so.
– Kerri Walsh
Volleyball is more than a sport, it's a way of life.
– Unknown Author
Great Volleyball Quotes For Wallpaper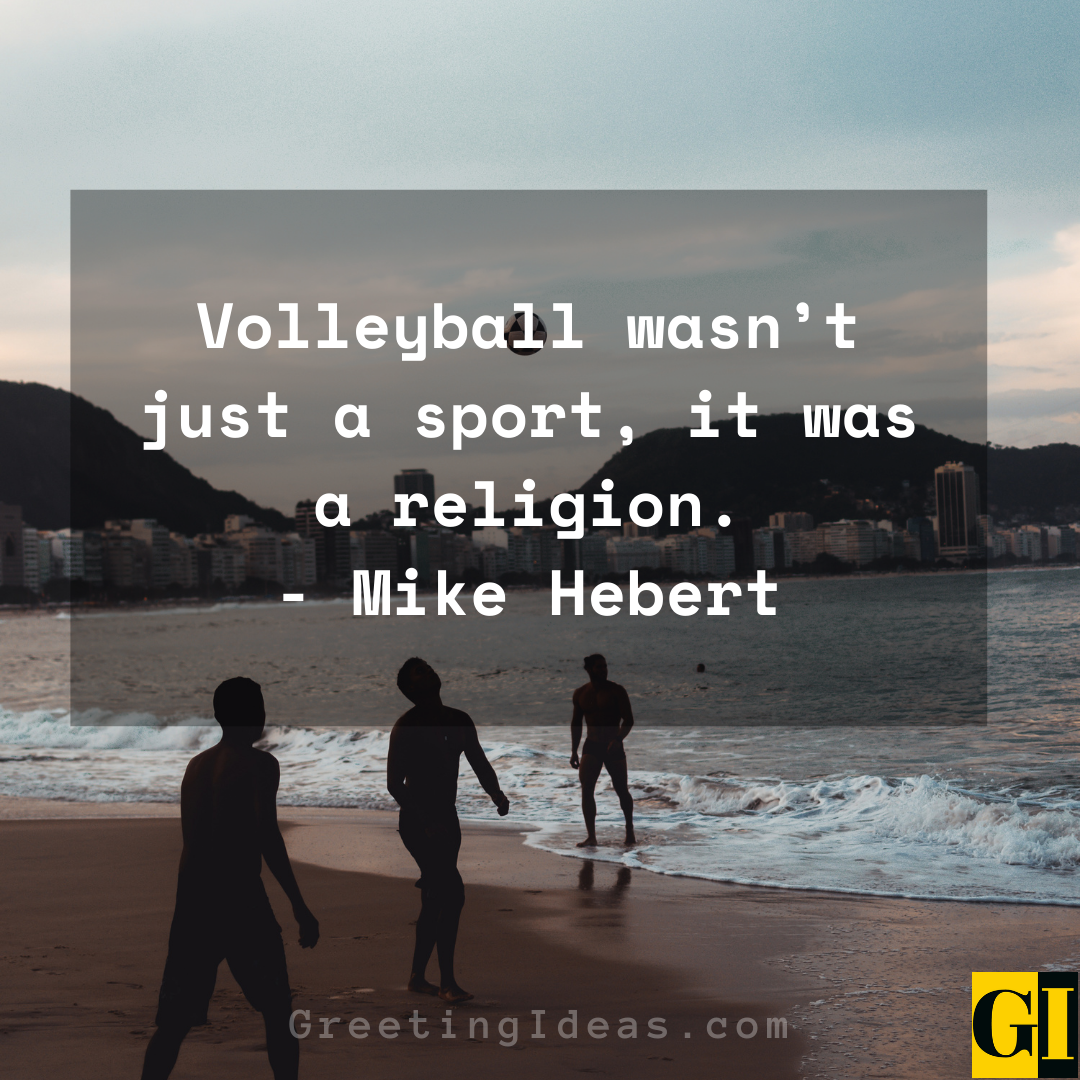 Also Read: 50 Motivational Never Underestimate Quotes and Sayings
Anyone serious about playing indoor, you should play outdoor.
– Sean Scott
Volleyball is my life, everything else is just details.
– Unknown Author
Actions speak louder than coaches.
– Unknown Author
I Miss Playing Volleyball Quotes And Sayings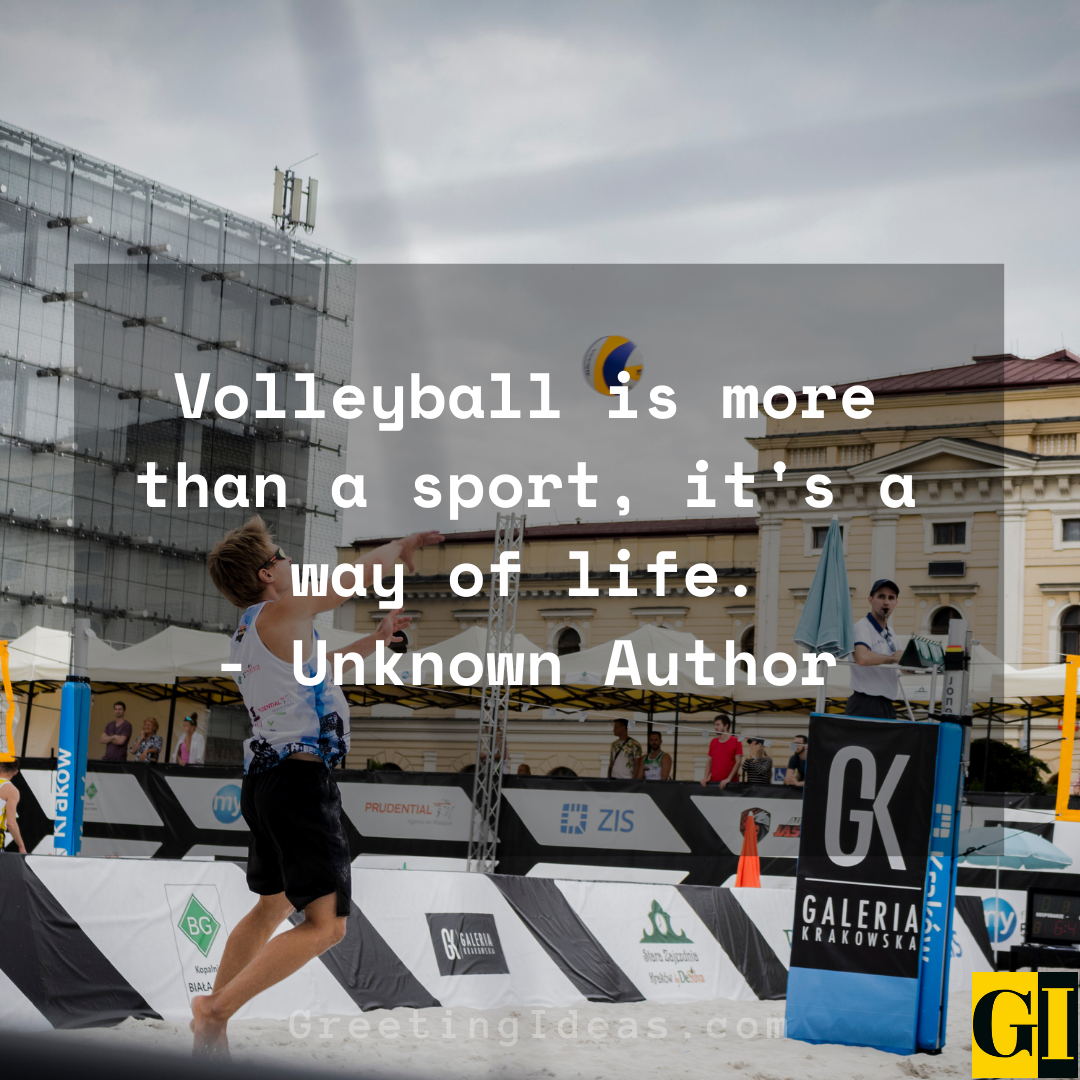 Also Read: 35 Inspiring Will Quotes and Sayings on Human Spirit
We hope you enjoy reading our game day volleyball quotes collection.
Share it with your loved ones and in social circles too.
Sharing is Caring!