FTC disclaimer. This post contains affiliate links, and I will be compensated if you purchase through one of my links.
Check our handpicked lily quotes and sayings from famous poets, authors, and philosophers representing innocence, love, warmth, devotion, and rebirth.
What is so special about Lily flowers?
It is an old-age Christian tradition to see Lillies as a symbol of virginity, chastity, humility, and purity. Hence Virgin Mary is seen as a poignant symbol of a lily.
In Western culture, lilies bouquets are exchanged as a token of love to celebrate wedding anniversaries.
Since lilies represent rebirth and heaven, lily flowers are preferred when attending funerals, sending them with death condolence and a sympathy card.
Lily is famously called a flower of light as it blooms only in the day and withers at night.
We hope our quotes about lily flowers fill your day with peace, joy, and compassion.
Water Lily Quotes And Sayings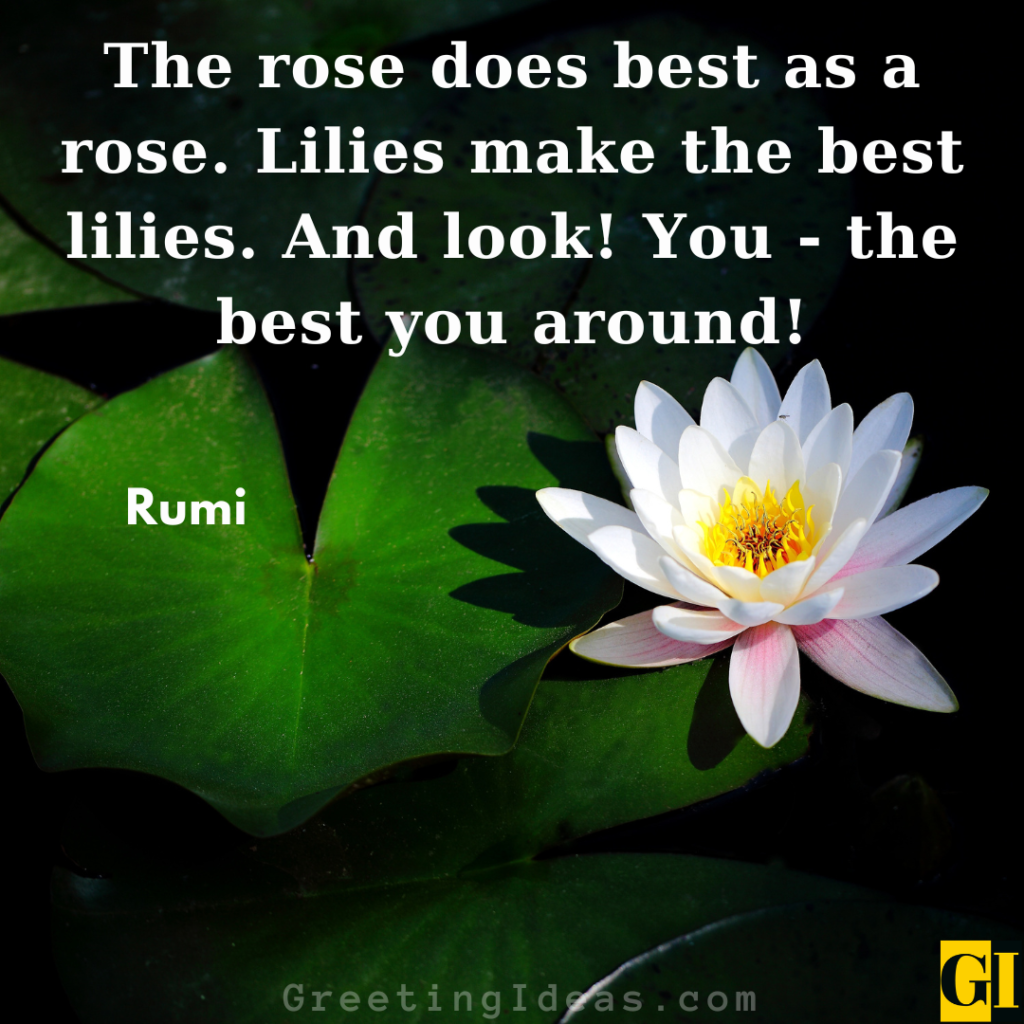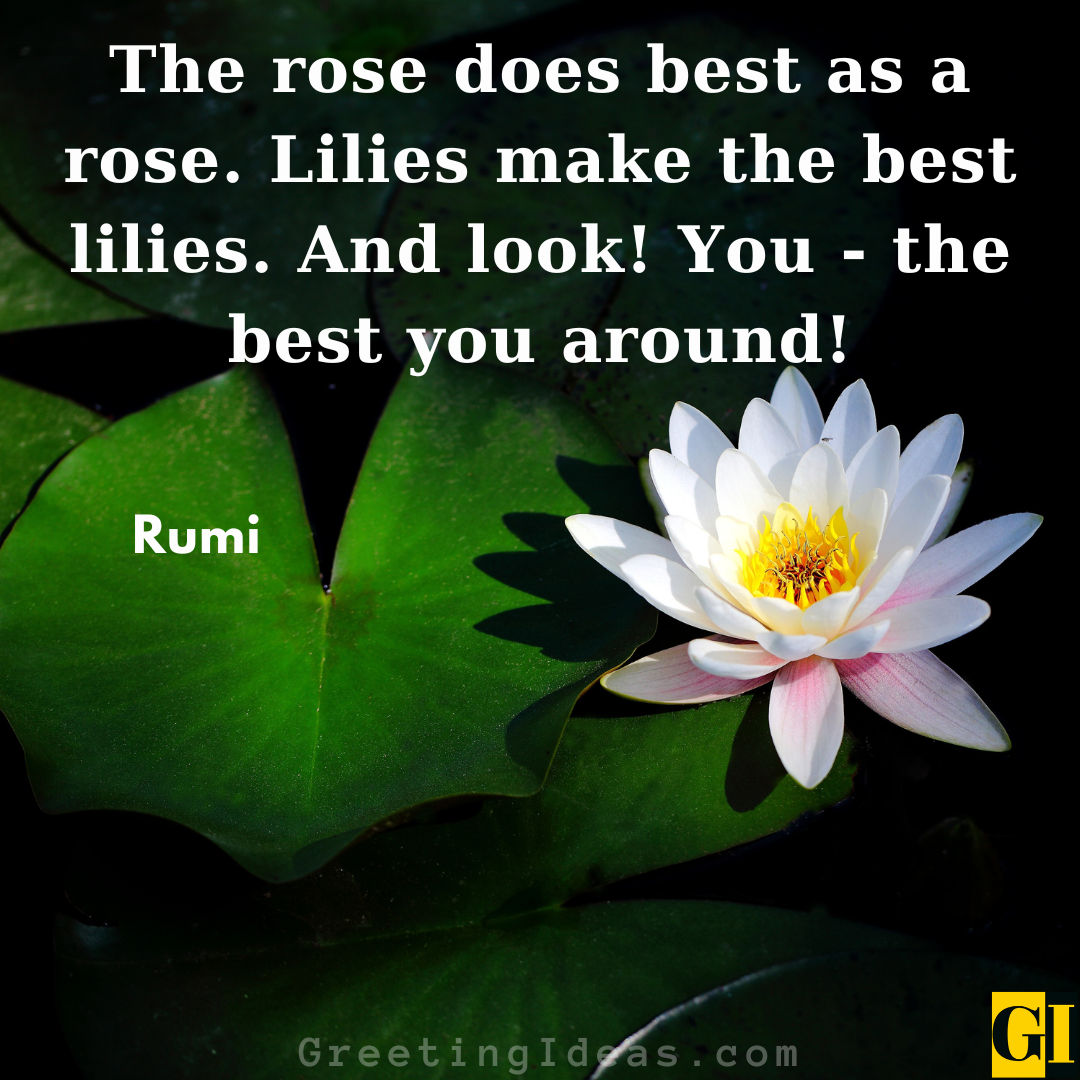 Also Read: 30 Happy and Positive Daisy Quotes and Sayings
There is a garden in her eyes where roses and white lilies flow.
– Thomas Campion
The rose does best as a rose. Lilies make the best lilies. And look! You – the best you around!
– Rumi
A lily or a rose never pretends, and its beauty is that it is what it is.
– Jiddu Krishnamurti
Remember that the most beautiful things in the world are the most useless; peacocks and lilies for instance.
– John Ruskin
But who will watch my lilies, When their blossoms open white? By day the sun shall be sentry, And the moon and the stars by night!
– Bayard Taylor
Lilies that fester smell far worse than weeds.
– William Shakespeare
Consider the lilies of the field whose bloom is brief: We are as they; Like them we fade away As doth a leaf.
– Christina Rossetti
The older I get the more I trust in the law according to which the rose and the lily bloom.
– Johann Wolfgang von Goethe
The rose is the flower and handmaiden of love – the lily, her fair associate, is the emblem of beauty and purity.
– Dorothea Dix
Time is jealous of you, and wars against your lilies and your roses.
– Oscar Wilde
And the stately lilies stand Fair in the silvery light, Like saintly vestals, pale in prayer; Their pure breath sanctifies the air, As its fragrance fills the night.
– Julia C.R. Dorr
The demons are innumerable, arrive at the most inappropriate times and create panic and terror. But I have learned that if I can master the negative forces and harness them to my chariot, then they can work to my advantage. Lilies often grow out of carcasses' arseholes.
– Ingmar Bergman
It is not growing like a tree in bulk, doth make man better be; Or standing long an oak, three hundred year, To fall a log at last, dry, bald, and sere: A lily of a day is fairer far in May, Although it falls and die that night—It was the plant and flower of Light.
– Ben Jonson
It took me time to understand my water lilies. I had planted them for the pleasure of it; I grew them without ever thinking of painting them.
– Claude Monet
Is not this lily pure? What fuller can procure A white so perfect, spotless clear As in this flower doth appear?
– Francis Quarles
Beautiful Quotes About Lily Flowers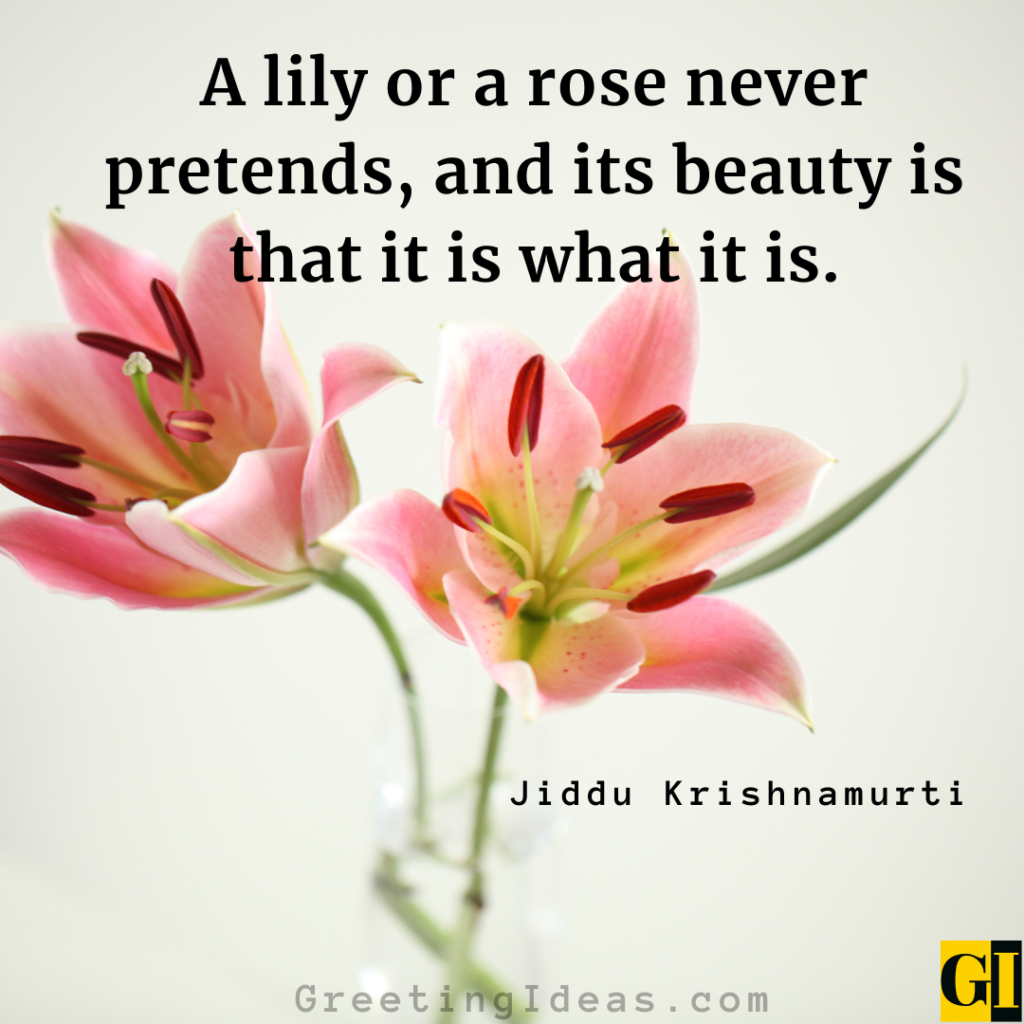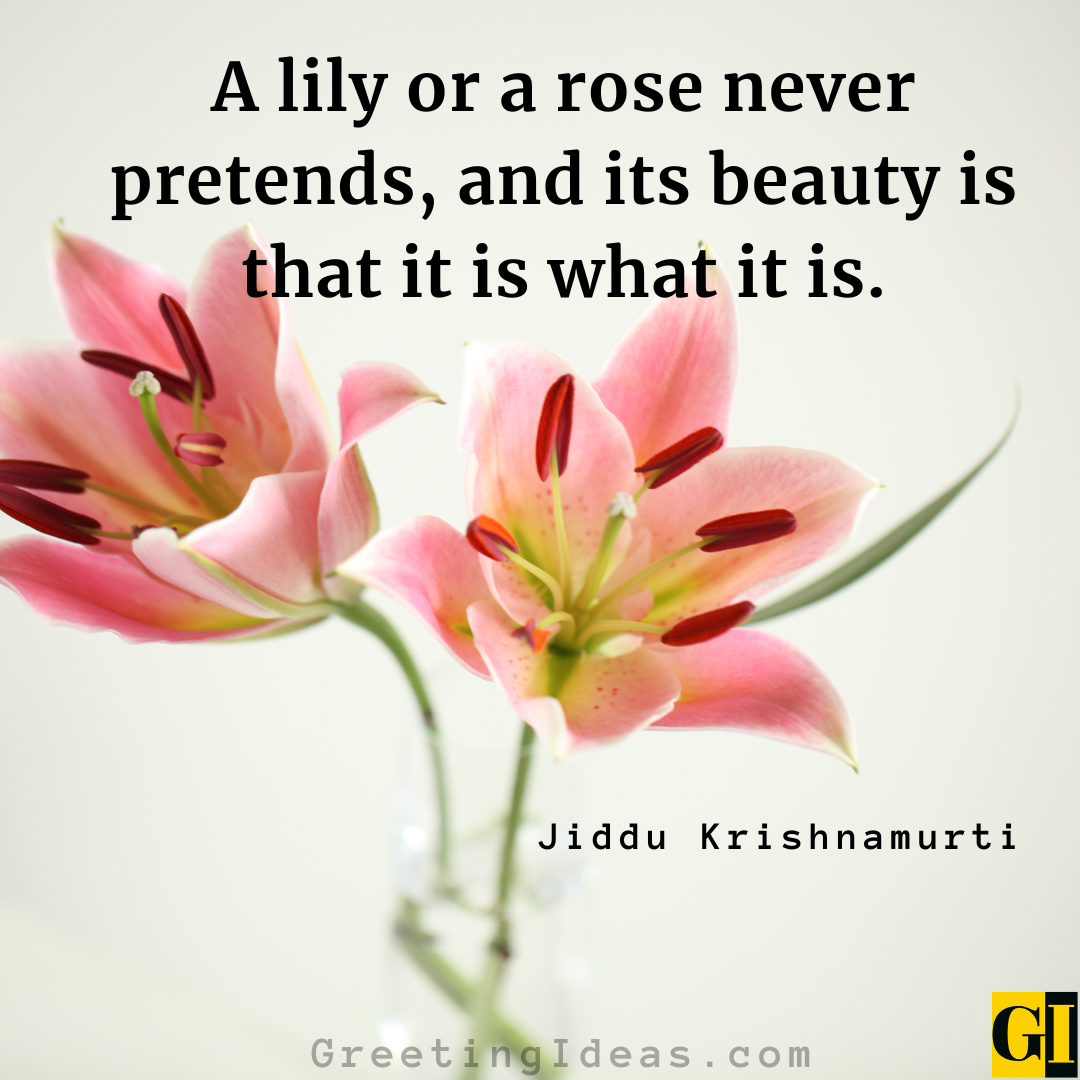 Also Read: 80 Deep Roses Quotes On Beauty, Love, And Thorns
I would far rather have two or three lilies of the valley gathered for me by a person I like, than the most expensive bouquet that can be bought.
– Elizabeth Gaskell
A lily of a day Is fairer far in May, Although it fall and die that night, It was the plant and flower of light. In small proportions we just beauties see, And in short measures life may perfect be.
– Ben Jonson
As the lily among thorns, so is my love among the daughters.
– Solomon Ibn Gabirol
Look to the lilies how they grow! 'Twas thus the Saviour said, that we, Even in the simplest flowers that blow, God's ever-watchful care might see.
– David Macbeth Moir
When a baby comes you can smell two things: the smell of flesh, which smells like chicken soup, and the smell of lilies, the flower of another garden, the spiritual garden.
– Carlos Santana
In a marshland amongst the crocodiles, there float beautiful water lilies! Even in the Hell, one can find the good and the beauty.
– Mehmet Murat ildan
Hope is like a harebell, trembling from its birth, Love is like a rose, the joy of all the earth, Faith is like a lily, lifted high and white, Love is like a lovely rose, the world's delight. Harebells and sweet lilies show a thornless growth, But the rose with all its thorns excels them both.
– Christina Rossetti
Very whitely still The lilies of our lives may reassure Their blossoms from their roots, accessible Alone to heavenly dews that drop not fewer; Growing straight out of man's reach, on the hill. God only, who made us rich, can make us poor.
– Elizabeth Barett Browning
O lovely lily clean, O lily springing green, O lily bursting white, Dear lily of delight, Spring in my heart agen That I may flower to men.
– Masefield
Look to the lilies how they grow! 'Twas thus the Saviour said, that we, Even in the simplest flowers that blow, God's ever-watchful care might see.
– Moir
I wish I were the lily's leaf To fade upon that bosom warm, Content to wither, pale and brief, The trophy of thy paler form.
– Elizabeth Barrett Browning
I remained lost in oblivion; My face I reclined on the Beloved. All ceased and I abandoned myself, leaving my cares forgotten among the lilies.
– John of the Cross
Those virgin lilies, all the night Bathing their beauties in the lake, That they may rise more fresh and bright, When their beloved sun's awake.
– Thomas Moore
Now folds the lily all her sweetness up, And slips into the bosom of the lake; So fold thyself, my dearest, thou, and slip Into my bosom, and be lost in me.
– Alfred Tennyson
The modest Rose puts forth a thorn,The humble sheep a threat'ning horn: While the Lily white shall in love delight, Nor a thorn nor a threat stain her beauty bright.
– William Blake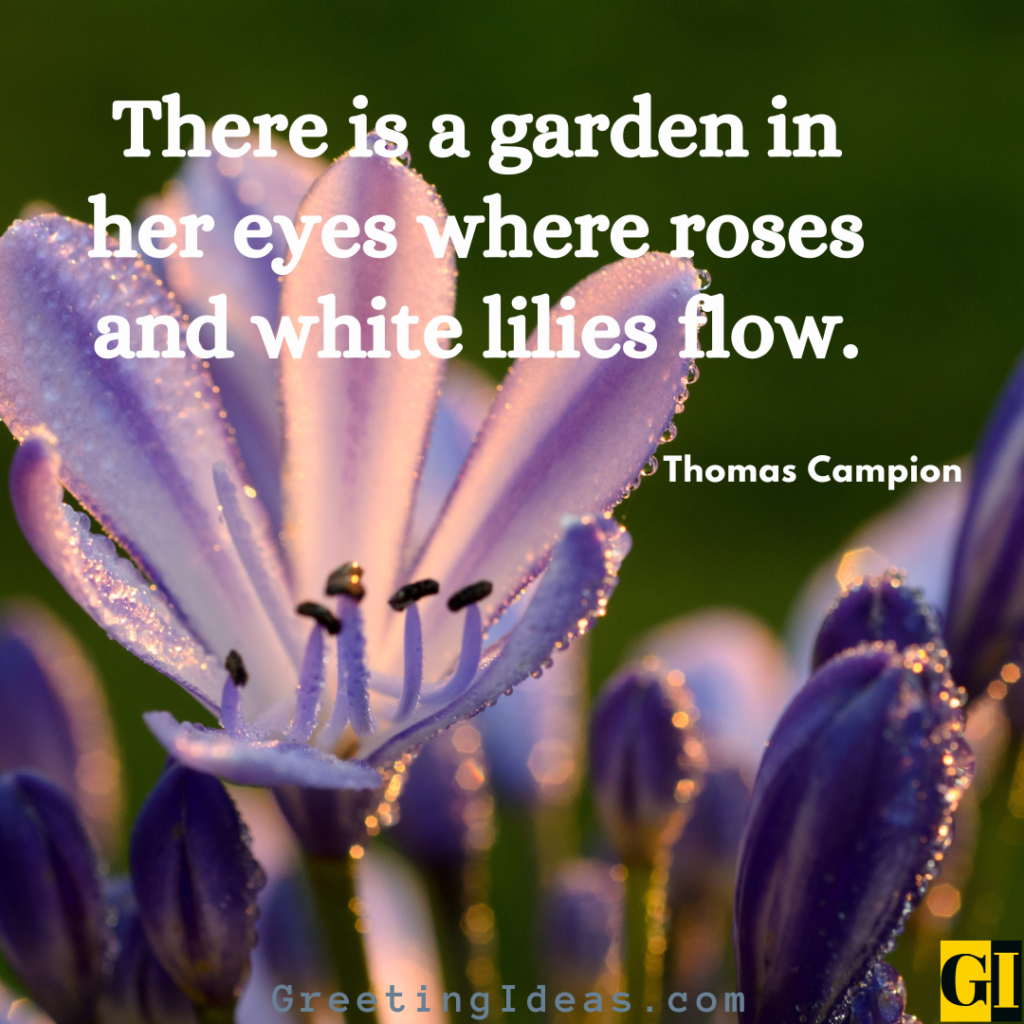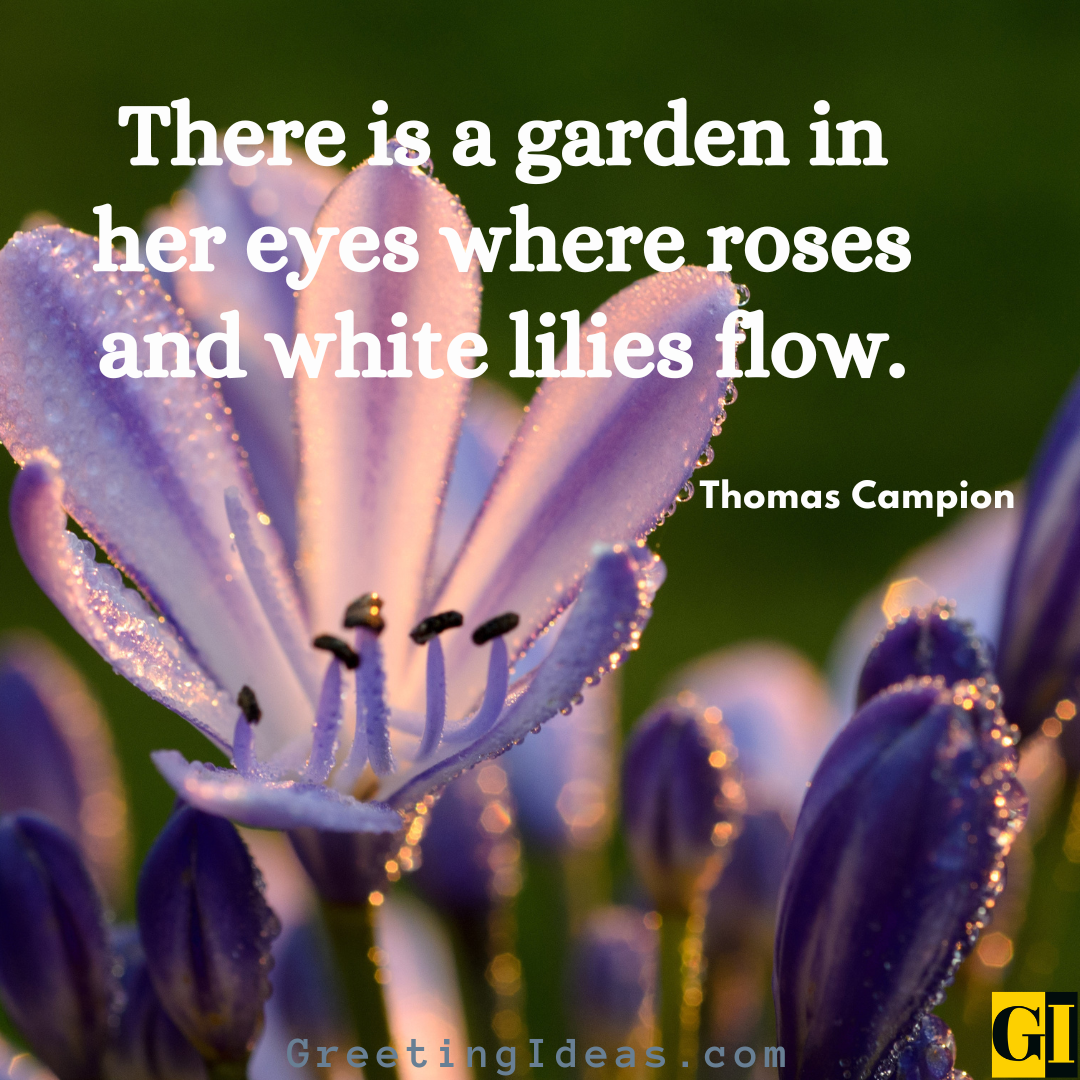 Also Read: 40 Best Love Violet Quotes, Sayings, and Phrases
We hope you enjoyed reading our famous quotes on the Lily Bloom collection.
Share it with your loved ones and in social circles.
Sharing is Caring!