FTC disclaimer. This post contains affiliate links, and I will be compensated if you purchase through one of my links.
Read our famous veterans day quotes as a token of appreciation to honor the veterans who served our country and protected us from intruders by risking their lives.
Sending thank you messages to veterans on veterans day is an excellent way owing one's gratitude for their exemplary service to our nation.
Veterans are the reasons we live a free, relatively peaceful and democratic life.
Veterans Day is a federal holiday in the United States.
It is celebrated every year on Nov 11 from 1919 onwards as a token of honor and thanksgiving to all the U.S military personnel.
Let Elmer Davis's quote echo in our hearts forever and fill our lives with respect and gratitude towards our army – 'this nation will remain the land of the free only so long as it is the home of the brave.'
Women's veterans day is also celebrated on June 12 to honor a vast 1.6 million U.S women military personnel.
Let our patriotic and inspirational veterans day quotes and sayings remember our land heroes and take the utmost pride in having them in our country.
Happy Veterans Day Quotes To My Husband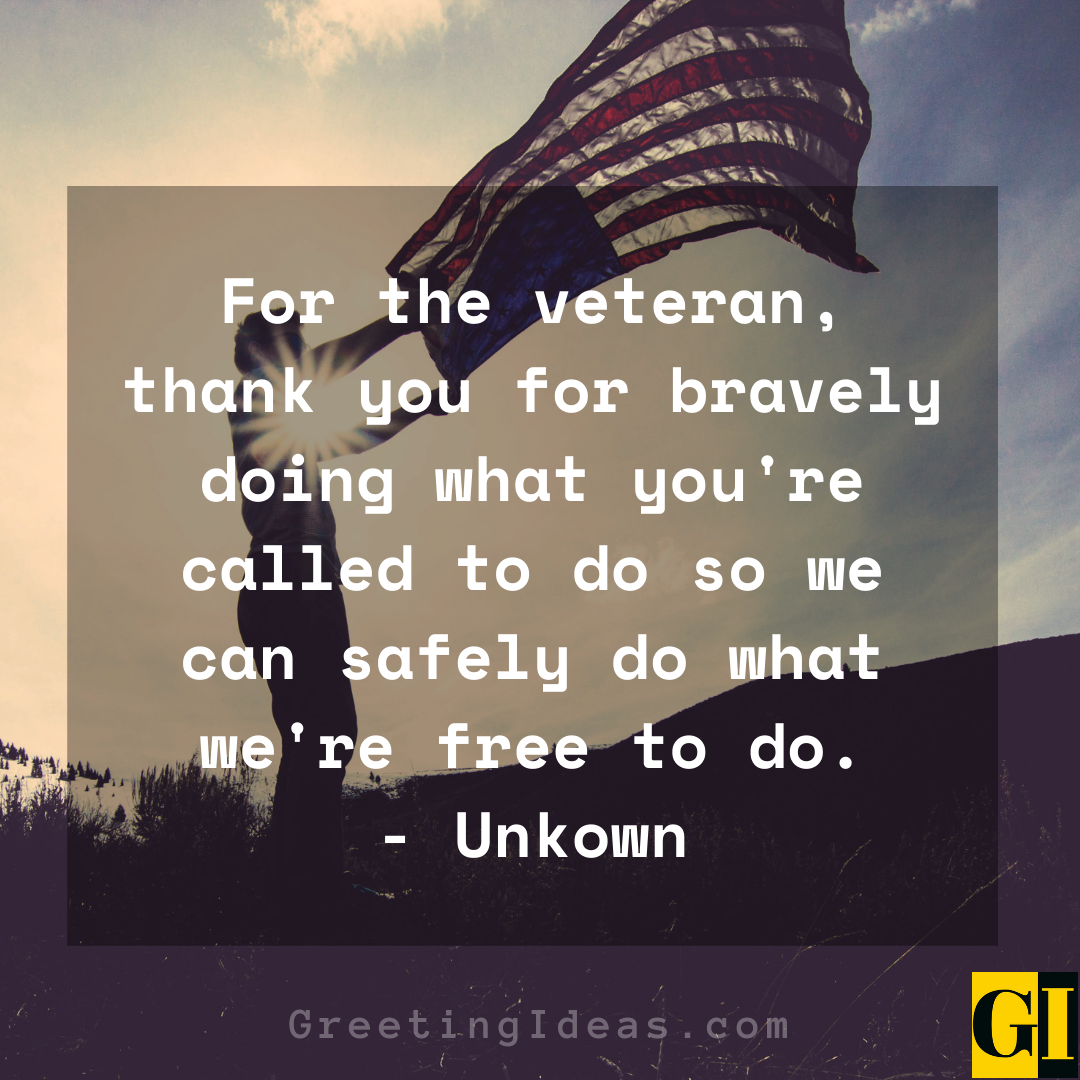 Also Read: 50 Inspirational Army Quotes on Bravery, Gallant, Courage
Our flag does not fly because the wind moves it; it flies with the last breath of each soldier who died protecting it.
– Unkown
This nation will remain the land of the free only so long as it is the home of the brave.
– Elmer Davis
The only war is the war you fought in. Every veteran knows that.
– Allan Keller
Duty, honor, country. Those three hallowed words reverently dictate what you ought to be, what you can be, what you will be.
– Douglas Macarthur
A veteran is someone who at one point in his/her life wrote a blank check made payable to 'The United States of America' for an amount of 'up to and including my life.' That is Honor, and there are way too many people in this country who no longer understand it.
– unknown
The soldier above all other's pray's for peace, for it is the soldier who must suffer and bear the deepest wounds scars of war.
– Douglas Macarthur
For the veteran, thank you for bravely doing what you're called to do so we can safely do what we're free to do.
– Unkown
Happy Veterans Day Quotes For My Dad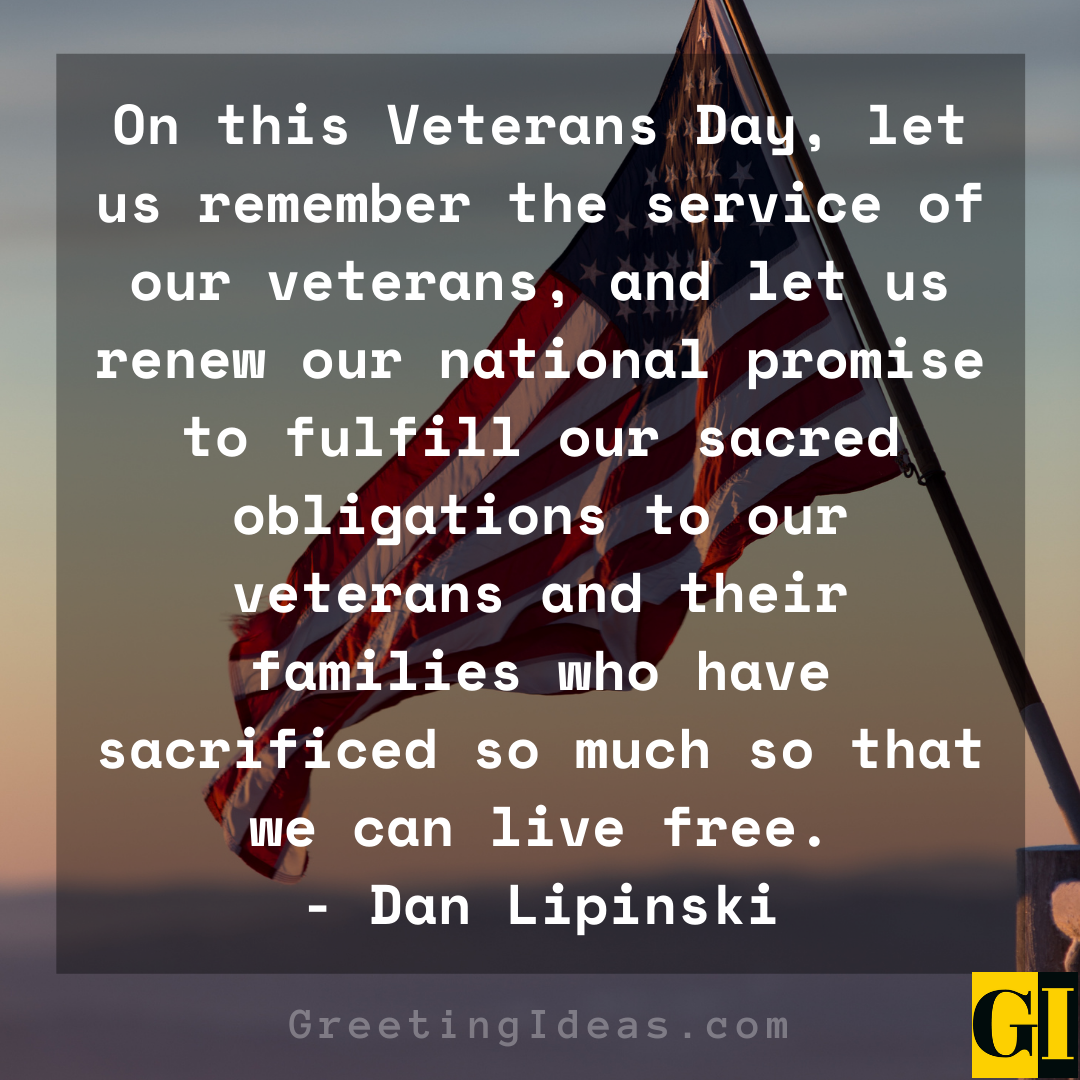 Also Read: 75 Patriotic America Quotes to Celebrate USA Memorial Day
While only one day of the year is dedicated solely to honoring our veterans, Americans must never forget the sacrifices that many of our fellow countrymen have made to defend our country and protect our freedoms.
– Randy Neugebauer
A hero is someone who has given his or her life to something bigger than oneself.
– Joseph Campbell
Courage is contagious. When a brave man takes a stand, the spines of others are often stiffened.
– Billy Graham
Valor is stability, not of legs and arms, but of courage and the soul.
– Michel de Montaigne
When the peace treaty is signed, the war isn't over for the veterans or the family. It's just starting.
– Karl Marlantes
For love of country they accepted death.
– James A. Garfield
People sleep peaceably in their beds at night only because rough men stand ready to do violence on their behalf.
– George Orwell
Happy Veterans Day Quotes To My Brother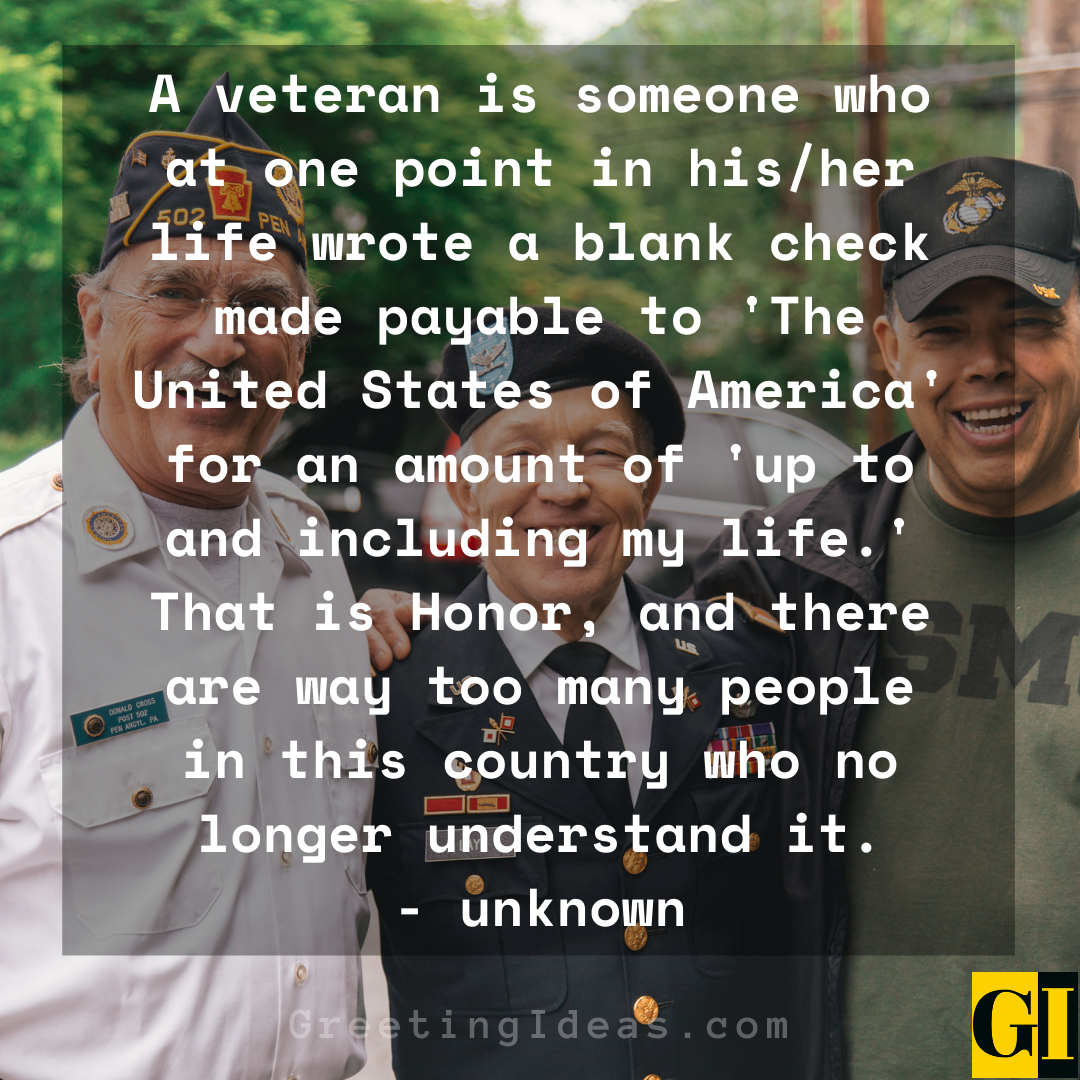 Also Read: 30 Best Anti War Quotes Against Violence and Bloodshed
I think there is one higher office than president and I would call that patriot.
– Gary Hart
Regard your soldiers as your children, and they will follow you into the deepest valleys. Look on them as your own beloved sons, and they will stand by you even unto death!
– Sun Tzu
Honor to the soldier and sailor everywhere, who bravely bears his country's cause. Honor, also, to the citizen who cares for his brother in the field and serves, as he best can, the same cause.
– Abraham Lincoln
America's Veterans have served their country with the belief that democracy and freedom are ideals to be upheld around the world.
– John Doolittle
It is foolish and wrong to mourn the men who died. Rather we should thank God that such men lived.
– General George S. Patton
The willingness of America's veterans to sacrifice for our country has earned them our lasting gratitude.
– Jeff Miller
Caring for veterans shouldn't be a partisan issue. It should be an American one.
– Jennifer Granholm
Awesome Veterans Day Quotes And Images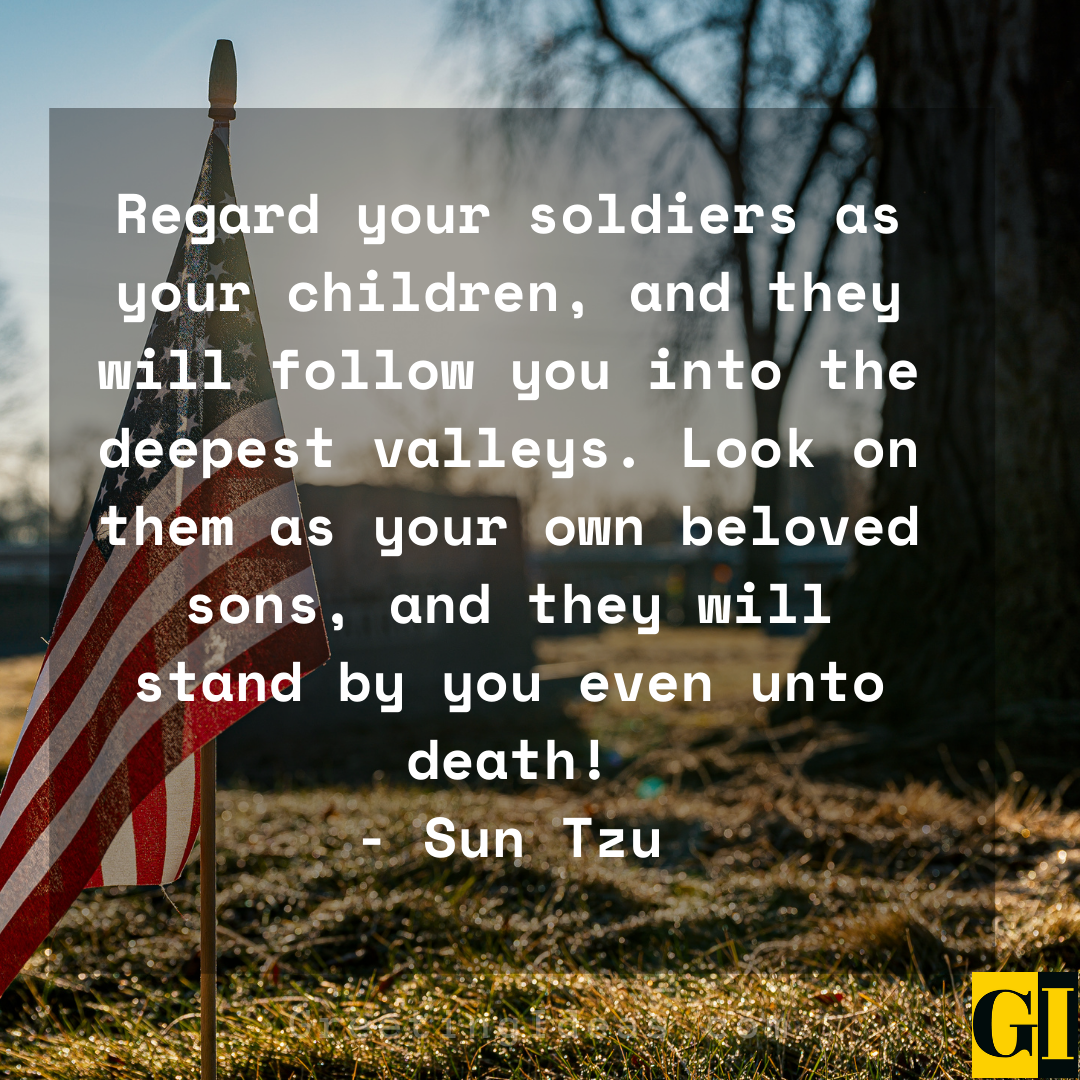 Also Read: 30 Painful Bomb Quotes and Sayings and its Repercussions
Some people live an entire lifetime and wonder if they have ever made a difference in the world, but the Marines don't have that problem.
– Ronald Reagan
In the aftermath, we are because they were.
– RJ Heller
The more we sweat in peace the less we bleed in war.
– Vijaya Lakshmi Pandit
Anyone who has ever looked into the glazed eyes of a soldier dying on the battlefield will think hard before starting a war.
– Otto von Bismarck
They may take away our lives, but they'll never take our freedom!
– William Wallace
Freedom is never free.
– unknown
But the freedom that they fought for, and the country grand they wrought for, is their monument to-day, and for aye.
– Thomas Dunn English
Short And Inspirational Veteran Day Quotes And Sayings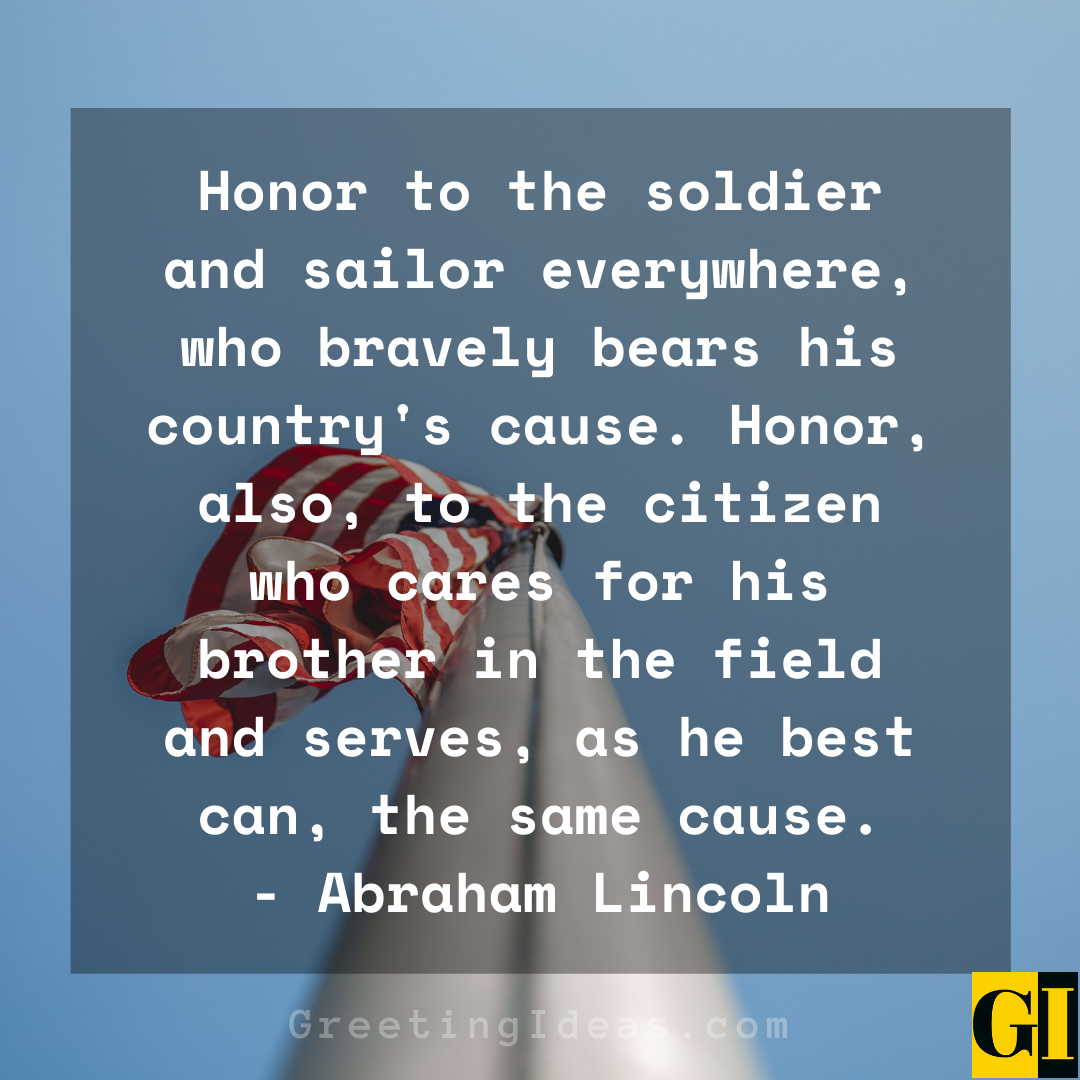 Also Read: 50 Top Accountability Quotes For Responsibility and Leadership
May no soldier go unloved, may no soldier walk alone, may no soldier be forgotten, until they all come home.
– unknown
The battle, sir, is not to the strong alone; it is to the vigilant, the active, the brave.
– Patrick Henry
If you want to thank a soldier, be the kind of American worth fighting for.
– Unkown
Honoring the sacrifices many have made for our country in the name of freedom and democracy is the very foundation of Veterans Day.
– Charles B. Rangel
To be free and to have a choice and a voice means that veterans have been quieted through death.
– Byron Pulsifer
The number of medals on an officer's breast varies in inverse proportion to the square of the distance of his duties from the front line.
– Charles Edward Montague
How important it is for us to recognize and celebrate our heroes and she-roes!
– Maya Angelou
Inspiring Quotes For Veteran Day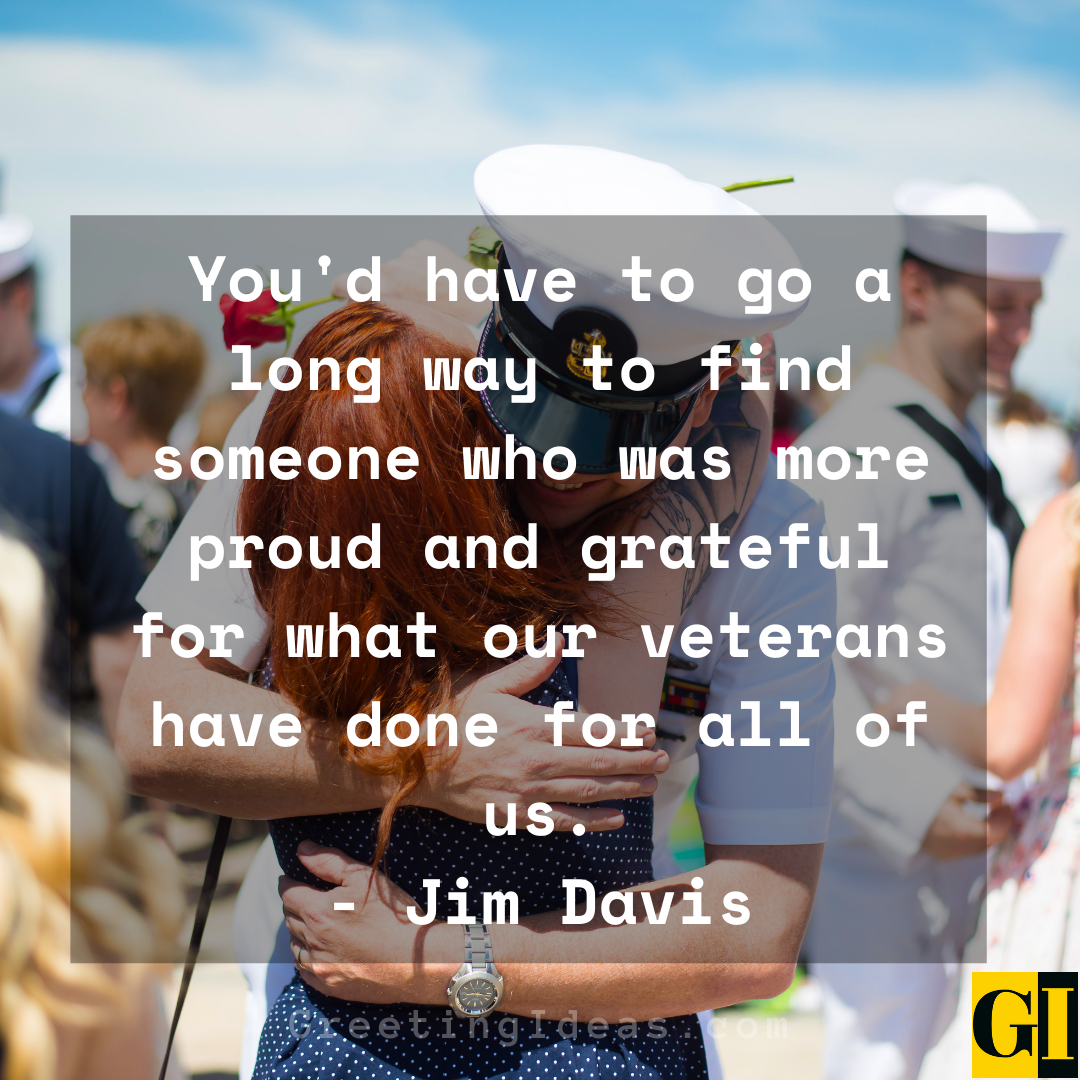 Also Read: 10 Strong and Proud Army Wife Quotes and Sayings
Better than honor and glory, and history's iron pen was the thought of duty done and the love of his fellow-men.
– Richard Watson Gilder
It doesn't take a hero to order men into battle. It takes a hero to be one of those men who goes into battle.
– Norman Schwarzkopf
In the truest sense, freedom cannot be bestowed; it must be achieved.
– Franklin D. Roosevelt
The reward of one duty is the power to fulfill another.
– George Eliot
As we express our gratitude, we must never forget that the highest appreciation is not to utter words, but to live by them.
– John F. Kennedy
Peace has victories, but it takes brave men and women to win them.
– Ralph Waldo Emerson
American without her soldiers would be like God without his angels.
– Claudia Pemberton
Thank You Veterans Day Quotes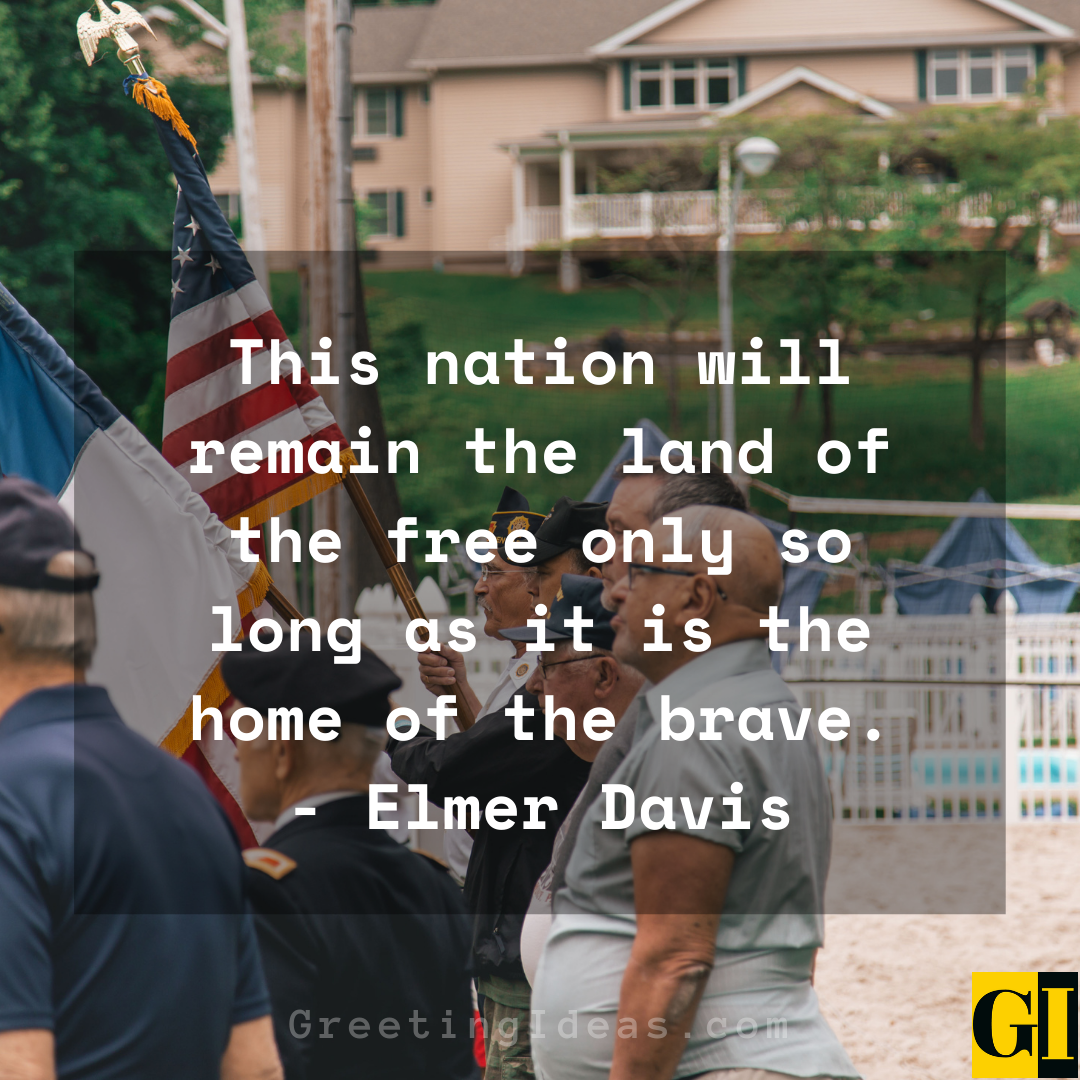 Also Read: 45 Feeling Thankful to be Alive Quotes and Sayings
Duty, Honor, Country. Those three hallowed words reverently dictate what you ought to be, what you can be, what you will be.
– Douglas Macarthur
Brave men rejoice in adversity, just as brave soldiers triumph in war.
– Lucius Annaeus Seneca
Freedom is never more than one generation away from extinction.
– Ronald Reagan
It is the soldier, not the poet, who has given us freedom of speech.
– Zell Miller
The most persistent sound which reverberates through man's history is the beating of war drums.
– Arthur Koestler
The soldier above all others prays for peace, for it is the soldier who must suffer and bear the deepest wounds and scars of war.
– Douglas Macarthur
True heroism is remarkably sober, very undramatic. It is not the urge to surpass all others at whatever cost, but the urge to serve others at whatever cost.
– Arthur Ashe
Inspiring Veterans Day Words And Phrases On Sacrifice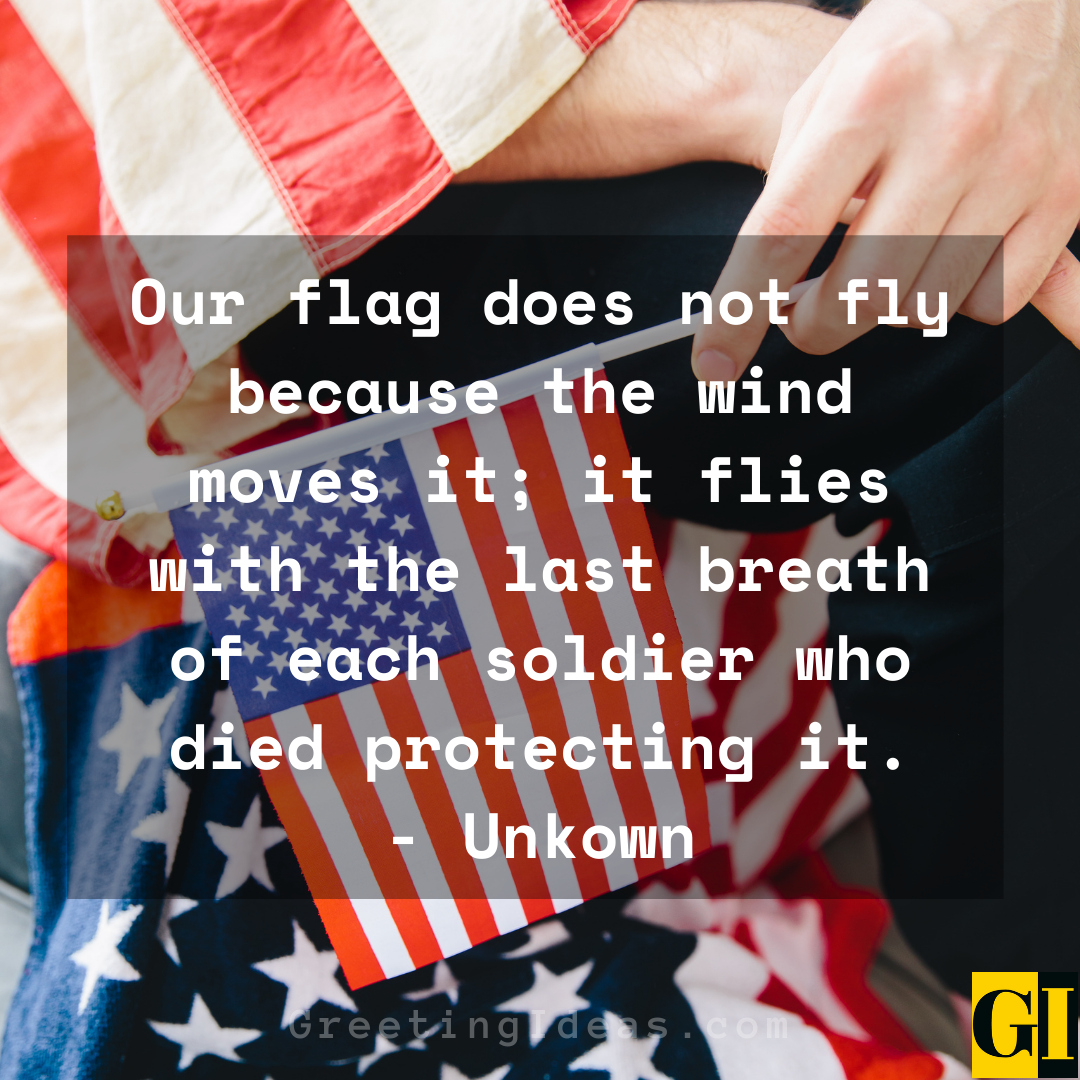 Also Read: 65 Inspiring Unity Quotes Sayings for Family and Community
The secret of happiness is freedom, and the secret of freedom, courage.
– Thucydides
Don't interfere with anything in the Constitution. That must be maintained, for it is the only safeguard of our liberties.
– Abraham Lincoln
There is a certain enthusiasm in liberty, that makes human nature rise above itself in acts of bravery and heroism.
– Alexander Hamilton
In the face of impossible odds, people who love this country can change it.
– Barack Obama
When our perils are past, shall our gratitude sleep?
– George Canning
We make war that we may live in peace.
– Aristotle
God grants liberty only to those who love it, and are always ready to guard and defend it.
– Daniel Webster
Veterans Day Quotes Of Appreciation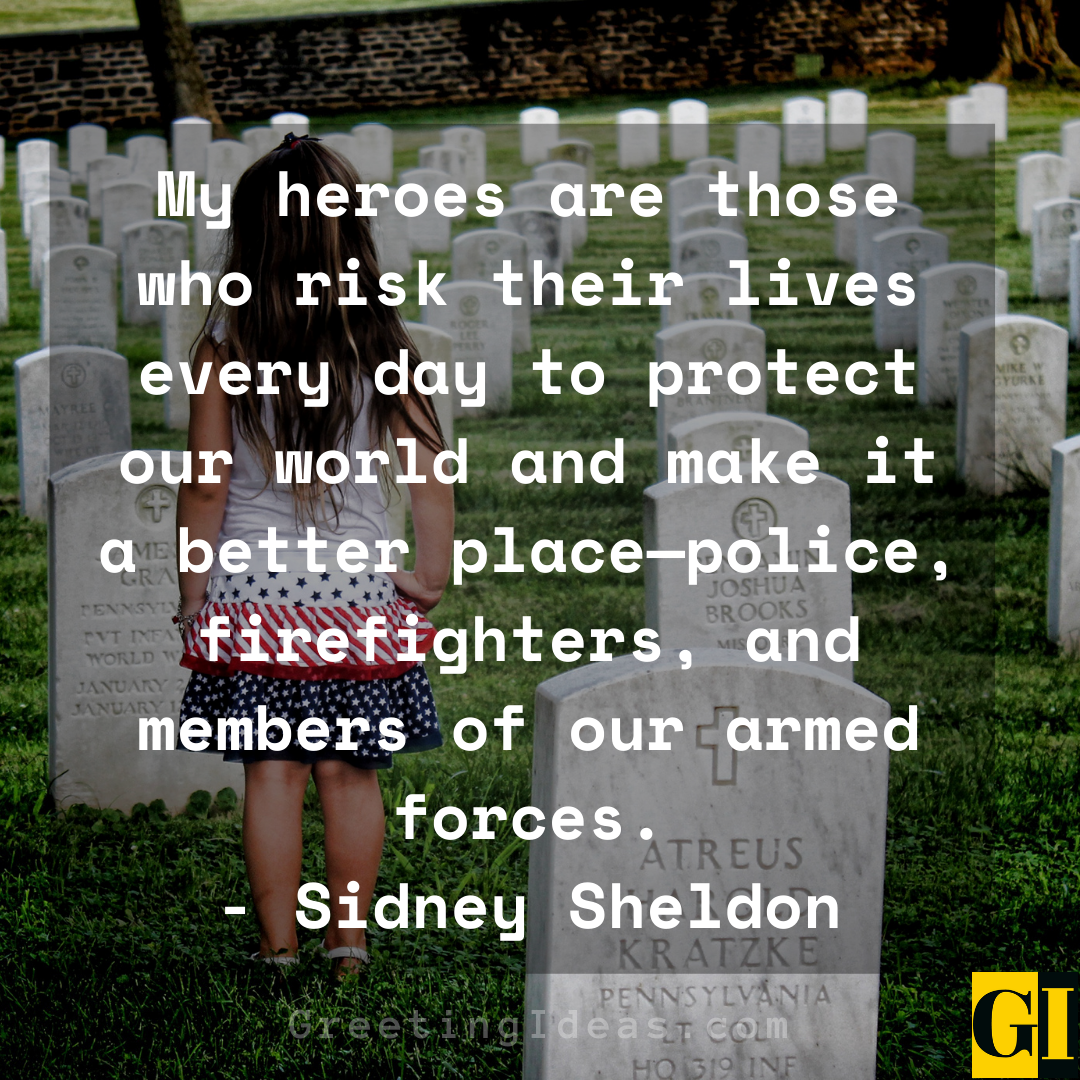 Also Read: 15 Best United Nations Quotes on Peace and Human Rights
My heroes are those who risk their lives every day to protect our world and make it a better place—police, firefighters, and members of our armed forces.
– Sidney Sheldon
The willingness with which our young people are likely to serve in any war, no matter how justified, shall be directly proportional to how they perceive the Veterans of earlier wars were treated and appreciated by their nation.
– George Washington
In war, there are no unwounded soldiers.
– Jose Narosky
To be a veteran, one must know and determine one's price for freedom.
– Unknown
On this Veterans Day, let us remember the service of our veterans, and let us renew our national promise to fulfill our sacred obligations to our veterans and their families who have sacrificed so much so that we can live free.
– Dan Lipinski
In the beginning of a change the patriot is a scarce man, and brave, and hated and scorned. When his cause succeeds, the timid join him, for then it costs nothing to be a patriot.
– Mark Twain
The most persistent sound, which reverberates through men's history, is the beating of war drums.
– Arthur Koestler
Damn the wars but bless the soldier.
– T.L. Moffitt
You'd have to go a long way to find someone who was more proud and grateful for what our veterans have done for all of us.
– Jim Davis
Without heroes, we are all plain people, and don't know how far we can go.
– Bernard Malamud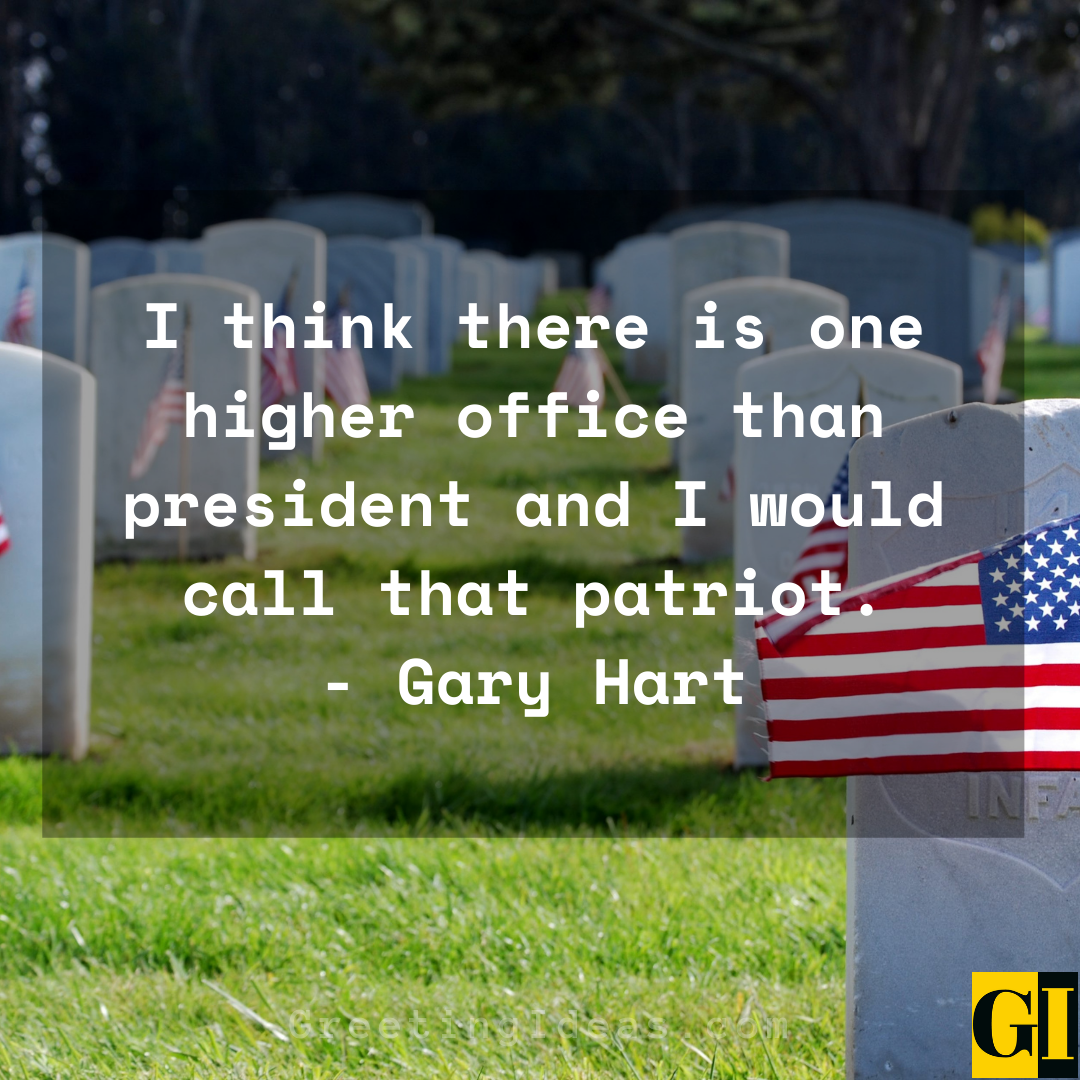 Also Read: 30 Tactful Art of Diplomacy Quotes and Sayings
We hope you enjoy reading our awesome veterans day quotes collection.
Share it with your loved ones and in social circles too.
Sharing is Caring!