FTC disclaimer. This post contains affiliate links, and I will be compensated if you purchase through one of my links.
Below are some best and most popular handpicked dystopian quotes and sayings by famous authors, novelists, and revolutionary thinkers.
What is a dystopian society?
A dystopian society is an imaginary and terrifying world where aristocratic and totalitarian power forces control citizens' way of life.
Such an anti-utopian futuristic world is believed to induce great suffering and injustice to the common people.
Many Hollywood flicks, including Hunger Games, Maze Runner, and The Lord of the Flies, depicted a dystopian fantasy world.
The more the power, money, and dominance shift to an elite handful of people in the form of the ruling government and industrialists, then a dystopian society is bound to happen.
To have a saner society, we need wise and healthy-minded individuals who choose capable and intelligent leaders to form moral laws and rule efficiently.
The more liberal, democratic, and free atmosphere a country adopts, the lesser madder society can be expected.
We hope you found our handpicked dystopian quotes collection insightful.
Best Dystopian Quotes and Sayings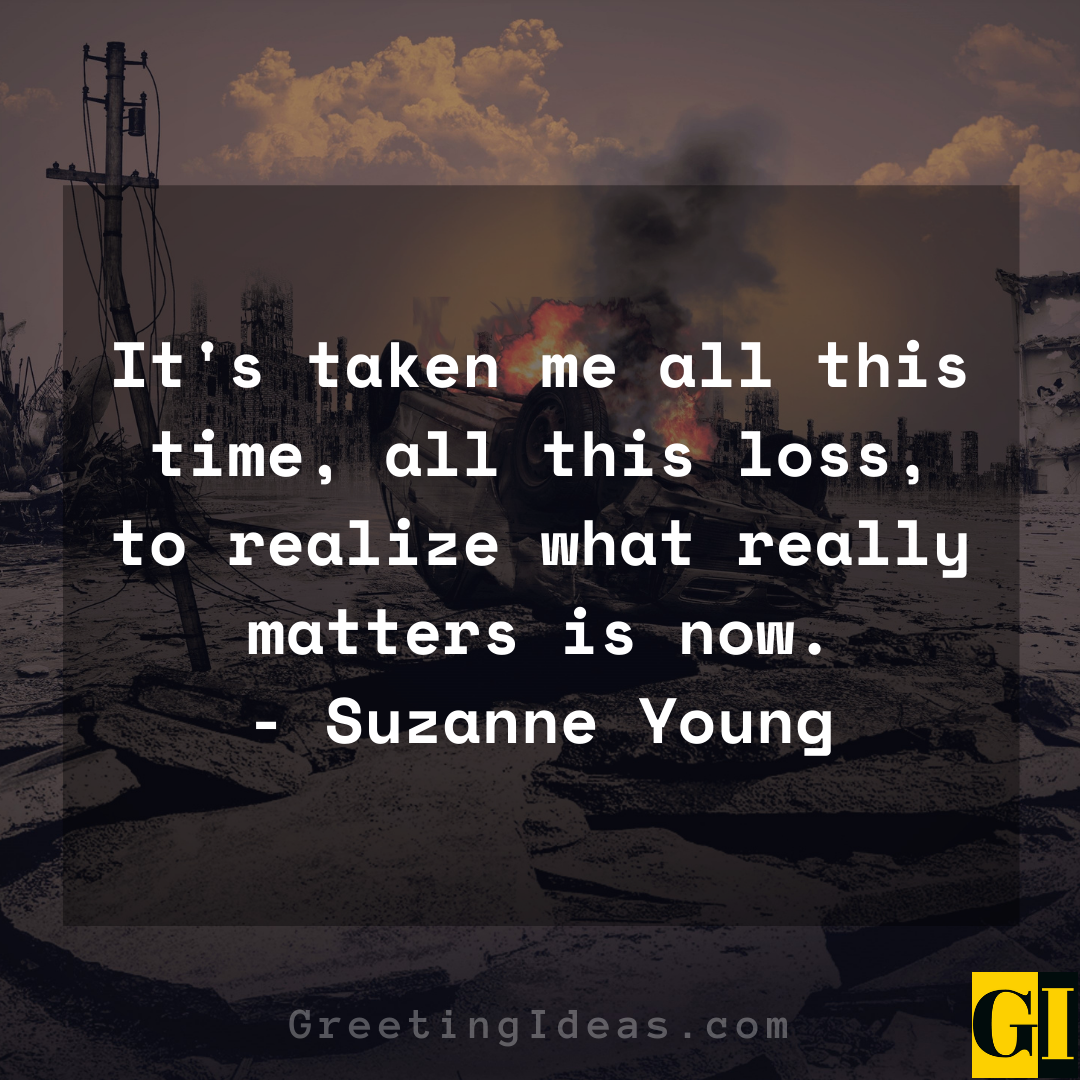 Also Read: 30 Famous and Inspirational Apartheid Quotes and Sayings
It was a bright cold day in April, and the clocks were striking thirteen.
– George Orwell
Human reason can excuse any evil; that is why it's so important that we don't rely on it.
– Veronica Roth
It isn't just brave that she died for me; it is brave that she did it without announcing it, without hesitation, and without appearing to consider another option.
– Veronica Roth
Everything – our houses, our clothes, our hairstyles – is meant to help us forget ourselves and to protect us from vanity, greed and envy, which are just forms of selfishness. If we have little, and want for little, and we are all equal, we envy no one.
– Veronica Roth
I wanted to punch him and understand him at the same time.
– Shannon A. Thompson
Tell freedom I said hello.
– Lauren DeStefano
Resisting is worth doing.
– Veronica Roth
Why did we become blind, I don't know, perhaps one day we'll find out, Do you want me to tell you what I think, Yes, do, I don't think we did go blind, I think we are blind, Blind but seeing, Blind people who can see, but do not see.
– Jose Saramago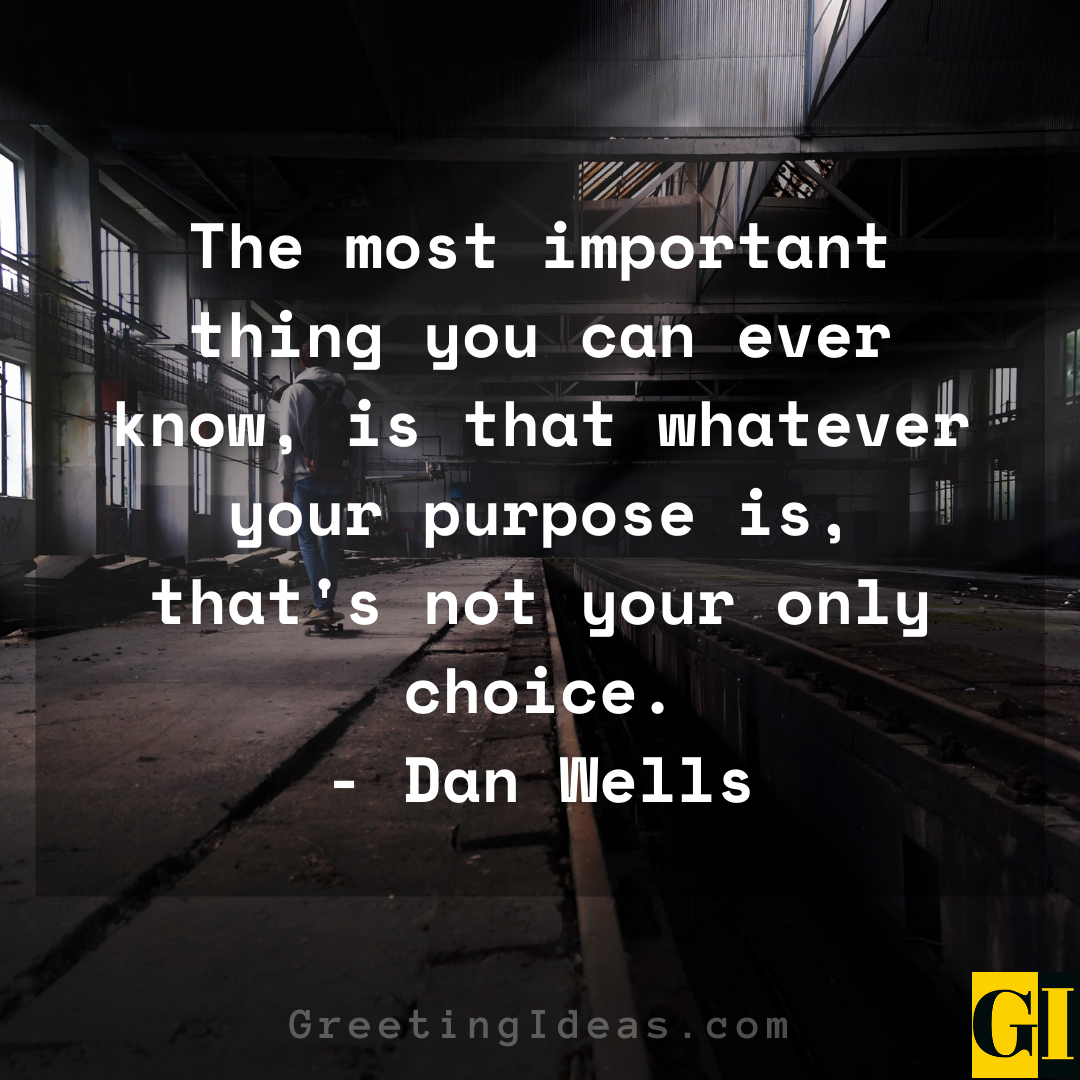 Also Read: 25 Best and Famous Bible Apocalypse Quotes and Sayings
It's taken me all this time, all this loss, to realize what really matters is now.
– Suzanne Young
And what would they be scared of? There's nothing to fear in a perfect world, is there?
– Catherine Fisher
They were like her rocks. Imperfect and surprising and maybe better in the long run than certainties. Chances, she thought, were life.
– Veronica Rossi
The most important thing you can ever know, is that whatever your purpose is, that's not your only choice.
– Dan Wells
All utopias are dystopias. The term dystopia was coined by fools that believed a utopia can be functional.
– A.E. Samaan
You have to pull the feet to break the neck. They let the loved ones do it.
– Pierce Brown
I'm a huge fan of dystopian films. I collect them in my brain.
– Brittany Howard
It's a dystopian world where things aren't connected. But life feels light when we can communicate, joke or laugh on ourselves.
– Ashish Vidyarthi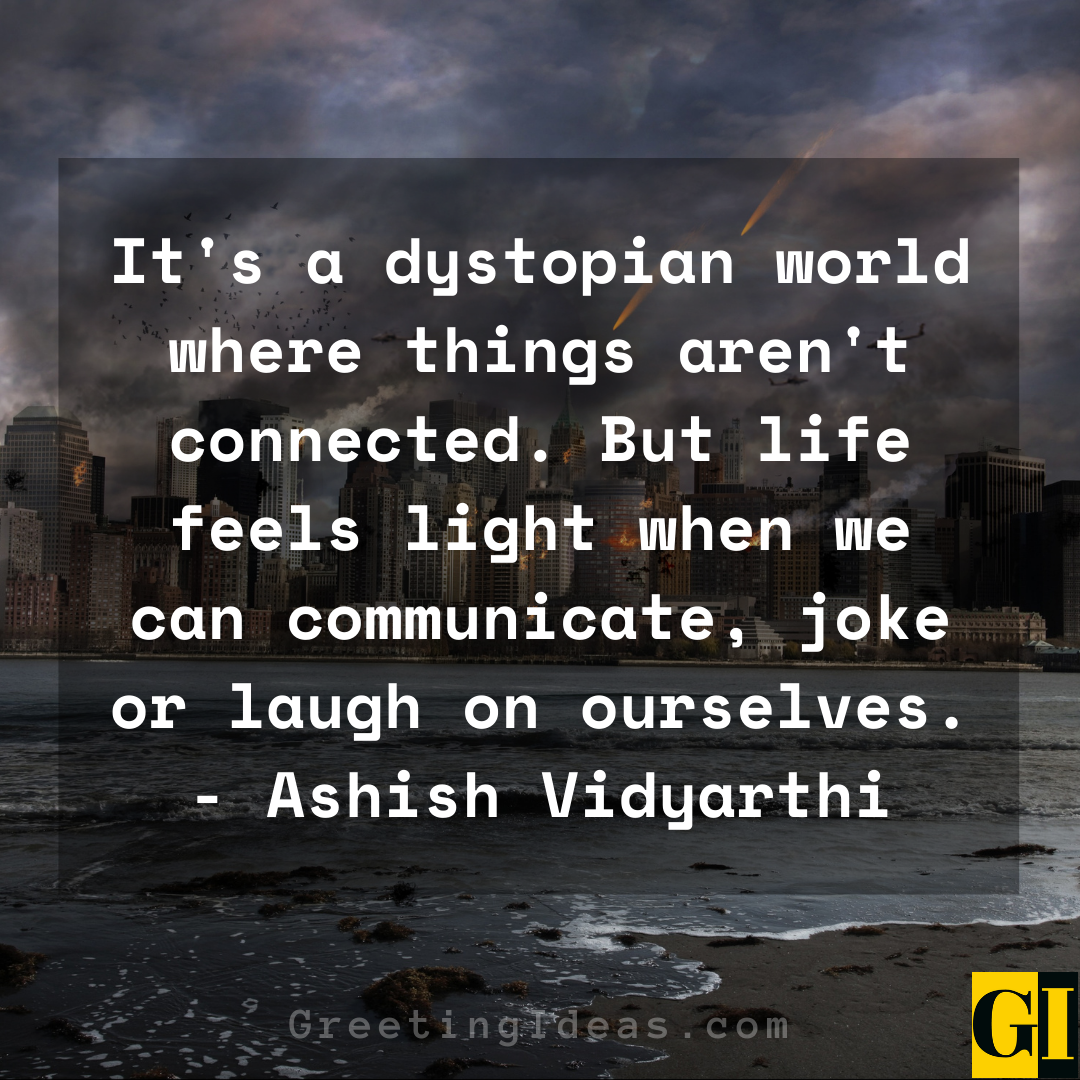 Also Read: 35 Inspiring Deal with the Devil Quotes to Fight Darkness
I think it's fascinating to look at a world that an author has created that has sort of stemmed from the world now, and usually dystopian books point out something about our current world and exaggerates a tendency or a belief.
– Veronica Roth
It's a heartening fact about the human race that utopian fiction precedes dystopian fiction in the evolution of literature.
– Paul Di Filippo
I think dystopian futures are also a reflection of current fears.
– Lauren Oliver
Dystopian,' by definition, promises a darker story.
– Lauren DeStefano
Within the realm of fiction, it is always tempting to set one's stories in a dystopian future, where all our misgivings about state power can be shown in full force.
– Anne Fortier
The dystopian future of a society bereft of reason.
– J. S. Ellis
Why fight everything? Not what you expected? Your dystopian epic of memories are a lie.
– Anthrax
This time could be the last. Maybe the only time to get it right; In this dystopian generation, damnable situation.
– The Damned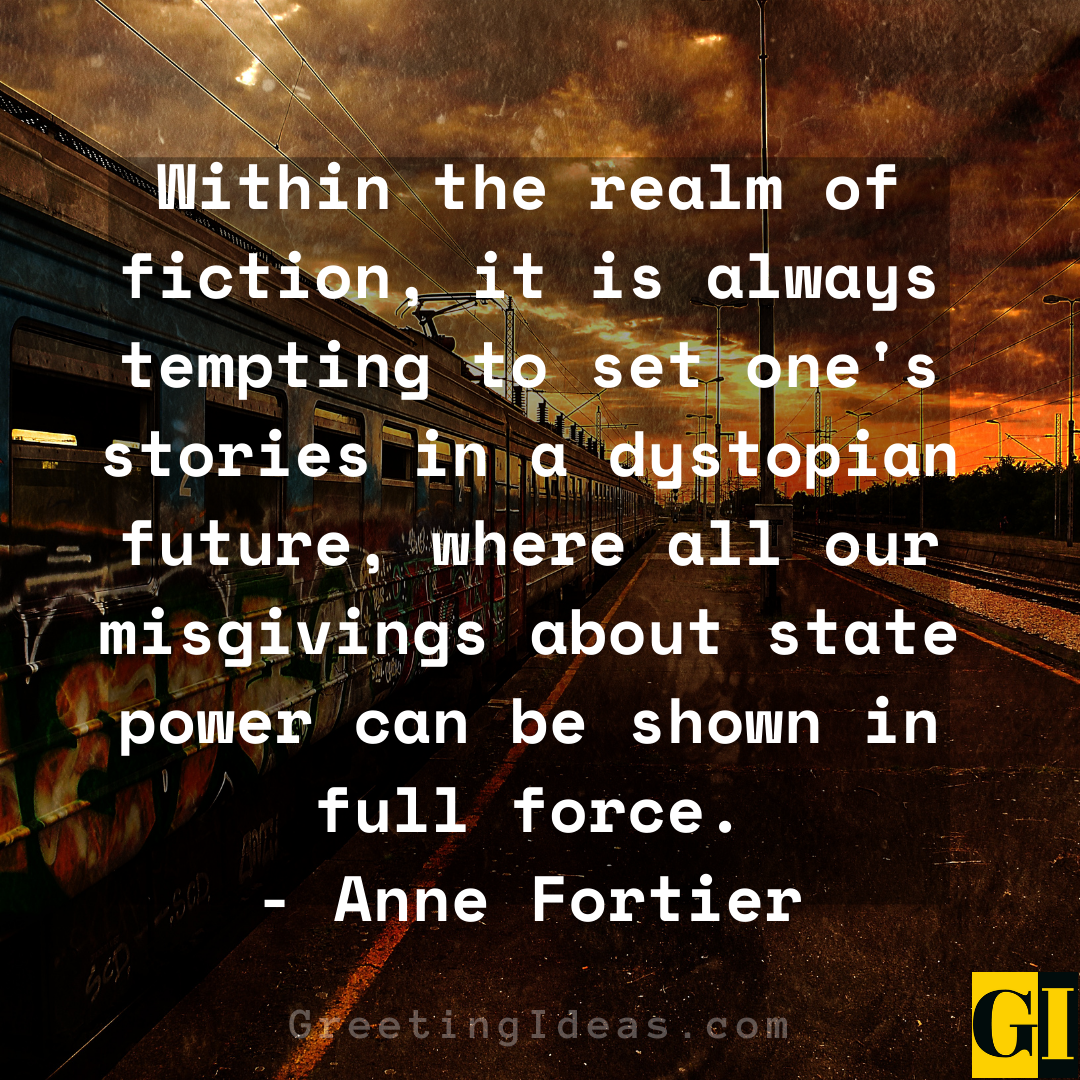 Also Read: 30 End of the World Doomsday Quotes and Sayings
Dystopian ruthless hope movements seasonal and festive the butchery looking good.
– EI-P
Life is tough, you'll get snuffed in the buff, so dystopian, ruff, ruff, hear the call of the copper mutts on the hunt.
– Killer Mike
It's the apocalypse, a dystopian dream, the internet would be the one to kill you and too busy kissing mirrors and those cell phone.
– Johnny Raincloud
Dystopian utopia, utopian dystopia.
– Necrosis
To cityscapes of past demise, magenta skies, the human race deprived, may not survive dystopian times, paths defined, thoughts maligned.
– Ray Gun Hero
I feel like lonely soldier in a dystopian world always fighting to survive another day.
– Blutengel
I'll climb through the window again. But right now it feels good not to stand. Then I'll leave it wide open. Let the dystopian morning light pour in.
– Phoebe Bridgers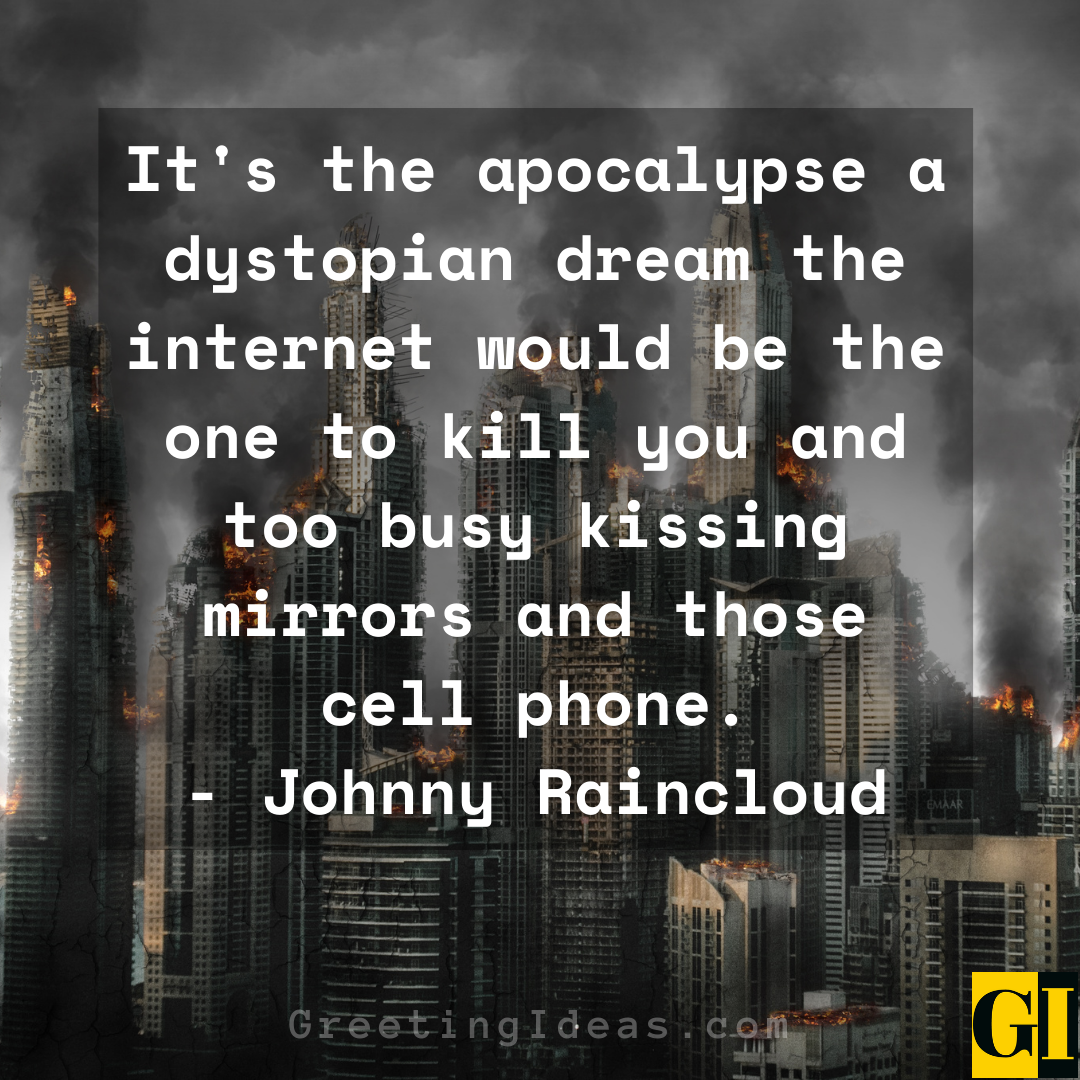 Also Read: 10+ Best Bitter Truth Quotes about Life, Love, and Friendship
The dark mirror of dystopian fiction functions as a deterrent, a warning that we should not allow the still curable illness of our present world to turn into the abhorrent pathologies of the world of the future.
– Erika Gottlieb
Dystopian, by definition, promises a darker story.
– Lauren DeStefano
The beauty of dystopia is that it lets us vicariously experience future worlds – but we still have the power to change our own.
– Ally Condie
Its a heartening fact about the human race that utopian fiction precedes dystopian fiction in the evolution of literature.
– Paul Di Filippo
Once you get into the world of dystopia, it's hard to avoid plagiarism, because other people have had such powerful visions.
– Anthony Horowitz
People in the know say 'The Giver' was the first young adult dystopian novel.
– Lois Lowry
Dystopian novels help people process their fears about what the future might look like; further, they usually show that there is always hope, even in the bleakest future.
– Lauren Oliver
Live every day as if you've come back in time from a dystopian future to try and prevent everything from breaking.
– Charlie Jane Anders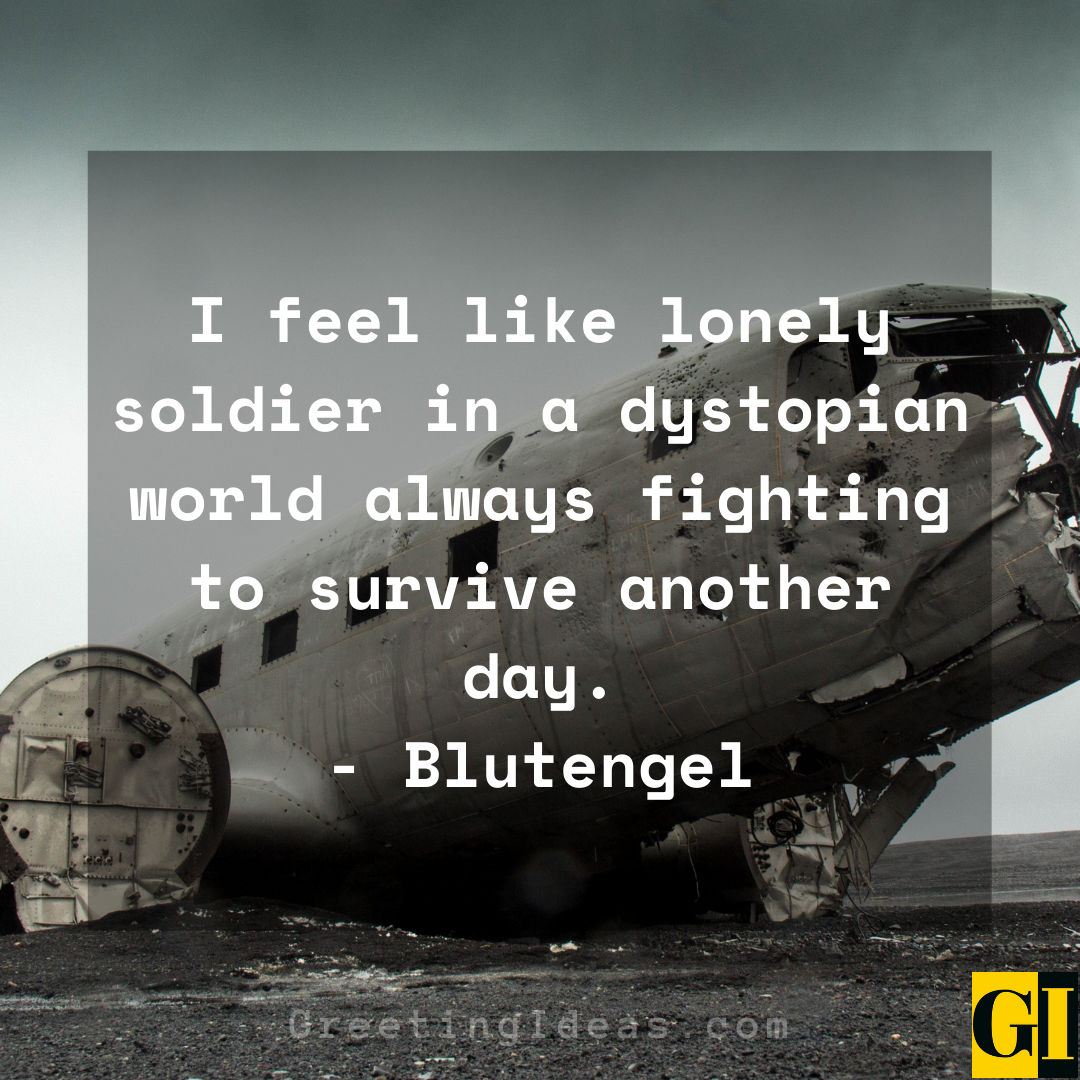 Also Read: 30 Best Anti-War Quotes Against Violence and Bloodshed
Most dystopian, classic and contemporary, paints a future world that puts a twist on present society – a future world that could plausibly happen.
– Lauren DeStefano
A fictional dystopia is better than a fake Utopia.
– Robert Friedrich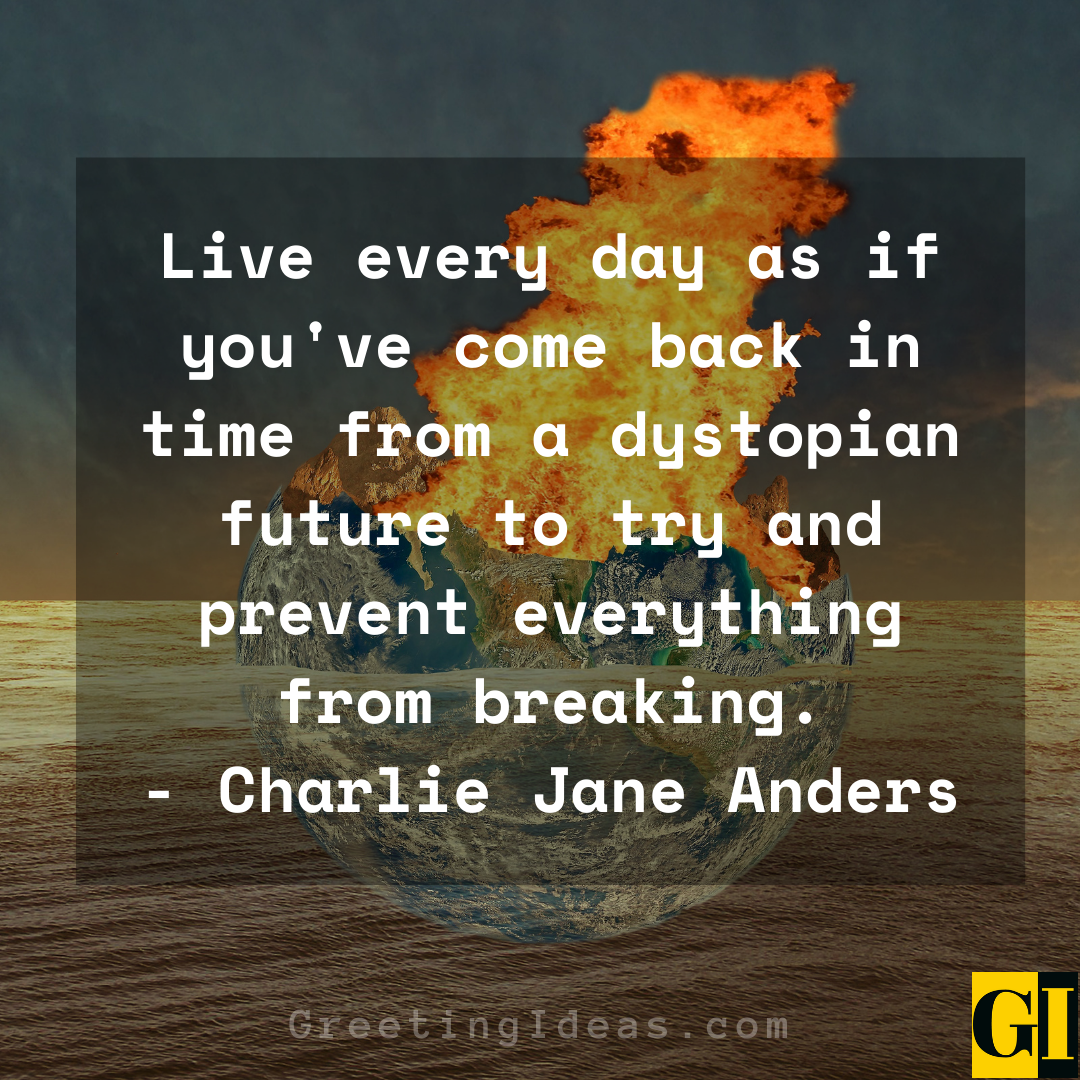 Also Read: 80 Meaningful Light and Darkness Quotes and Sayings
We hope you enjoy reading our famous dystopian quotes collection.
Share it with your loved ones and in social circles.
Sharing is Caring!