FTC disclaimer. This post contains affiliate links, and I will be compensated if you purchase through one of my links.
Read our inspirational dirt bike quotes and sayings from renowned sports personalities if you are a big fan of this adrenaline-filled motorsports.
You can find different models of dirt bikes model suitable for beginners to advanced riders and invented by Siegfried Betmann in the early 19th century.
Dirt bikes are lighter, with a higher lift and sturdy and rugged tires to handle mud, sand, and other harsh terrain conditions.
Though the dirt bike is an incredible and most sought-after adventure sport globally, having proper motor skills, aerobic and anaerobic fitness, sharp mental focus, and control are necessary.
If you are a dirt bike enthusiast, find some catchy dirt bike quotes for Instagram captions.
Keep reading our deep dirt bike quotes collection for all the riding lovers.
Best Dirt Bike Quotes and Sayings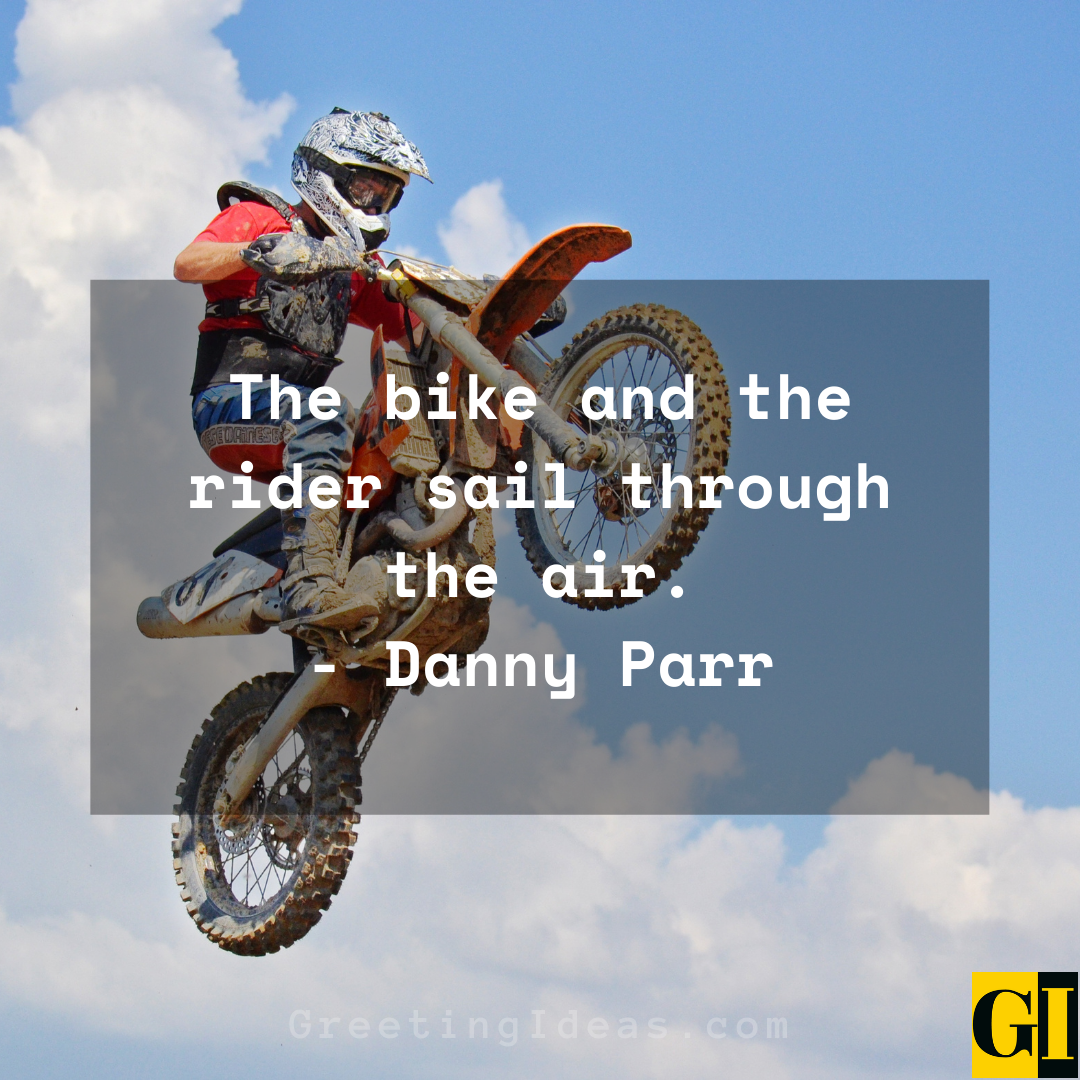 Also Read: 20 Best Adventure Adrenaline Quotes and Sayings
Speed has never killed anyone. Suddenly becoming stationary, that's what gets you.
– Jeremy Clarkson
Faster, Faster, until the thrill of speed overcomes the fear of death.
– Hunter S Thompson
Anyone who rides a bike is a friend of mine.
– Gary Fisher
Then I do a triple jump! YEAH! When I was a kid, I never bothered with what my friends did. I just wanted to be a dirt bike rider, A dirt bike rider!
– Brian Neary
Brain washing dirt bike, ground shaking dirt bike, mind bending dirt bike in control.
– John Flansburgh
Soul crushing dirt bike, self propelled dirt bike. You see I never thought I'd understand till that bike took me by the hand, now I ride.
– John Flansburgh
Running like Naruto and needing N9na to throw batons. Baton like Rouge and kill everything like Rittz while foes are on. See you people are slowing on, we be speeding like motocross.
– Anthony Saunders
Mud enduros and motocross. Dish washing money to buy my gas. Late at night in the cold garage building the engine that moved my past. Sliding out of the perfect turn.
– David Patrick Wilcox
If everything seems under control, you're not going fast enough.
– Mario Andretti
Ride your bike, ride your bike, ride your bike.
– Fausto Coppi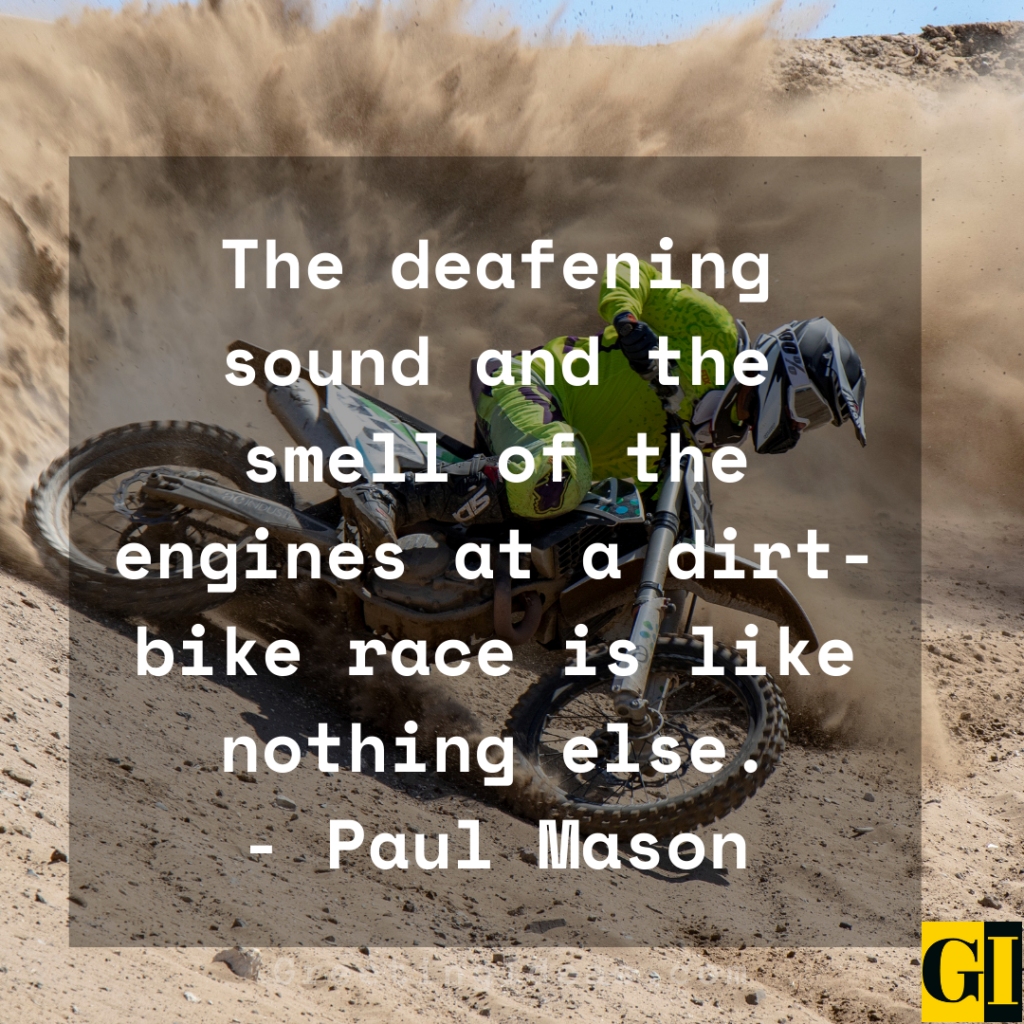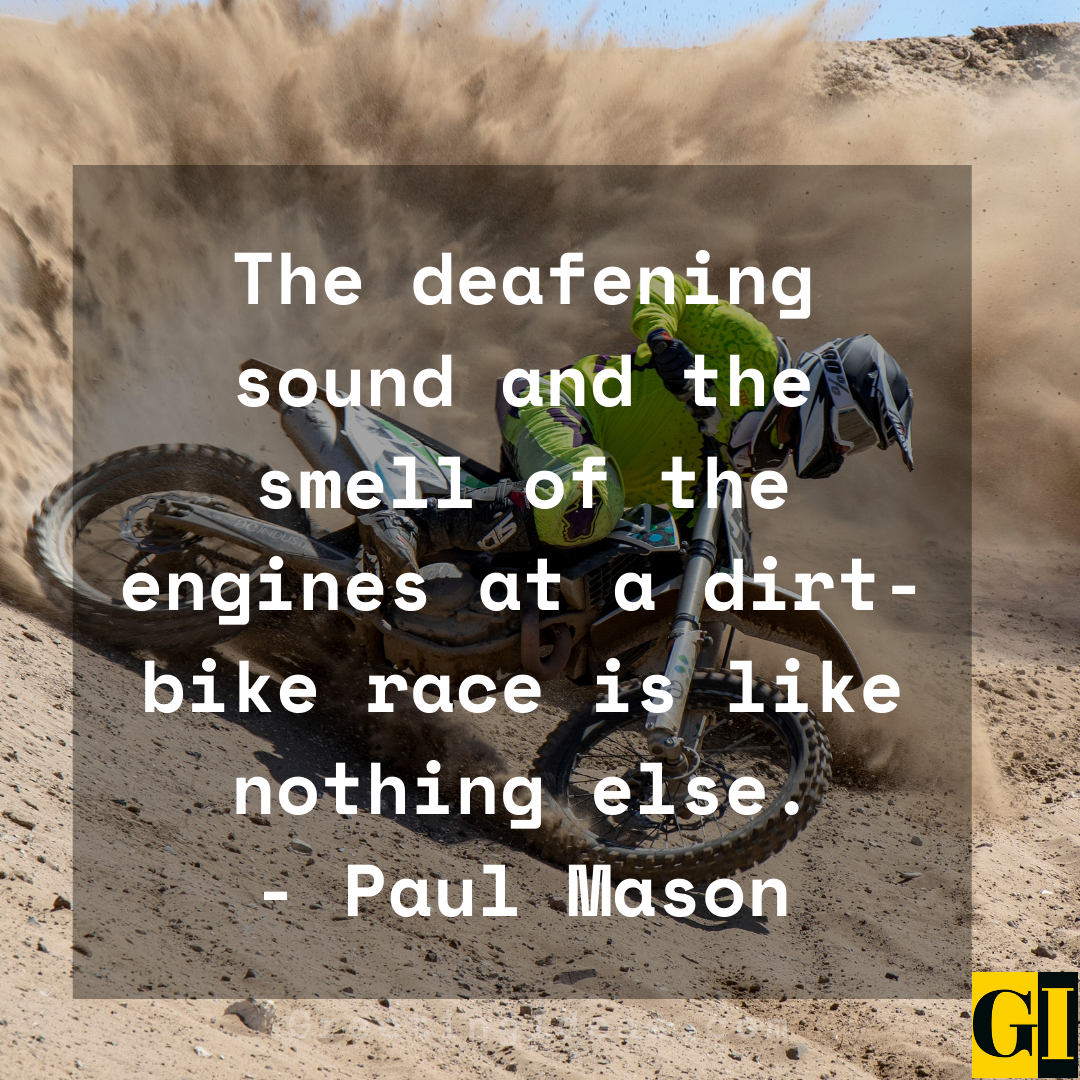 Also Read: 25 Feeling Alive Outside Quotes and Sayings
Daydreaming of dirt bikes and four wheeler. Shopping sprees at the diamond dealer. Hats and jackets, shirts, pants and sneakers. That brand new car smell.
– Chad Dexster Burnette
Dirt bike, four wheeling. Come up in the street I'm peeling.
– Nosakhere Jabili Andrews
Bank account erupting, I need me a safe or something, I'm a dirt bike riding junkie, I don't need that Wrath for nothing. But it's a Wraith on my wrist or something.
– Bryan Yepes
Hugging a thot, boy, giving them top where the brain is. I'm a rock star lifestyle living, dirt bike riding, toting stainless, I aim big.
– Bryan Yepes
Stripes getting dirty like mud fights and dirt bikes. Turning these draw's black that's used to be white.
– Allan Pineda
Dirt bikes are lighter than street motorcycles. Their light weight makes them fast and quick. Dirt bikes can make sharp turns that street motorcycles cannot make.
– Danny Parr
Most people ride dirt bikes for fun. They can explore areas in dirt bikes that cars and street motorcycles cannot explore.
– Danny Parr
From coast to coast, kids are burning up the track and the trail on dirt bikes.
– James Holter
They do tricks while their powerful dirt bikes soar through the air. Judges score each trick based on difficulty, style, originality, and landing.
– Matt Scheff
Dirt bike racing is fast and dirty. Riders speed over jumps. They soar through the air and slam back to earth.
– M. Weber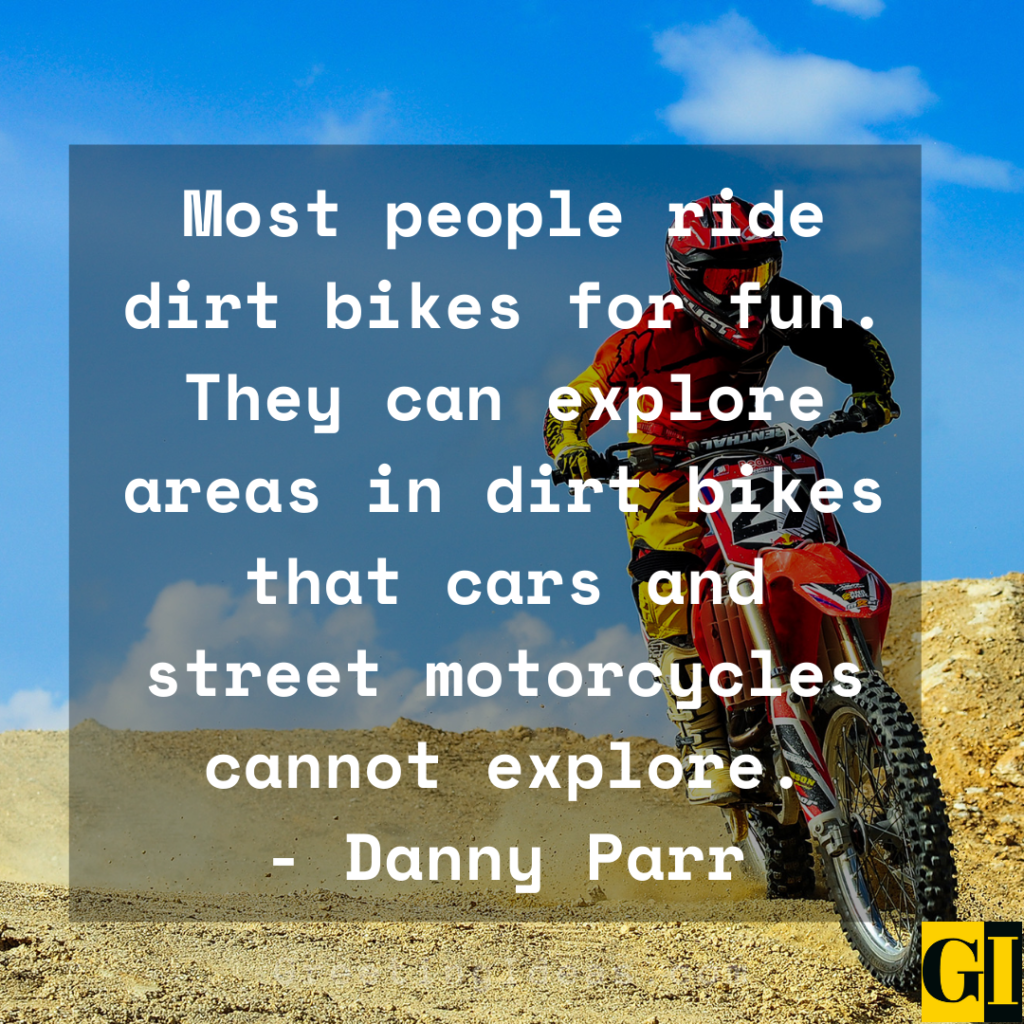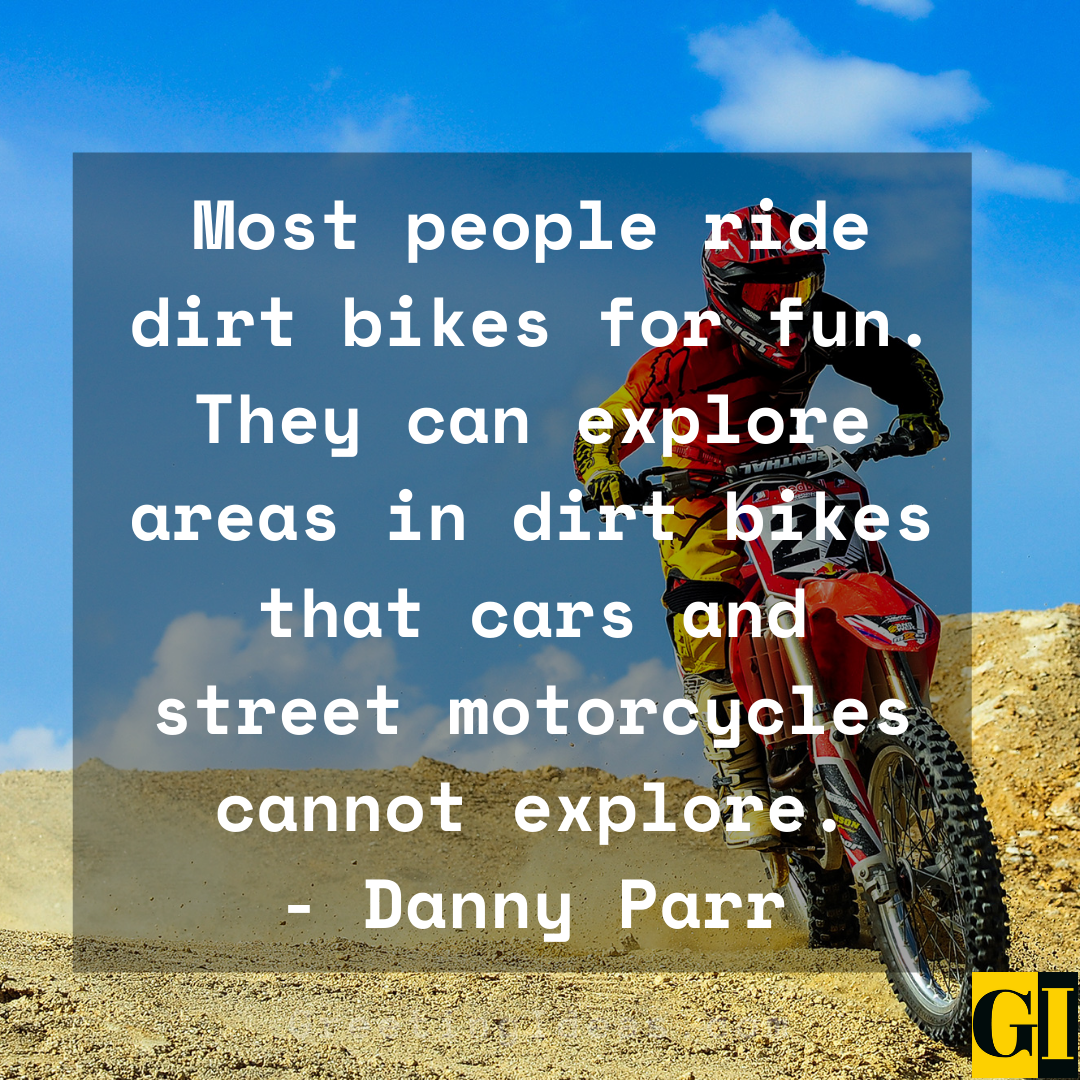 Also Read: 35 Best Adventurous Quotes About Life and Wandering Spirit
Freestyle motocross riders take dirt bike riding to the extreme. Not long ago, the bikes that sail through the air were used mainly for racing.
– Terri Sievert
In the 1950's, motorcycle companies began to design and build motorcycles for riding on rough, bumpy off-road courses. People called these motorcycles 'dirt bikes.'
– Terri Sievert
Dirt bike riders also compete in other races. They still race on dirt tracks.
– Terri Sievert
Discover the world of dirt bikes, where riders speed over muddy, hilly courses and soar high into the air.
– Terri Sievert
The bike and the rider sail through the air.
– Danny Parr
Dirt bikes handle well in dirt, mud, sand, and grass. Riders enjoy riding dirt bikes away from roads and highways.
– Danny Parr
This makes dirt bike racing one of the most physically demanding and dangerous motorsports.
– M. Weber
Dirt bike races are also held on challenging outdoors courses. No two courses are the same.
– M. Weber
Imagine you are riding on a dirt bike. Warm air blows past you as you speed along hilly trails. You may even do special stunts, such as jumps or spins.
– Sarah Tieck
Many parts work together to make it move. A dirt bike is an amazing vehicle.
– Sarah Tieck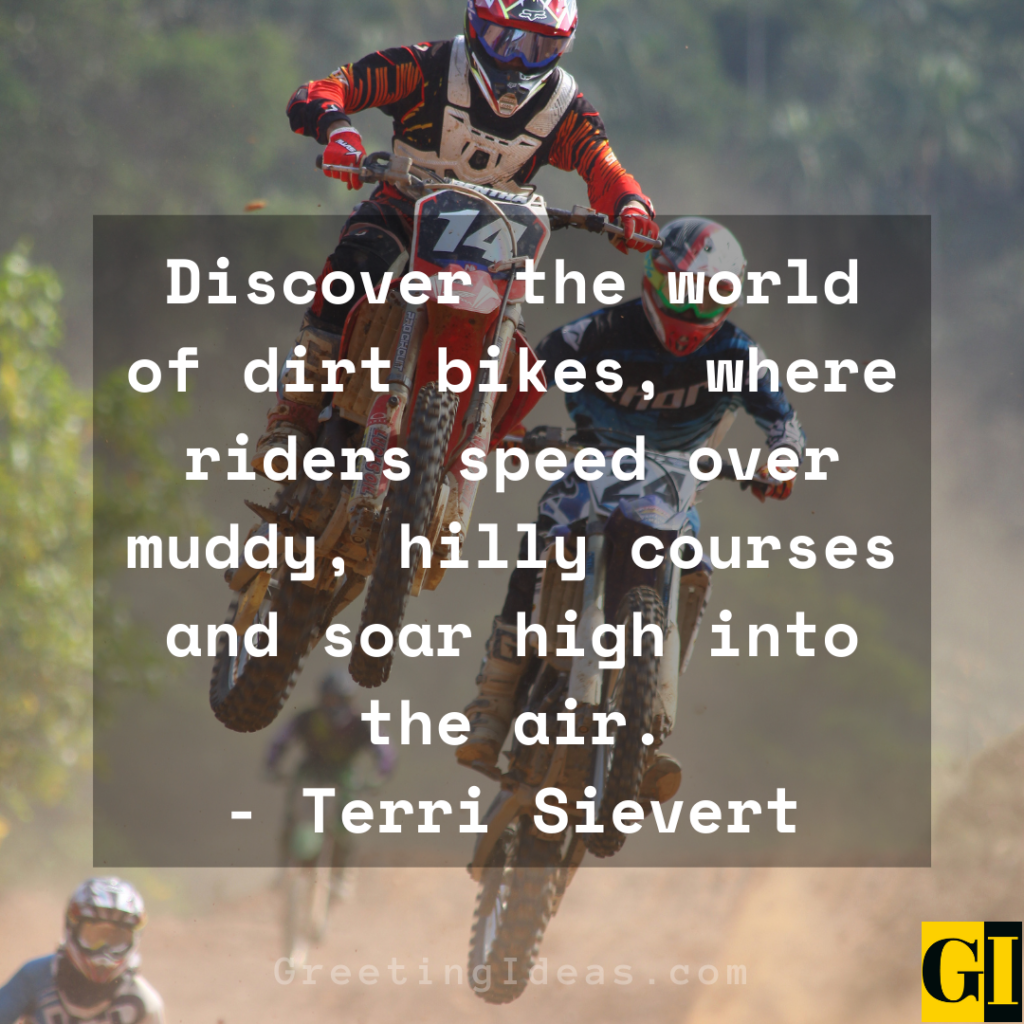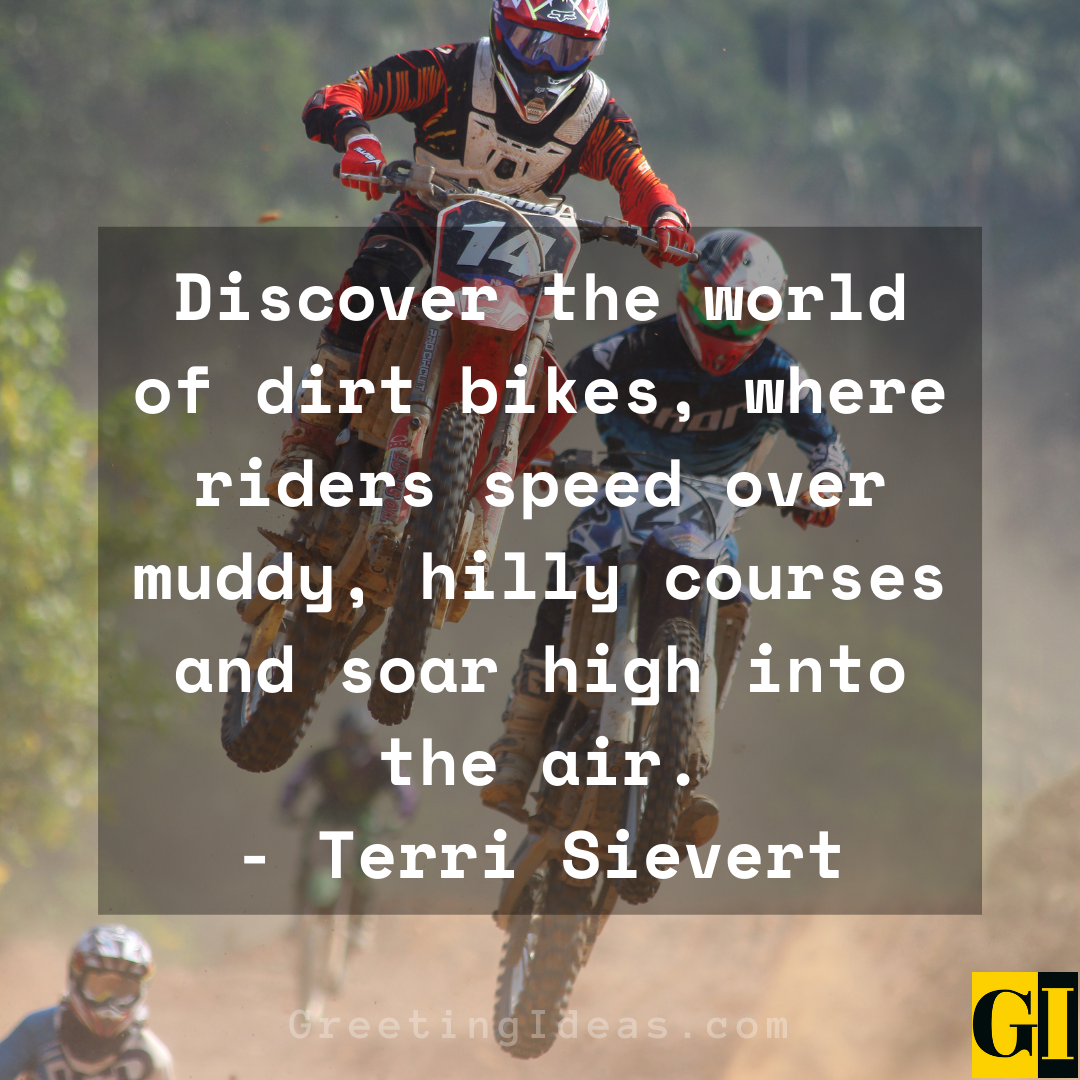 Also Read: 30 Inspiring Be Bold and Be Daring Quotes and Sayings
Some people ride dirt bikes for recreation, such as outdoor adventures.
– Sarah Tieck
To the uninitiated, riding an off-road motorcycle may look as easy as sitting down, putting your feet on the pegs, and twisting the throttle. But for any of us who have ever tried to tackle an off-road trail on a dirt bike, we know that there is so much more to the activity than that.
– Gary LaPlante
The deafening sound and the smell of the engines at a dirt-bike race is like nothing else.
– Paul Mason
Not everyone rides dirt bikes in races. Some bikers prefer to ride through the woods with a few friends. But the best courses are almost all used for races.
– Paul Mason
It is a good idea to bring plenty of water. Dirt biking is thirsty work!
– Paul Mason
People loved to race cross-country motorcycles in dirt races called scrambles.
– Jack David
Dirt bikes kept growing in popularity. It soon seemed as if dirt bikes were everywhere.
– Jack David
Dirt bikes make it possible to travel areas where other vehicles would get stuck.
– S.L. Hamilton
Many dirt bikes owners also love to test their riding skill in motocross competitions.
– S.L. Hamilton
If there is one thing that the vast majority of great motor cycle races and champions have in common, it's that they started riding in the dirt.
– Gary LaPlante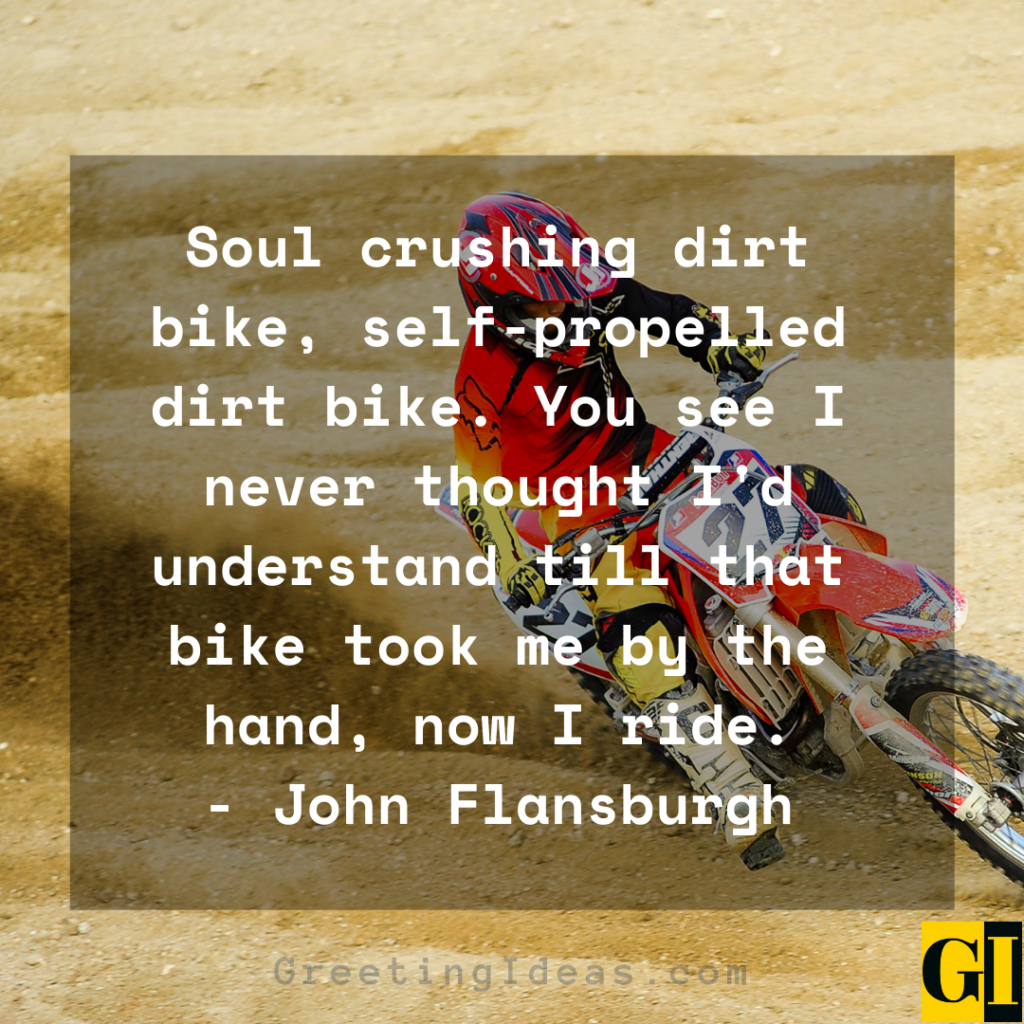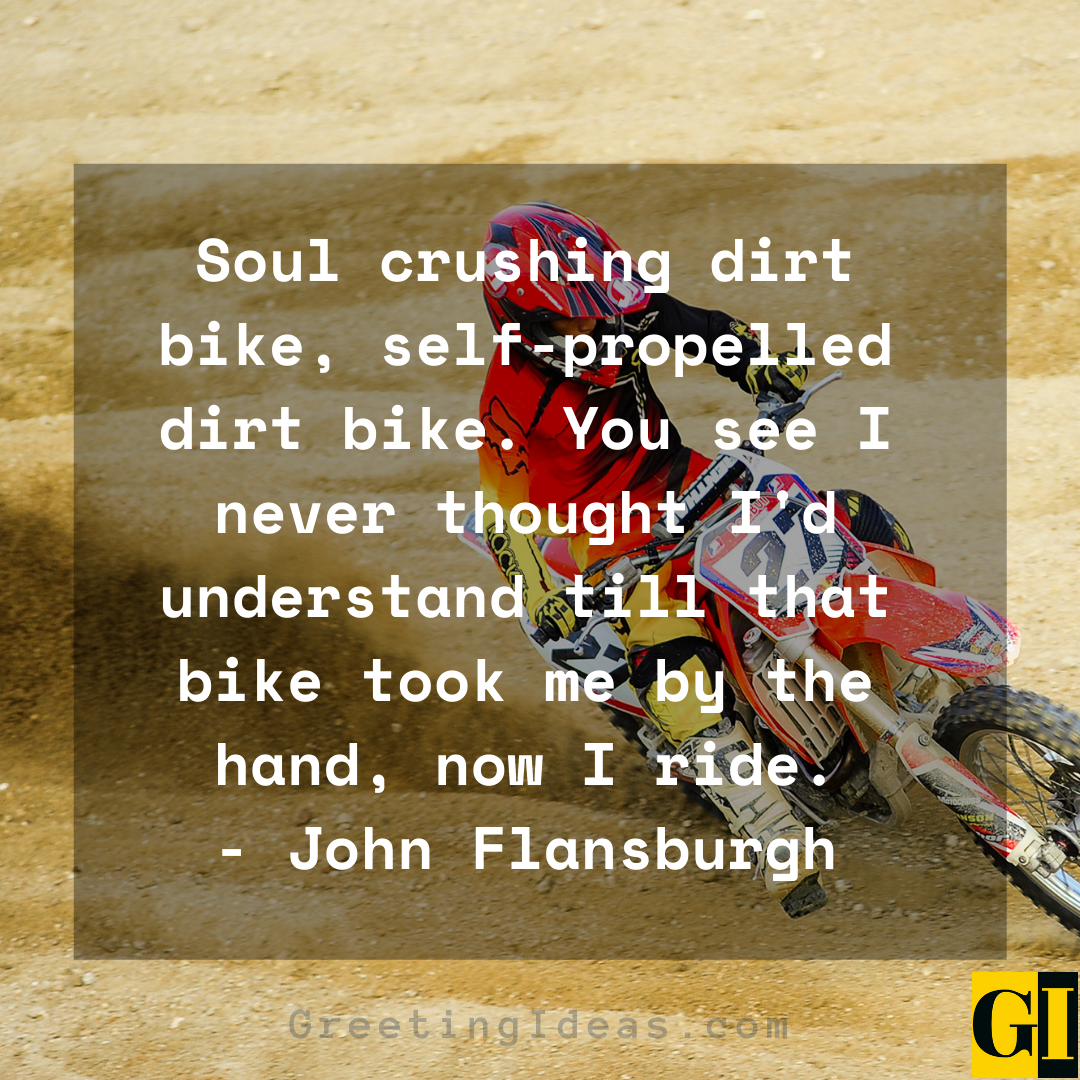 Also Read: 50 Inspirational Youth Quotes for Inner Power and Upliftment
We hope you enjoy reading our motivational dirt bike quotes collection.
Share it with your loved ones and in social circles.
Sharing is Caring!