FTC disclaimer. This post contains affiliate links, and I will be compensated if you purchase through one of my links.
Employees tend to work overtime to beat the cutthroat competition in the office and be ahead in the rat race.
But in the long run, working overtime takes a toll on physical and mental health.
Develop the attitude to say no to overtime as it overall decreases workforce productivity and depletes energy and enthusiasm over a period of time.
It can be quite effective to push the mind to achieve targets by working overtime when needed. But do not make it a habit.
It is a thin line that one needs to walk carefully. It can be motivating or really exhausting, depending on your inner capacity to tackle targets.
We hope our famous and popular overtime quotes and sayings help you choose wisely when to allow the mind to work overtime and when to unwind and relax.
Best Overtime Quotes and Sayings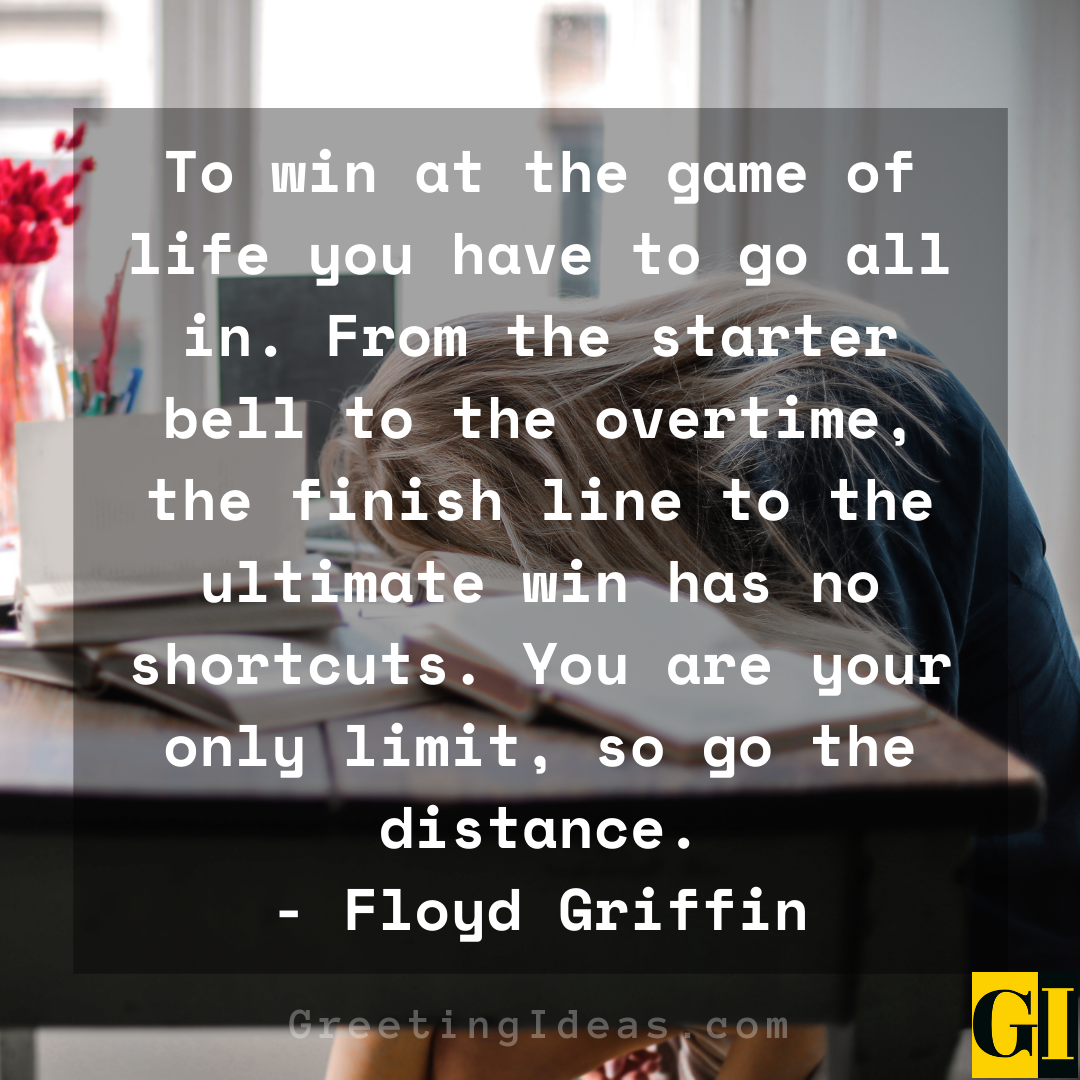 Also Read: 70 Inspirational Organization Quotes Sayings for Employees
To win at the game of life you have to go all in. From the starter bell to the overtime, the finish line to the ultimate win has no shortcuts. You are your only limit, so go the distance.
– Floyd Griffin
Overtime work and long work hours may adversely alter employee's lifestyle behaviours as a result of energy and time depletion.
– Maria C.W. Peeters
It is probably better to think of long working hours and working overtime as possible indicators of high quantitative job demands, but not as defining characteristics.
– Van Veldhoven
Time worked beyond normal hours constitutes overtime or exceptions.
– International Labor Office
As a goaltender, I never liked to be scored on in overtime, but for this offering I don't mind seeing the red light go on.
– Dwayne Roloson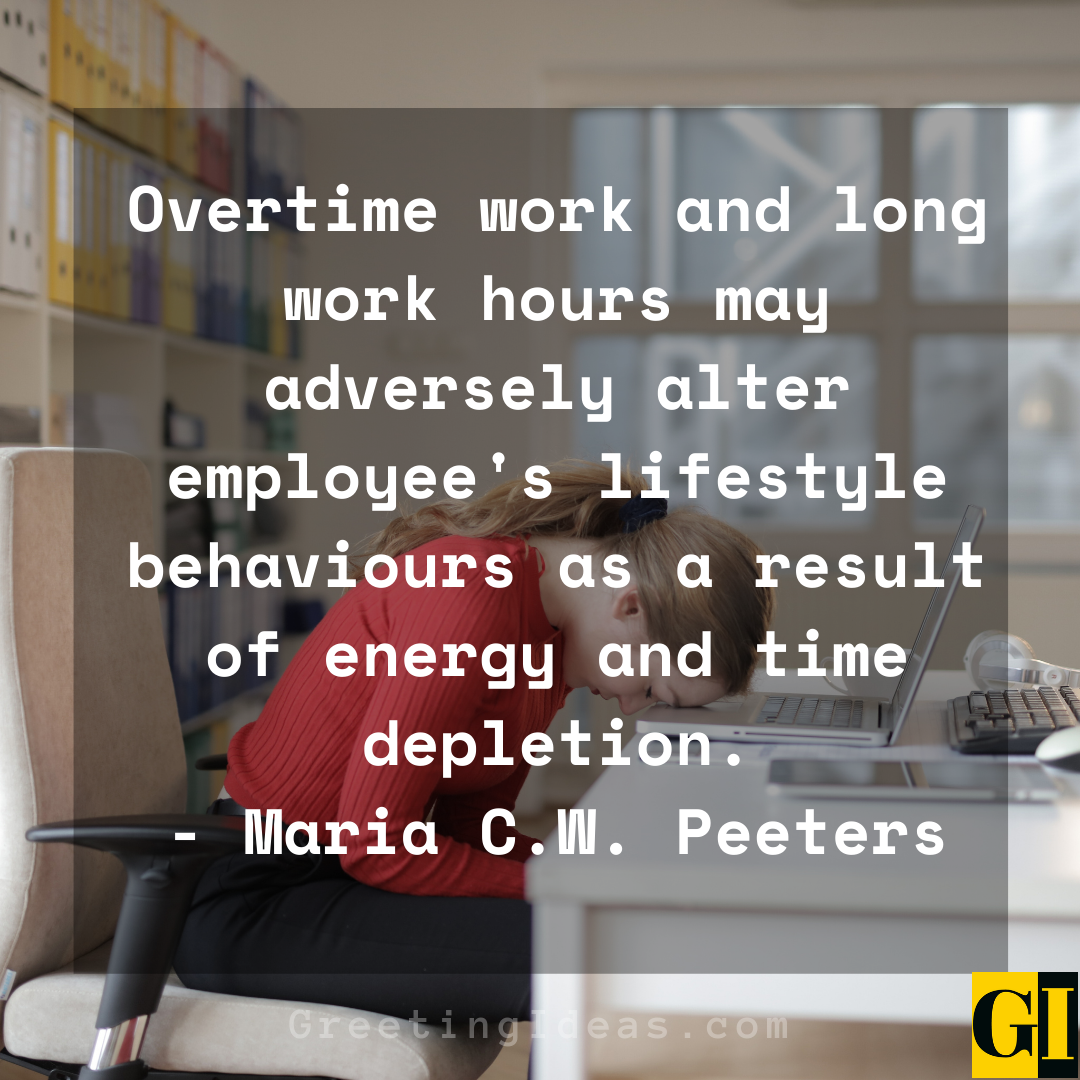 Also Read: 40 Best Unhappiness Quotes Sayings for Family, Money, and Job
Changes in overtime working affect the firm's revenue and costs as well as union member's hourly earnings and leisure time.
– Robert A. Hart
If you go into overtime then I would rather be an actor instead of president of the company, because that's where the money is.
– Jack Warner
Shooting a film can be quite exorbitant, after eight hours, you go into overtime, golden time, and platinum time.
– Paul Mazursky
Time is money, especially overtime.
– Larry Wall
Visible attention paid to overtime is often sufficient to impress people with its importance so they become more careful.
– Charles McConell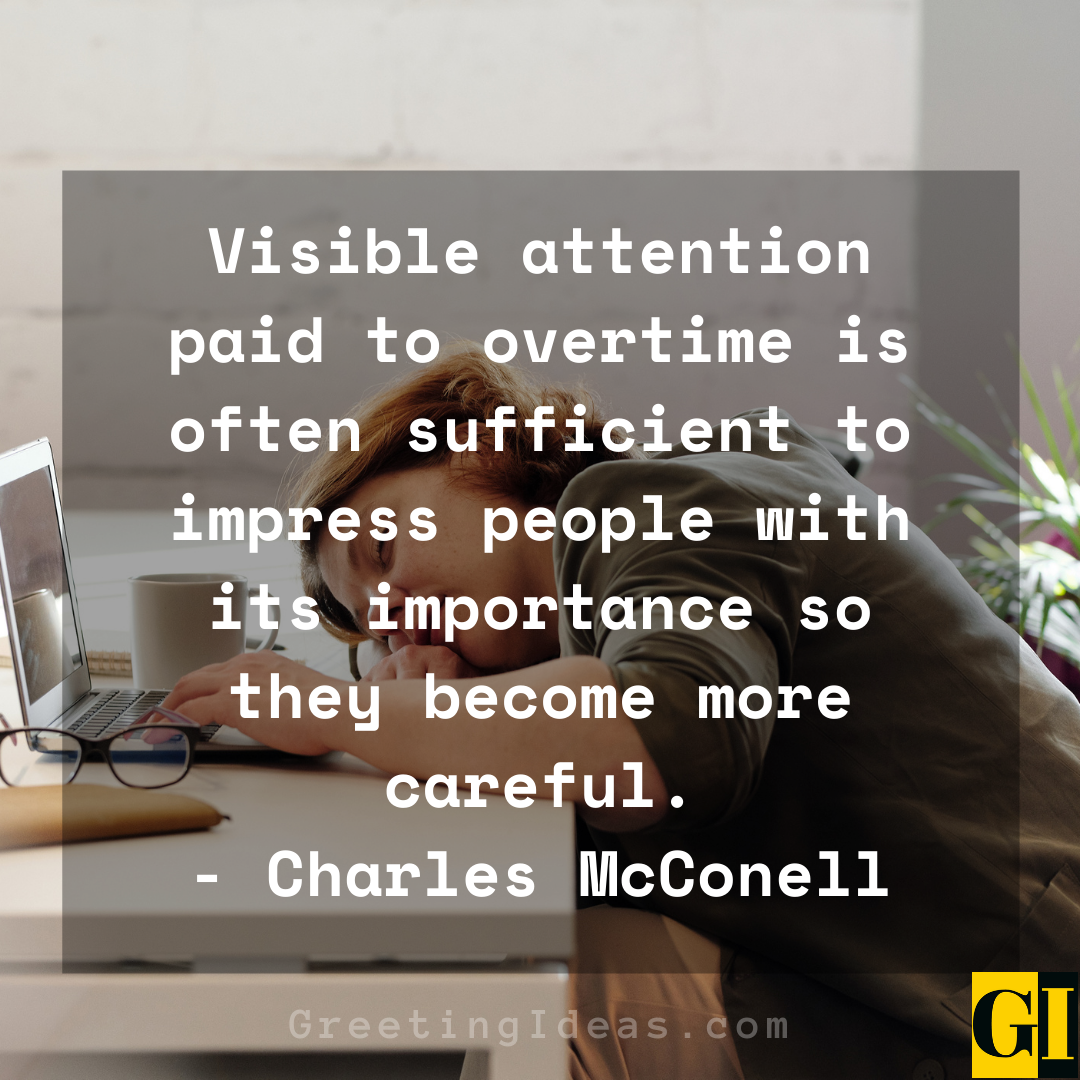 Also Read: 40 Most Uninspiring Quotes Sayings on Leadership and Life
Some overtime work is essential to give enterprises the flexibility to deal with unusual pressure of work, fluctuations in demand or other special circumstances.
– International Labor Office
When life said the game was over, God sent him in for one more play.
– Jacob Bembry
Liberals become indignant when you question their patriotism, but simultaneously work overtime to give terrorists a cushion for the next attack and laugh at dumb Americans who love their country and hate the enemy.
– Ann Coulter
A show is exhausting when it stinks. It's exhausting when you have to work overtime to make something work.
– Pati LuPone
I'll work overtime to open the doors of opportunity to industry and commerce.
– Alan Autry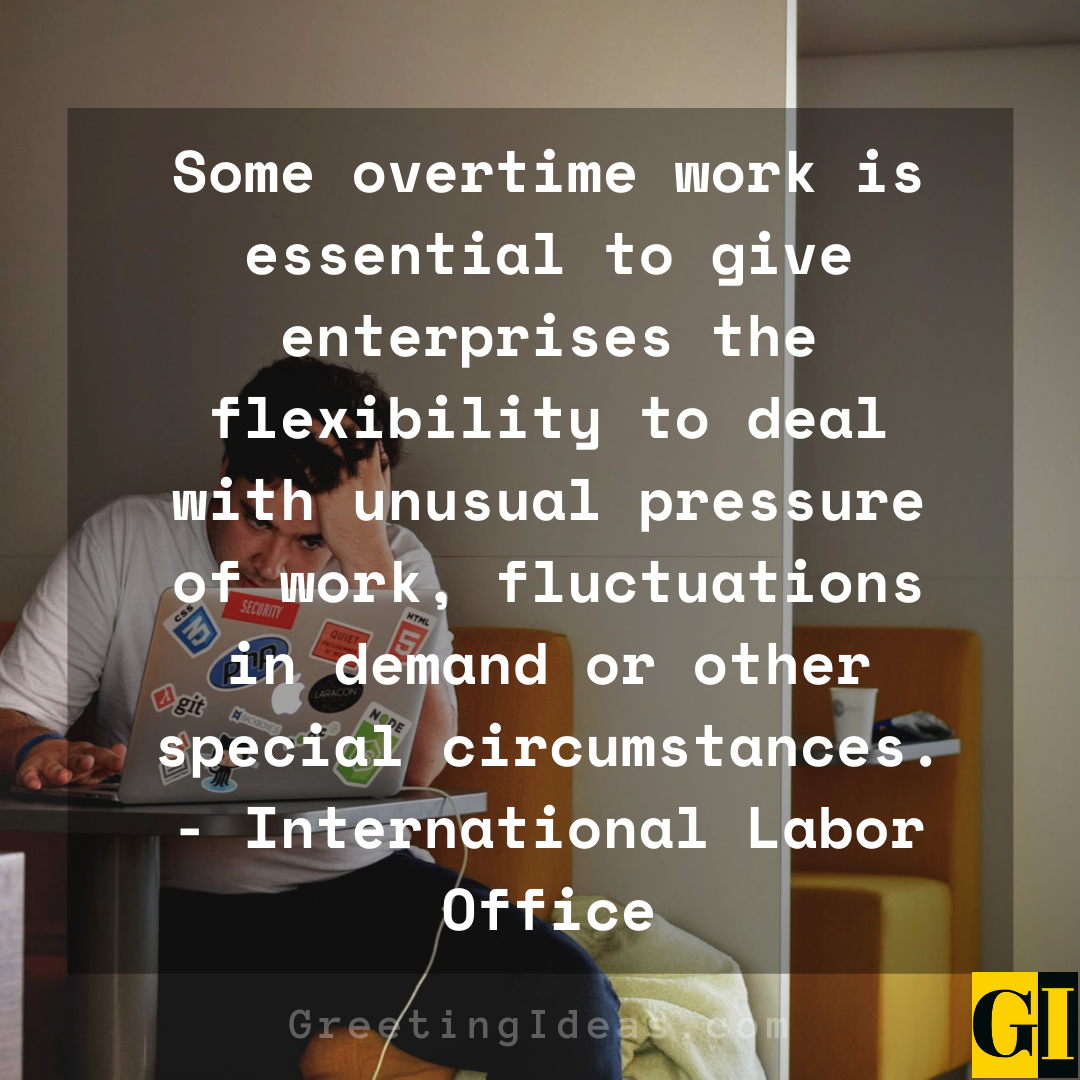 Also Read: 50 Top Accountability Quotes For Responsibility & Leadership
In judging others, folks will work overtime for no pay.
– Charles Edwin Carruthers
To be the best you have to work overtime.
– Floyd Mayweather, Jr.
We should pass a flex time law that allows employees to take their overtime pay in money or in time off, depending on what's better for their family.
– Bill Clinton
If you were willing to work, the overtime was there for you.
– Chuck Cooper
Working overtime is an underpaid man's salvation.
– Mokokoma Mokhonoana
It's exhausting when you have to work overtime to make something work.
– Patti LuPone
When life has gone into overtime it's easy to take liberties.
– Jonas Jonasson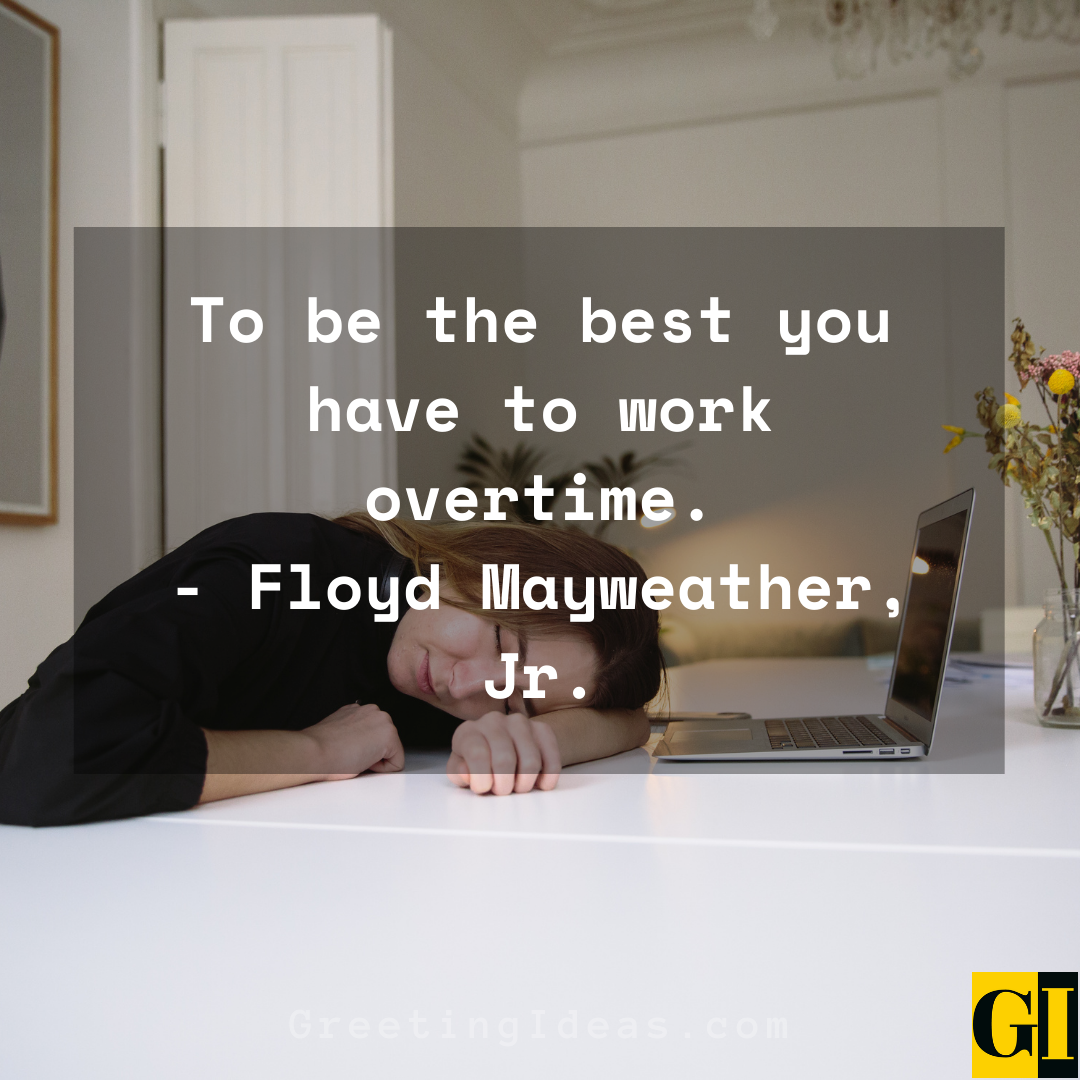 Also Read: 35 Feeling Unnecessary Quotes on One's Attitude and Thinking
We hope you enjoy reading our working overtime quotes collection.
Share it with your loved ones and in social circles.
What is your opinion about working overtime?
Let us know in the comments!