FTC disclaimer. This post contains affiliate links, and I will be compensated if you purchase through one of my links.
Read our famous wound heal, but scars remain quotes and sayings from renowned authors, thinkers, and philosophers.
Do not be ashamed of your scar quotes?
Theo Rossi has a powerful quote on scars – ' Scars show toughness: that you have been through it, and you are still standing.'
We all have unspoken scars in our hearts even after the mental wound and the unfavorable situations are a thing of the past.
The only real cure to any psychological scars and mental trauma is to go beyond the wounds and transform into a new person inside out.
Don't remain mentally the same person who has experienced that pain and allow yourself to reconstruct totally.
The more we remain the same and keep reiterating those uncomfortable past events, thoughts, and feelings, again and again, we are only making it sit deeper in our memories.
Renowned author and activist Helen Keller quotes, ' when we do the best that we can, we never know what miracle is wrought in our life, or in the life of another.'
Miracles happen only to courageous people who tell themselves, ' I won't be dishonest to my experiences and will take complete responsibility for both my happiness and sadness.'
Our minds become habitual to remaining victims because we don't show enough self-love towards ourselves and little respect for inner peace and relaxed living.
We trade off today's inner peace by reiterating the past scars, wounds, and unfair treatment that life, people, and the world did to us.
Everybody is vulnerable to an uncertain situation, but nobody is destined to remain a victim and stop living life in all its originality.
What has happened in the past is dead, gone, and dusted. If right now you decide to be free of it psychologically, you can be.
We have the power inside us to change our current personality and decide not to suffer anymore.
How do you let an emotional scar go?
Remember, pain is inevitable, but suffering is optional.
And that inner self-awareness will give us the extra attention to be careful next time and never allow such incidents to happen again. At least honest self-observation reduces the possibility of repeating the same mistakes.
Instead, if we keep sulking and blaming our fates for giving us such deep scars, the chances of more such scars getting repeated in the future.
Challenge the assumption of who you think you are, don't remain the person who miscalculated and misjudged that led to the tragedy, and take a leap of faith that takes you far away from mental heaviness.
Fill your life with beauty, meaning, depth, and purpose that make you come alive in life in everyday living.
Immerse in the reality so deeply that the past thoughts and wounds occupy very little space on your psyche.
Remember, we are the drivers of our lives, so our life journey will be according to whatever valuable direction we give.
Reading timeless wisdom books will also help ease the heartache and make you a more healed person than ever.
We hope you find our handpicked scar quotes collection insightful.
Best Scar Quotes and Sayings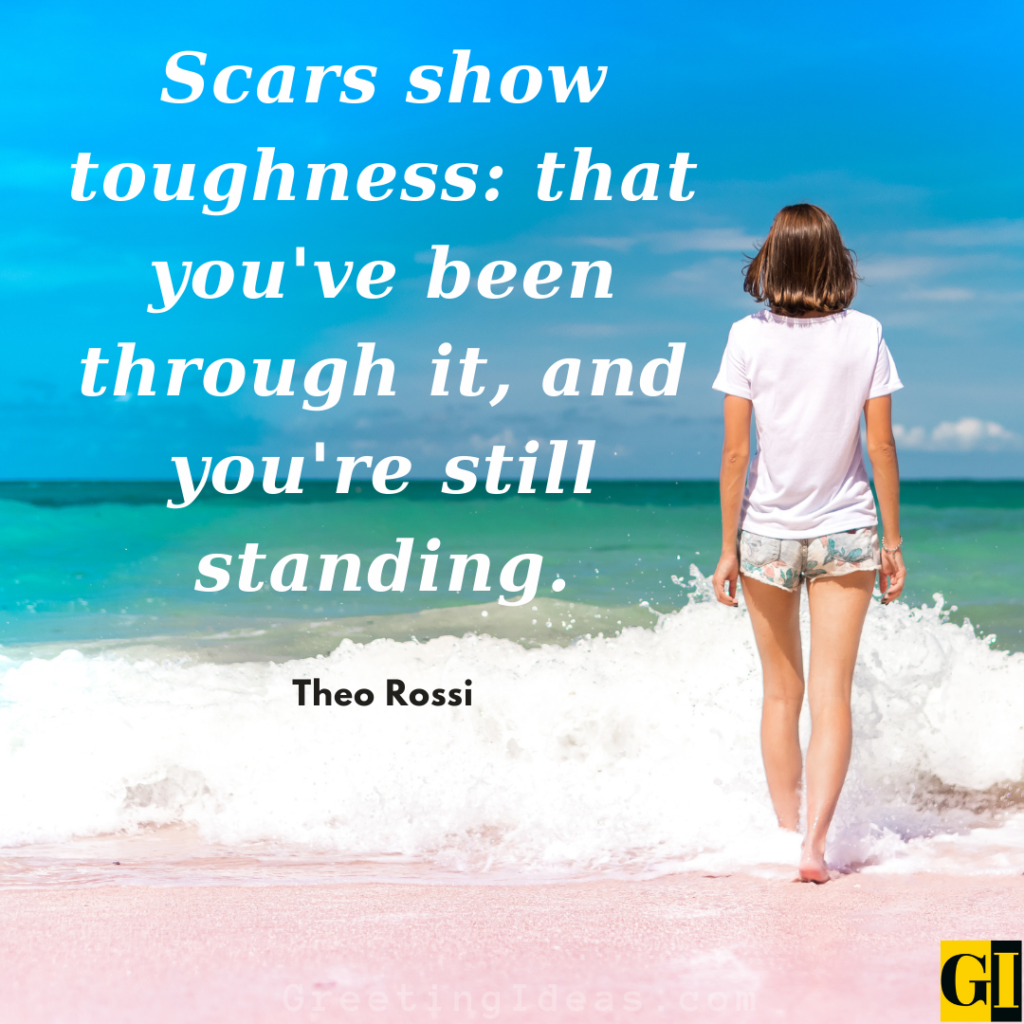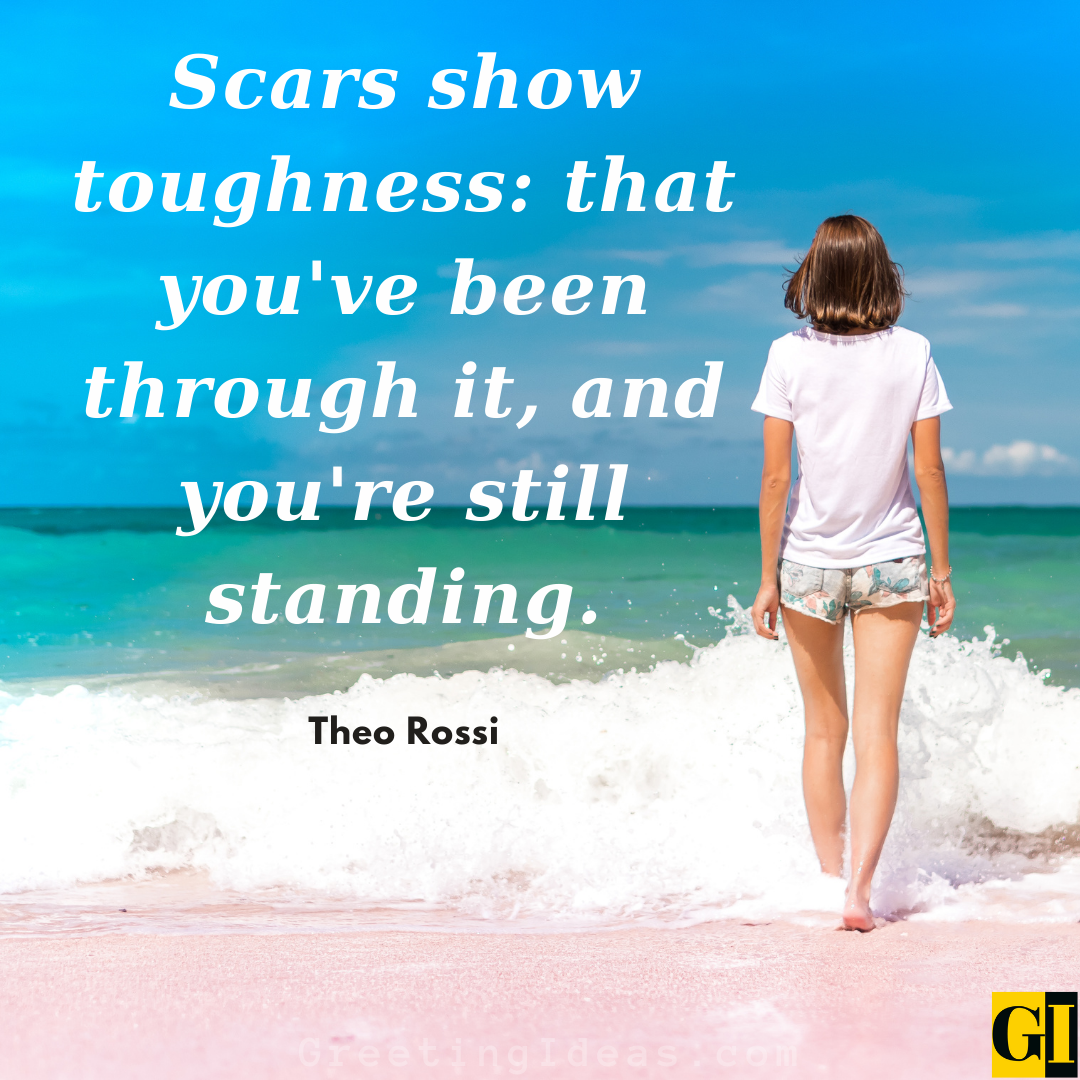 Also Read: 50 Value Your Self Worth Quotes and Sayings For A Great Life
Be proud of every scar on your heart, each one holds a lifetime's worth of lessons.
– Wallace Stegner
She wears her scars like a warrior, for they are a reminder she's alive.
– Unknown
To be alive at all is to have scars.
– John Steinbeck
Out of suffering have emerged the strongest souls; the most massive characters are seared with scars.
– Khalil Gibran
Scars. A sign that you had been hurt. A sign that you had healed.
– Benjamin Alire Saenz
Wounds turn into scars and scars make you tough.
– Aisha Tyler
Every scar that you have is a reminder not just that you got hurt, but that you survived.
– Michelle Obama
Scars are a warrior's beauty marks.
– Matshona Dhliwayo
I'm grateful for every scar, some pages turned, some bridges burned, but there were lessons learned.
– Carrie Underwood
Scars are beautiful when we see them as glorious reminders that we courageously survived.
– Lysa Terkeurst
Scars show toughness: that you've been through it, and you're still standing.
– Theo Rossi
Beautiful Scar Quotes and Sayings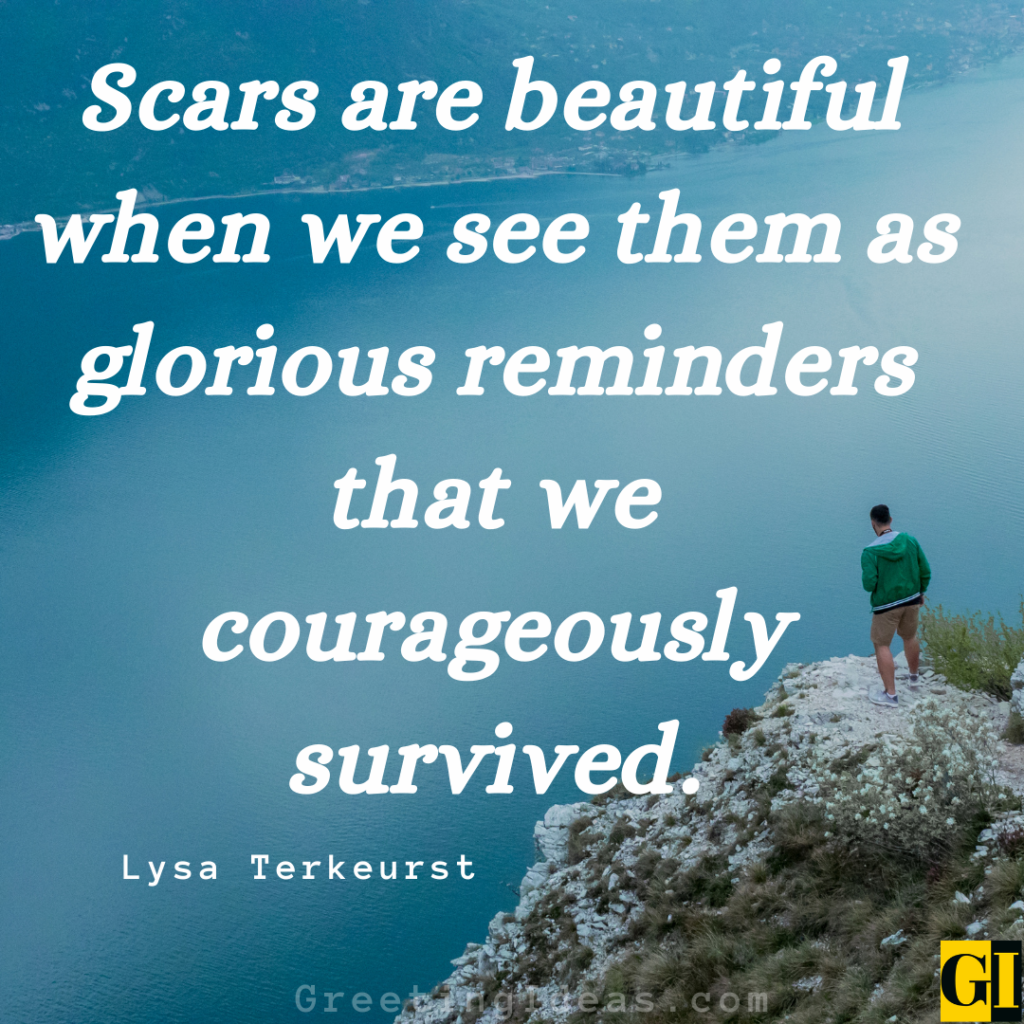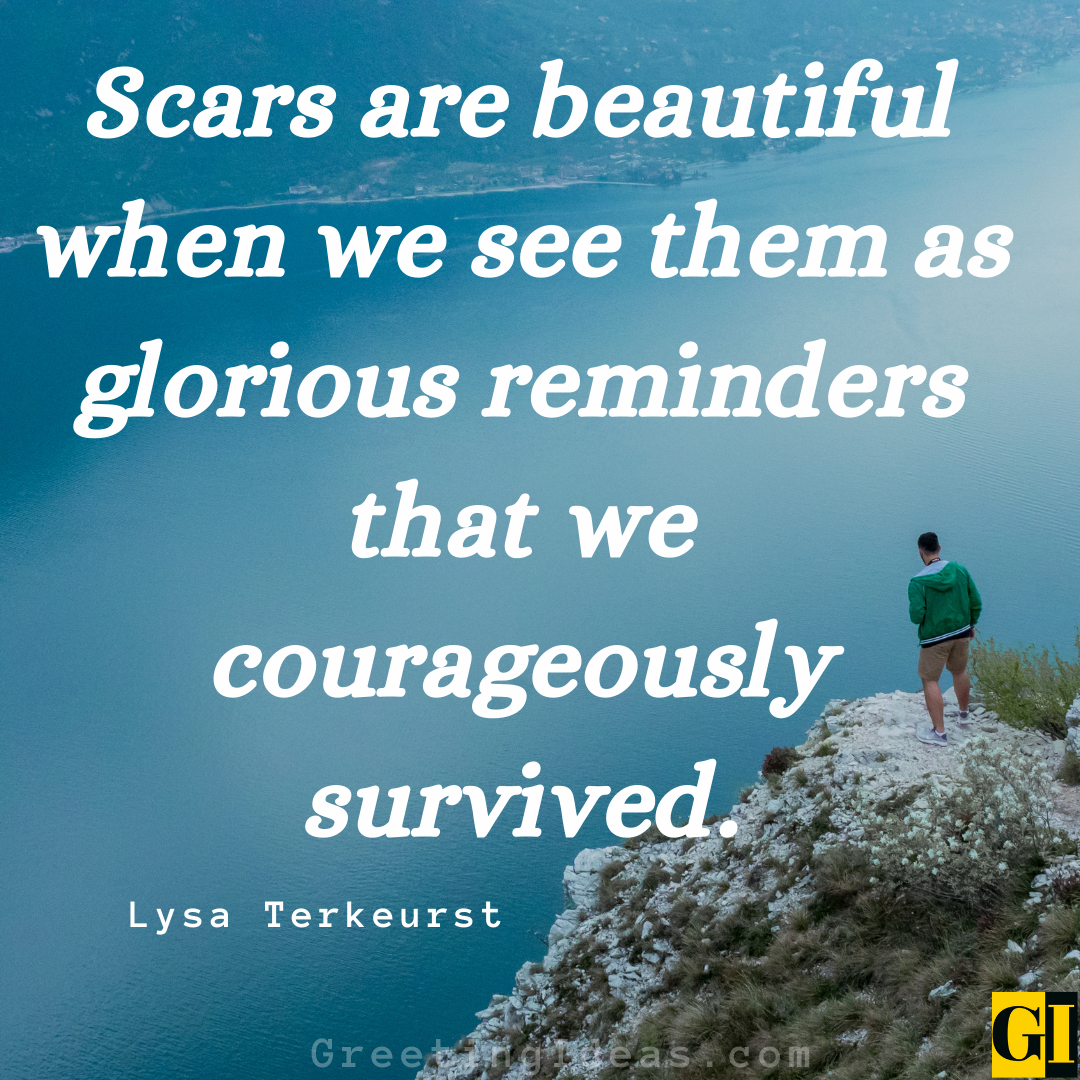 Also Read: 30 Rising Above Difficult Situation Quotes and Sayings
Scar tissue is stronger than regular tissue. Realize the strength, move on.
– Henry Rollins
The marks humans leave are too often scars.
– John Green
The person may have a scar, but it also means they have a story.
– Jodi Picoult
A scar does not form on the dying. A scar means I survived.
– Chris Cleave
What doesn't kill you is gonna leave a scar.
– Marilyn Manson
God will not look you over for medals degrees or diplomas, but for scars.
– Elbert Hubbard
Our scars are a witness to the world. They are a part of our story. Healed wounds that are symbols that God has restored us.
– Louie Giglio
I think scars are like battle wounds – beautiful, in a way. They show what you've been through and how strong you are for coming out of it.
– Demi Lovato
Our scars make us beautiful.
– Danielle Orner
Turn your scars into stars.
– Robert H. Schuller
Scars show us where we have been, they do not dictate where we are going.
– David Rossi
Meaningful Scar Quotes and Sayings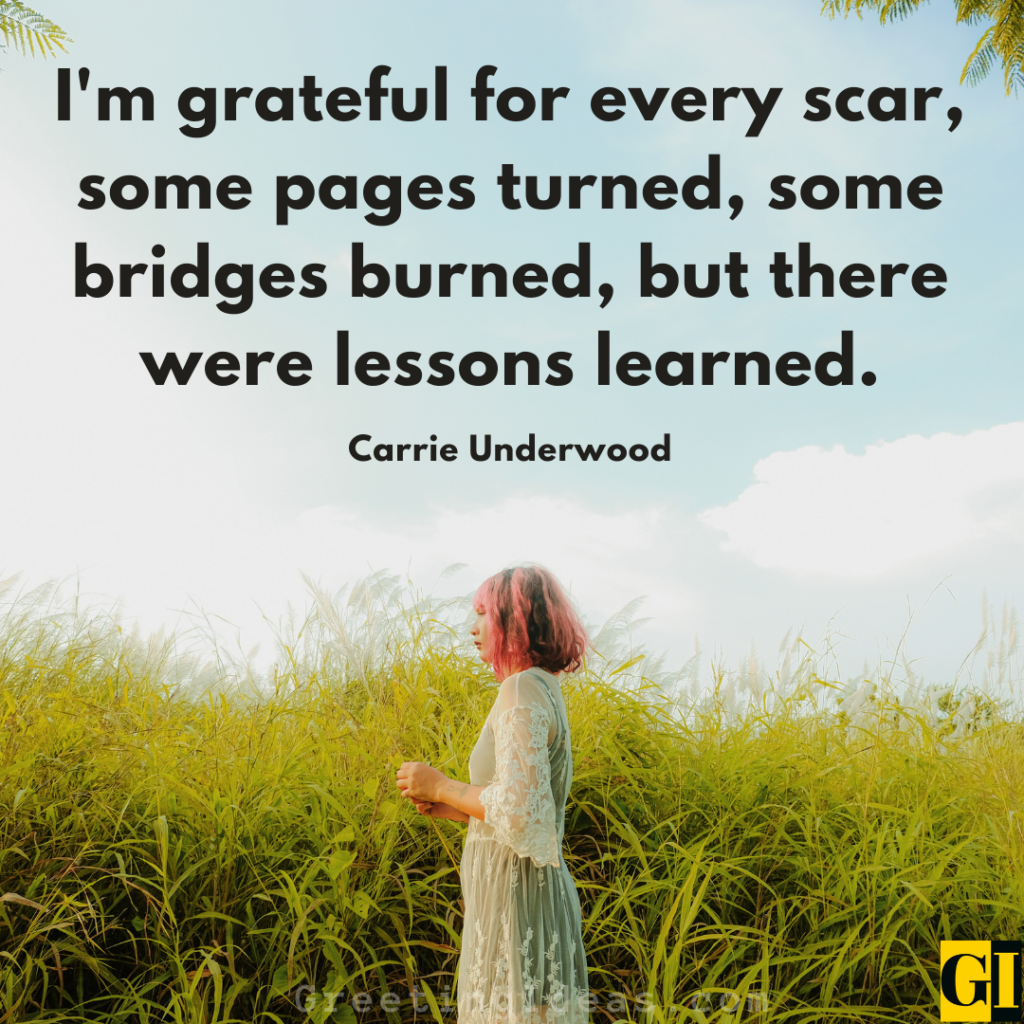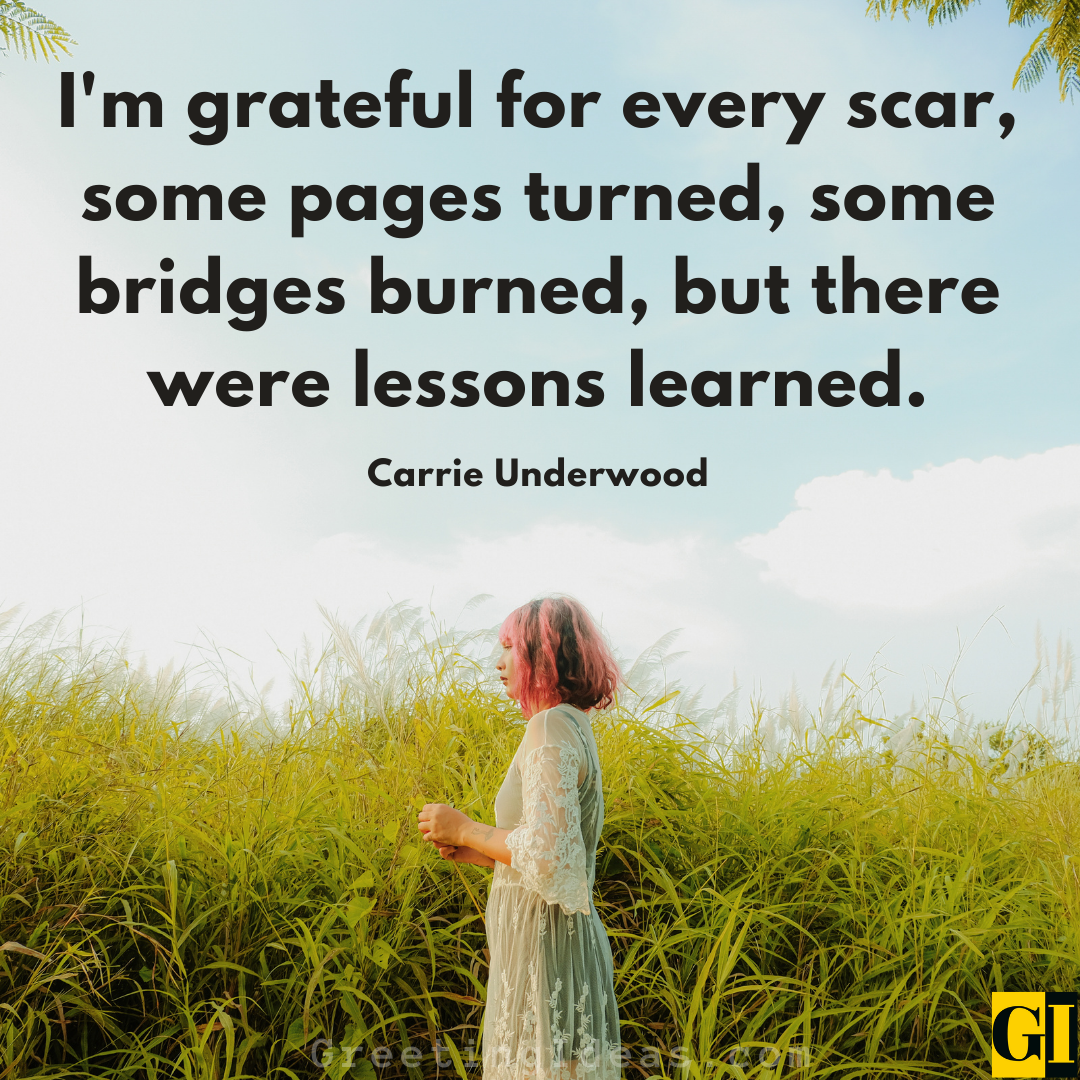 Also Read: 100 Self Empowerment Quotes and Sayings For Powerful Living
Scars speak more loudly than the sword that caused them.
– Paulo Coelho
Don't hide your scars. Wear them as proof that God heals.
– Unknown
Even when the wound is healed the scar remains.
– Publilius Syrus
Life gives you enough scars, you don't need to manufacture your own.
– Andy Biersack
The best people all have some kind of scar.
– Kiera Cass
Scars have the strange power to remind us that our past is real.
– Cormac Mccarthy
Every winner has scars.
– Herbert Newton Casson
Don't hide your scars. They make you who you are.
– Frank Sinatra
It's a shallow life that doesn't give a person a few scars.
– Garrison Keillor
The scars of others should teach us caution.
– St. Jerome
Every scar has a life of its own and a space in my heart.
– Paulo Coelho
Women with Scars Quotes and Sayings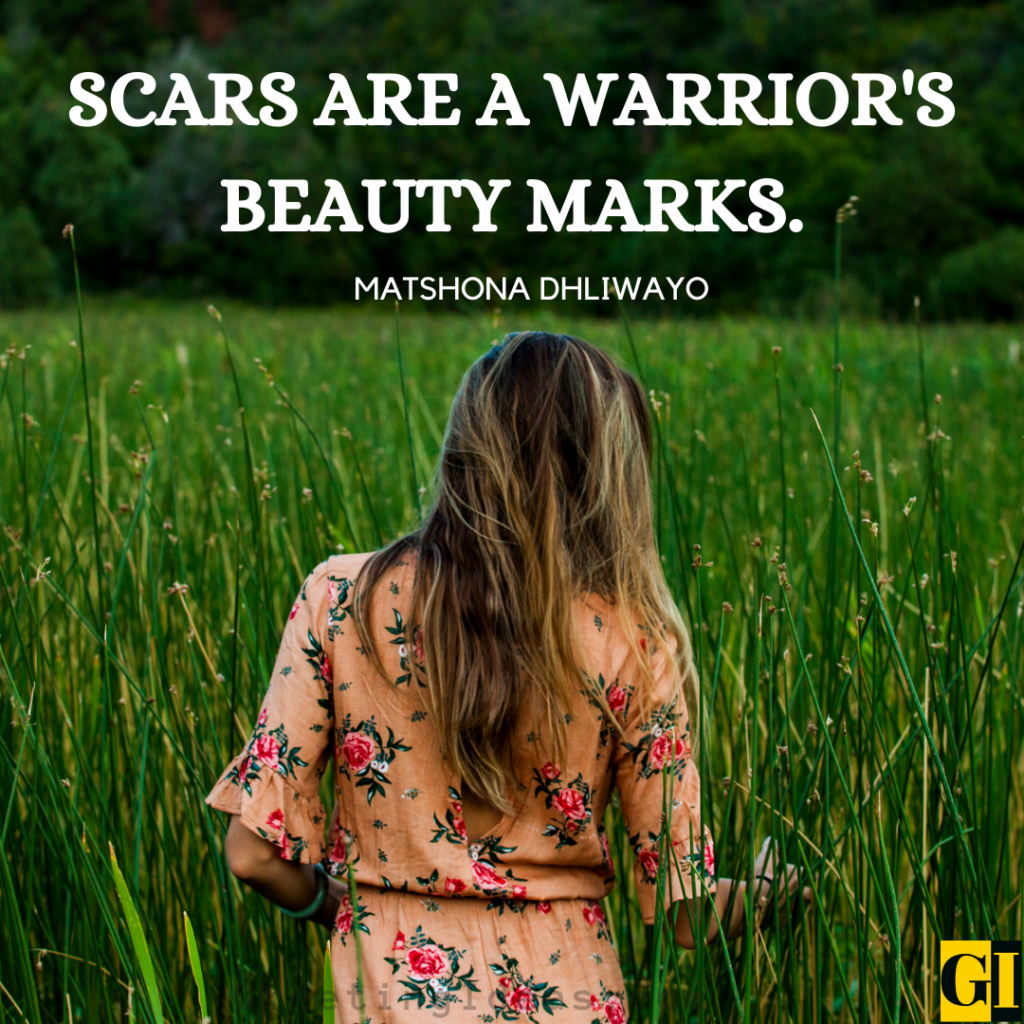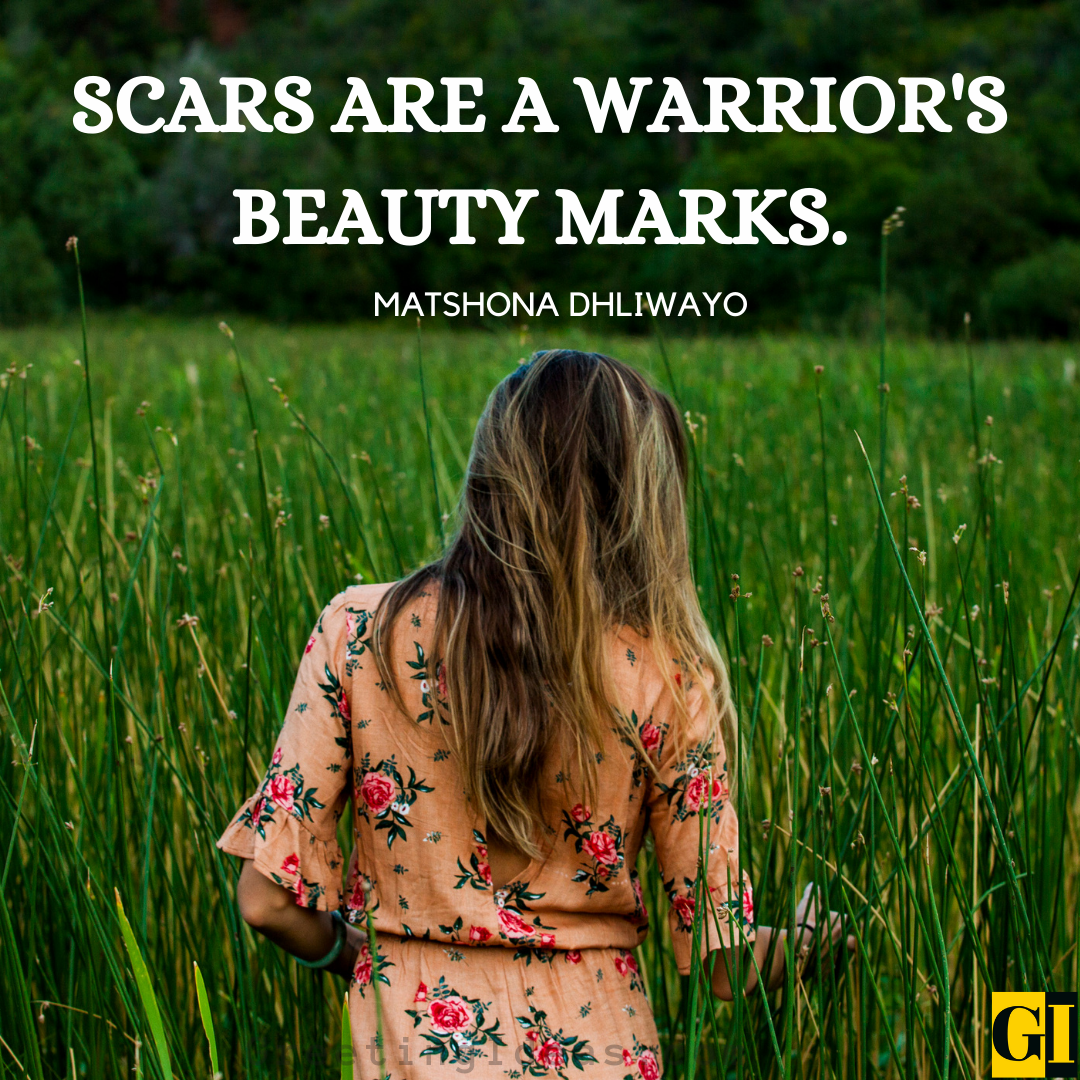 Also Read: 30 Motivating Have a Strong Mind Quotes and Sayings
Scars fade with time. And the ones that never go away, well, they build character, maturity, caution.
– Erin McCarthy
From every wound there is a scar, and every scar tells a story. A story that says, I survived.
– Craig Scott
My scars tell a story. They are reminders of when life tried to break me, but failed.
– Unknown
Never again will I justify the scars just because I loved the person holding the knife.
– Steve Maraboli
A scar nobly got is a good livery of honor.
– William Shakespeare
Scars are tattoos with better stories.
– Unknown
Scars are just a treasure map for pain you've buried too deep to remember.
– Jodi Picoult
What the mind forgets, the scars keep remembering.
– Edith L. Tiempo
Just because the scars have healed, doesn't mean that the pain has.
– Unknown
Inspiring Scar Quotes and Sayings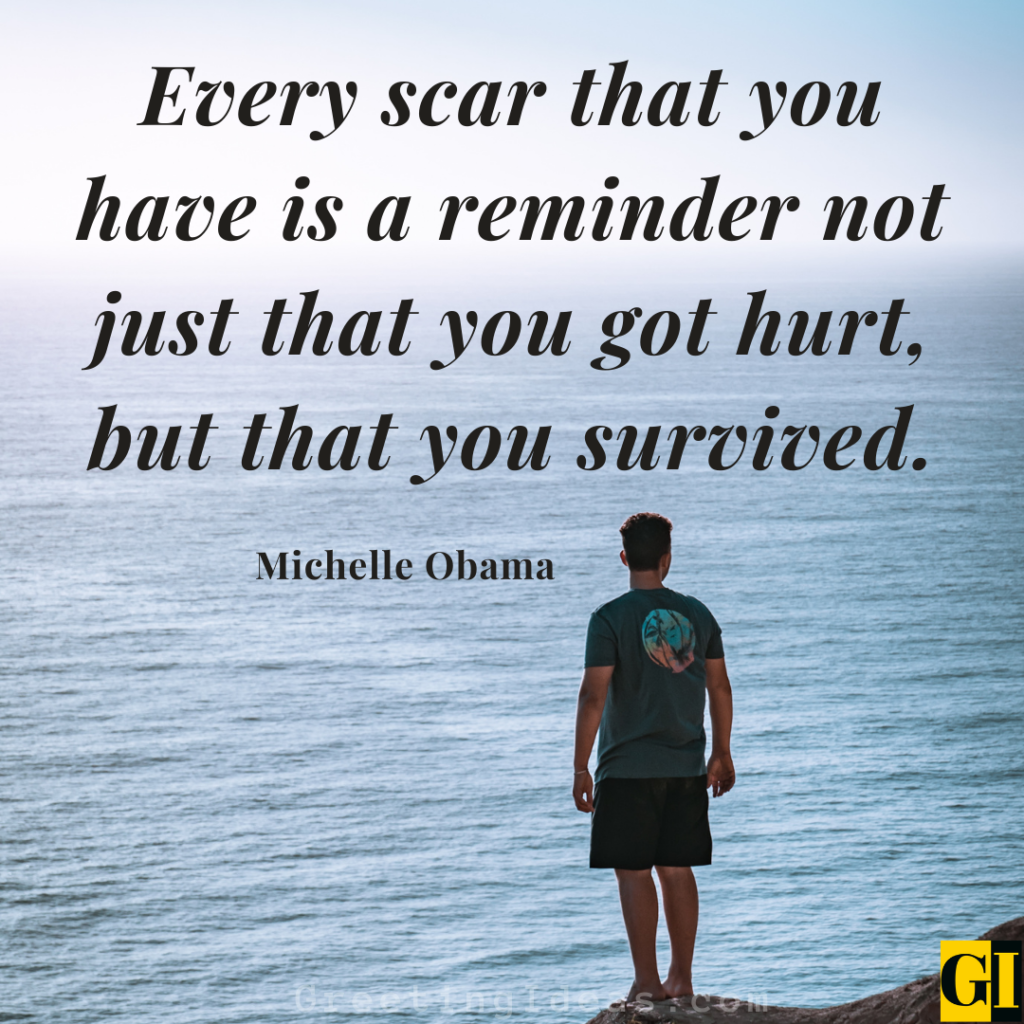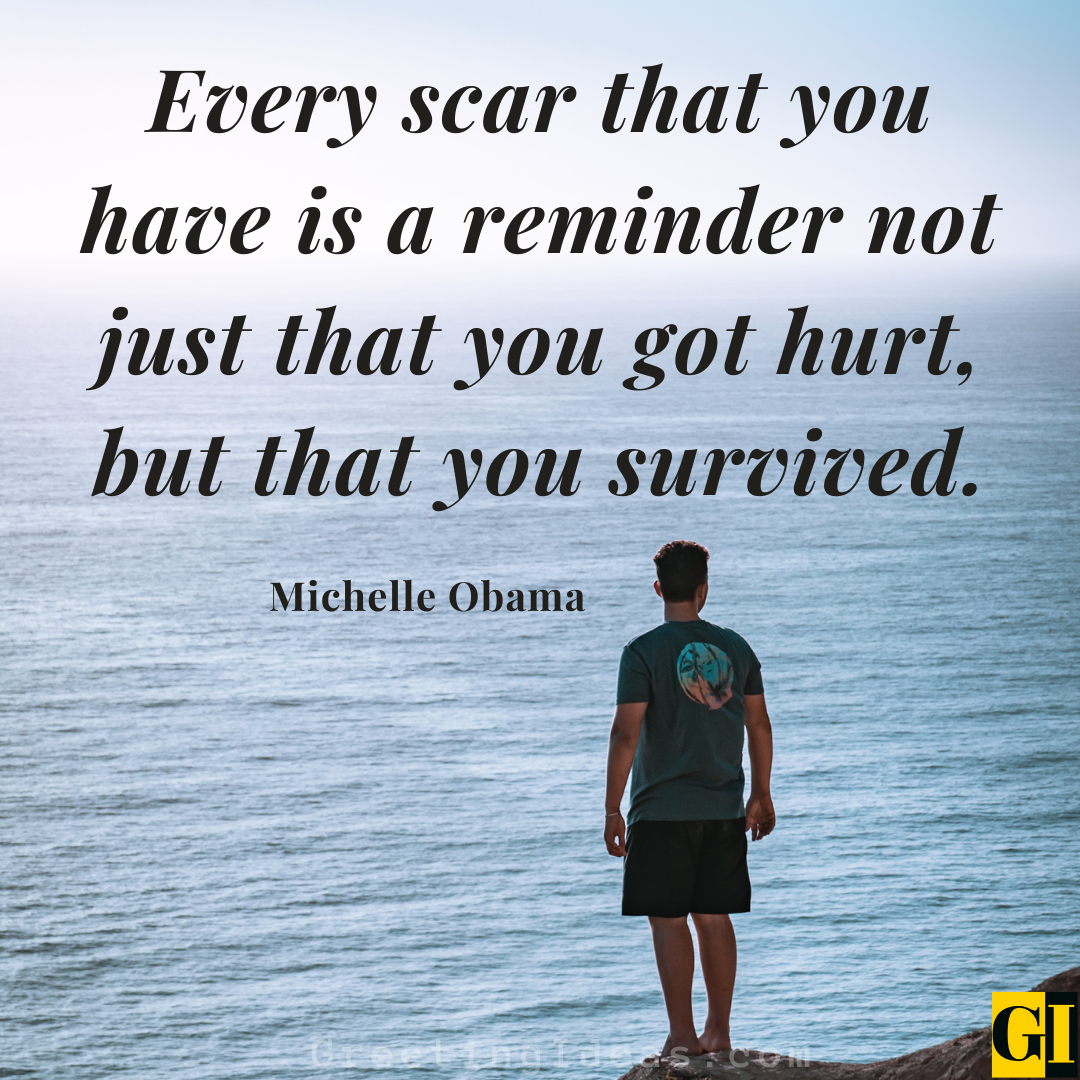 Also Read: 100 Mentally Staying Strong Quotes Sayings for Tough Times
We hope you enjoy reading our uplifting scar quotes collection.
Share it with your loved ones and in social circles.
Sharing is Caring!