FTC disclaimer. This post contains affiliate links, and I will be compensated if you purchase through one of my links.
Read our inspiring, keep moving quotes and sayings from famous personalities, including Martin Luther King Jr., to live a mentally stress free life.
One of the insightful quotes on keep moving forward from Louis L' Armour says,' there will come a time when you believe everything is finished; that will be the beginning.'
Drop the hope of getting fulfillment in the future, as such a blind assumption is the root cause of persistent human misery.
Let's be contented right now and not postpone living to the future.
That's the only solution to all frustrations and disappointments of the mind arising from past regrets, mistakes, and experiences.
It's the blind hopes that tell us, till today, you may be disappointed and living a miserable life, but tomorrow, be hopeful that things will go smoothly and problem free.
Without inner self realization and holistic change, problems cannot magically disappear.
How to live a carefree life?
Hence, let's say no to the blind desires, fancies, and hopes of the mind.
Tell the mind I don't want your misleading hope, as one has suffered enough mental illusions and subsequent frustration.
Such an individual starts living in inner clarity, wisdom, and understanding and cannot be fooled easily.
Remember, going hopeless is not the same as feeling depressed, numb, or emotionless but to start living life in all its beauty, which is ' RIGHT NOW.'
Going psychologically hopeless means no more falling prey to the whims and fancies of the mind without understanding.
To keep moving afresh means taking whatever the mind promises with a pinch of salt.
Or, in simple words, not taking fluctuating feelings of mind seriously, thereby making irreversible unwise life decisions and succumbing to lifelong mental suffering.
Real inner progress and elevated living happen when we realize the game of hope and disappointments, which leads to a mediocre quality of life filled with misery and suffering.
Let's keep moving towards a mentally light and unburdened mind by simply dropping all beliefs, borrowed social values, and energy-sucking toxic relationships.
We hope our handpicked keep moving quotes collection is an uplifting read.
Positive Keep Moving Quotes And Sayings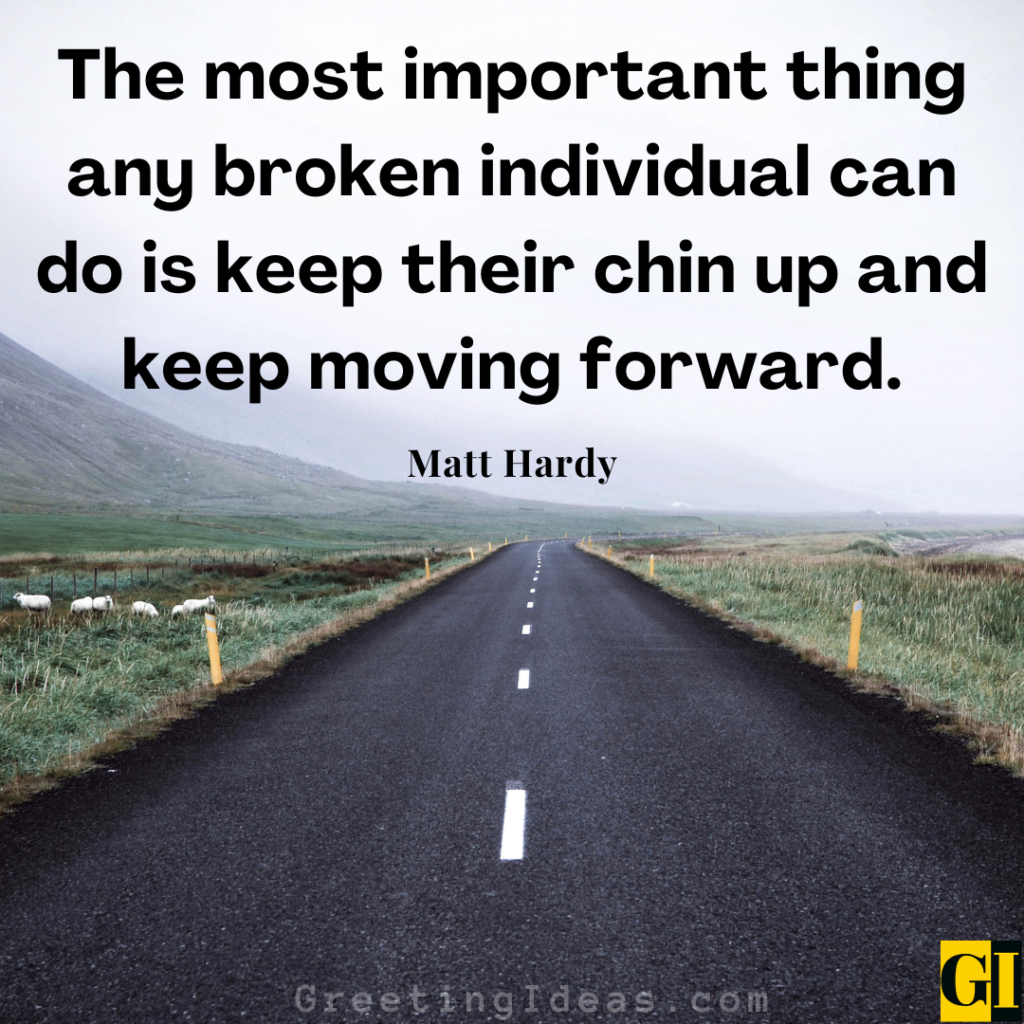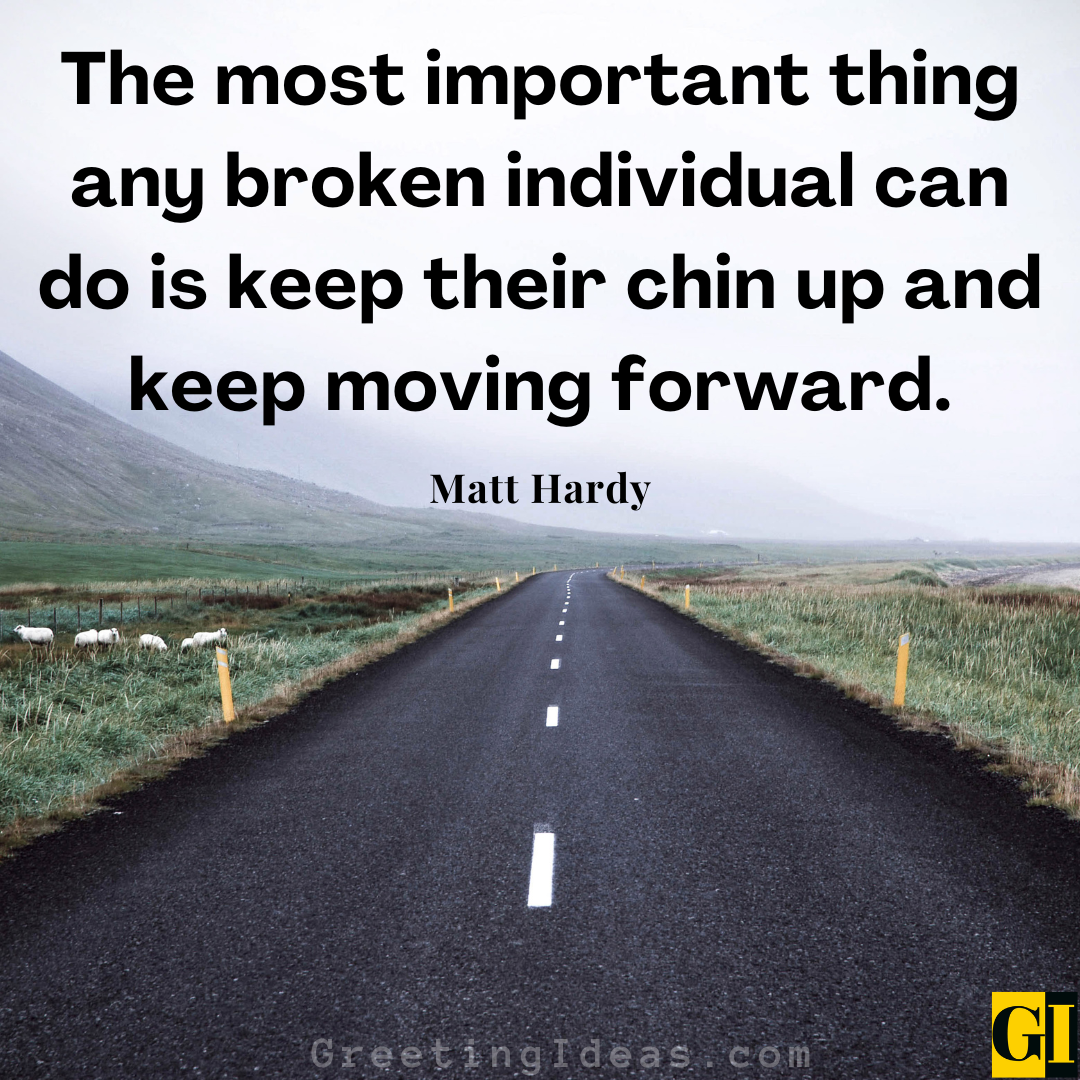 Also Read: 40 Famous Scar Quotes and Sayings to Become Strong and Tough
Just keep going – no feeling is final.
– Rainer Maria Rilke
If you're going through hell, don't stop, keep moving!
– Les Brown
Just keep moving forward and don't give a shit about what anybody thinks. Do what you have to do, for you.
– Johnny Depp
Keep your eye on the goal, keep moving toward your target.
– T. Harv Eker
Keep moving if you love life, and keep your troubles well behind you.
– John McCain
We keep moving. And as we do, the things around us, well, they disappear.
– Haruki Murakami
Accept yourself, love yourself, and keep moving forward. If you want to fly, you have to give up what weighs you down.
– Roy T. Bennett
You don't have to see the whole staircase, just take the first step.
– Martin Luther King, Jr.
It does not matter how slowly you go as long as you do not stop.
– Confucius
Gotta keep moving; can't stop; stagnation kills.
– Lisa Mangum
Keep moving ahead because action creates momentum, which in turn creates unanticipated opportunities.
– Nick Vujicic
What's done is done. What's gone is gone. One of life's lessons is always moving on. It's okay to look back to see how far you've come but keep moving forward.
– Roy T. Bennett
Motivational Keep Moving Quotes And Sayings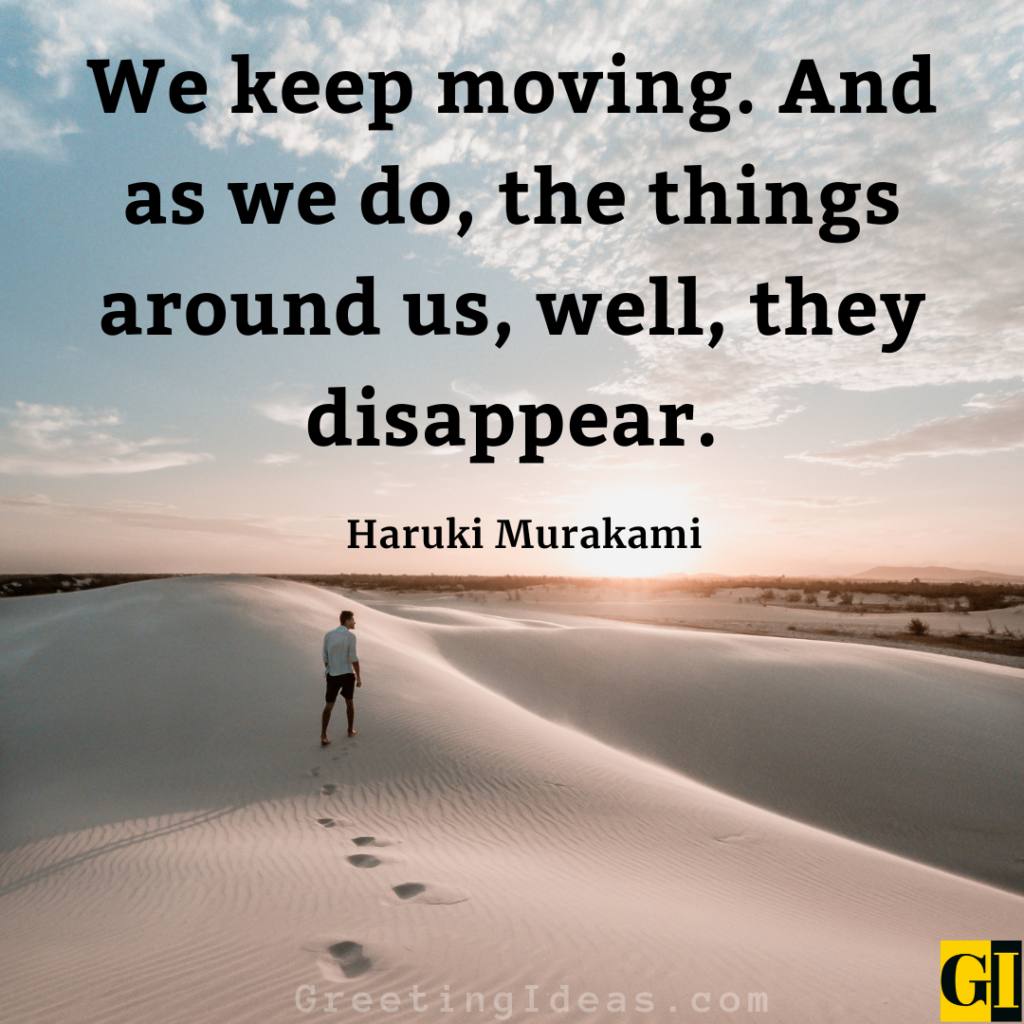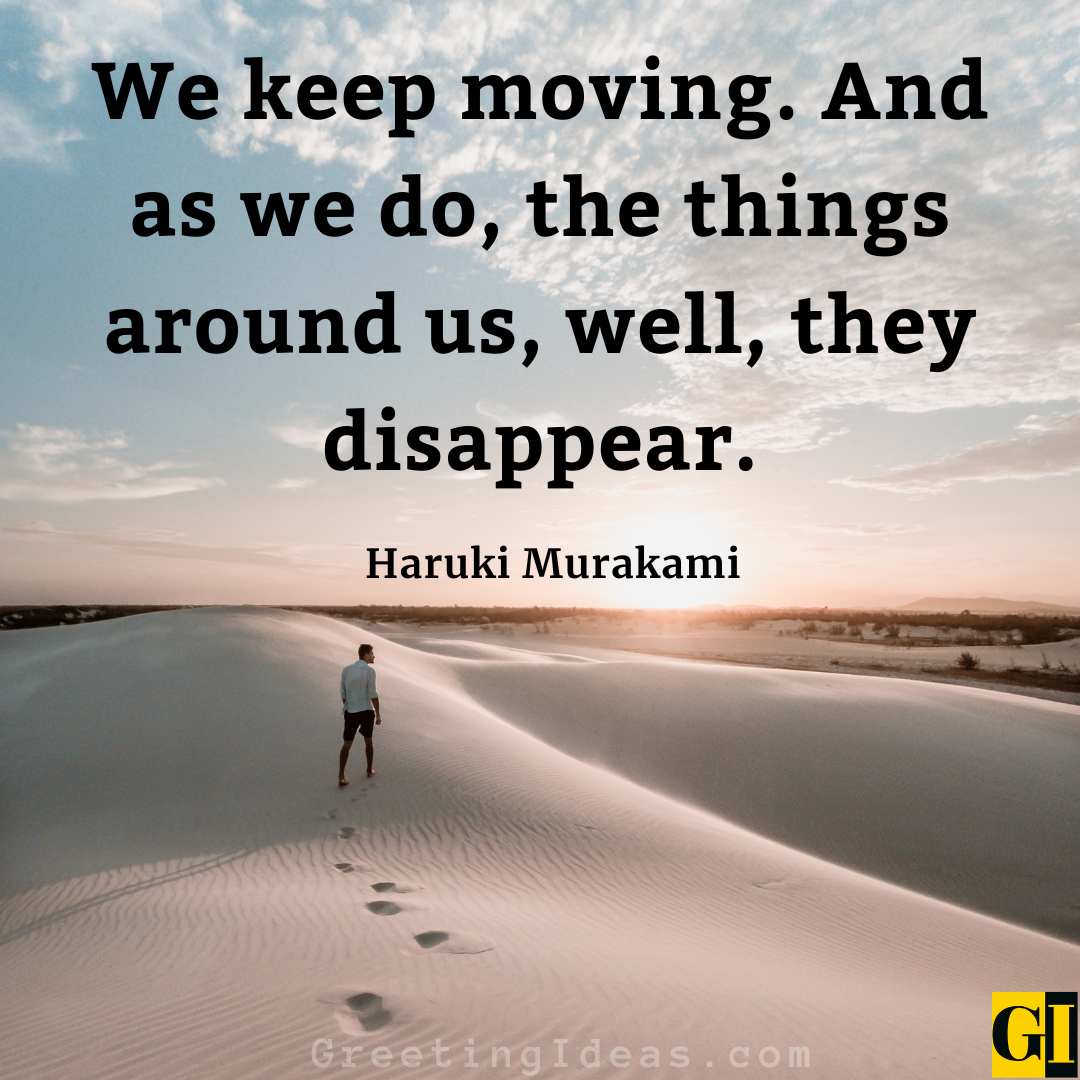 Also Read: 65 Soulful Letting Go Quotes And Moving On In Relationships
We keep moving forward, opening new doors, and doing new things, because we're curious and curiosity keeps leading us down new paths.
– Walt Disney
Stay focused, go after your dreams and keep moving toward your goals.
– LL Cool J
There's no time for regrets. You've just got to keep moving forward.
– Mike McCready
Whatever happens, I'll just keep moving forward. Like an avalanche.
– Michelle Phan
The most important thing any broken individual can do is keep their chin up and keep moving forward.
– Matt Hardy
If you can't fly then run, if you can't run then walk, if you can't walk then crawl, but whatever you do you have to keep moving forward.
– Martin Luther King, Jr.
The only thing a person can ever really do is keep moving forward. Take that big leap forward without hesitation, without once looking back. Simply forget the past and forge toward the future.
– Alyson Noel
You just keep moving forward and doing what you do, and hope that it resonates with people. And if it doesn't, you just keep moving on until you find a project that does.
– Octavia Spencer
Almost any decision is better than no decision — just keep moving.
– Danielle LaPorte
Time to move on, time to get going. What lies ahead I have no way of knowing. But under my feet, baby, grass is growing.
– Tom Petty
Keep moving forward in the power of thy might.
– Lailah Gifty Akita
Keep moving. It's hard for old age to hit a moving target.
– Joan Rivers
Inspiring Quotes To Keep Moving In Life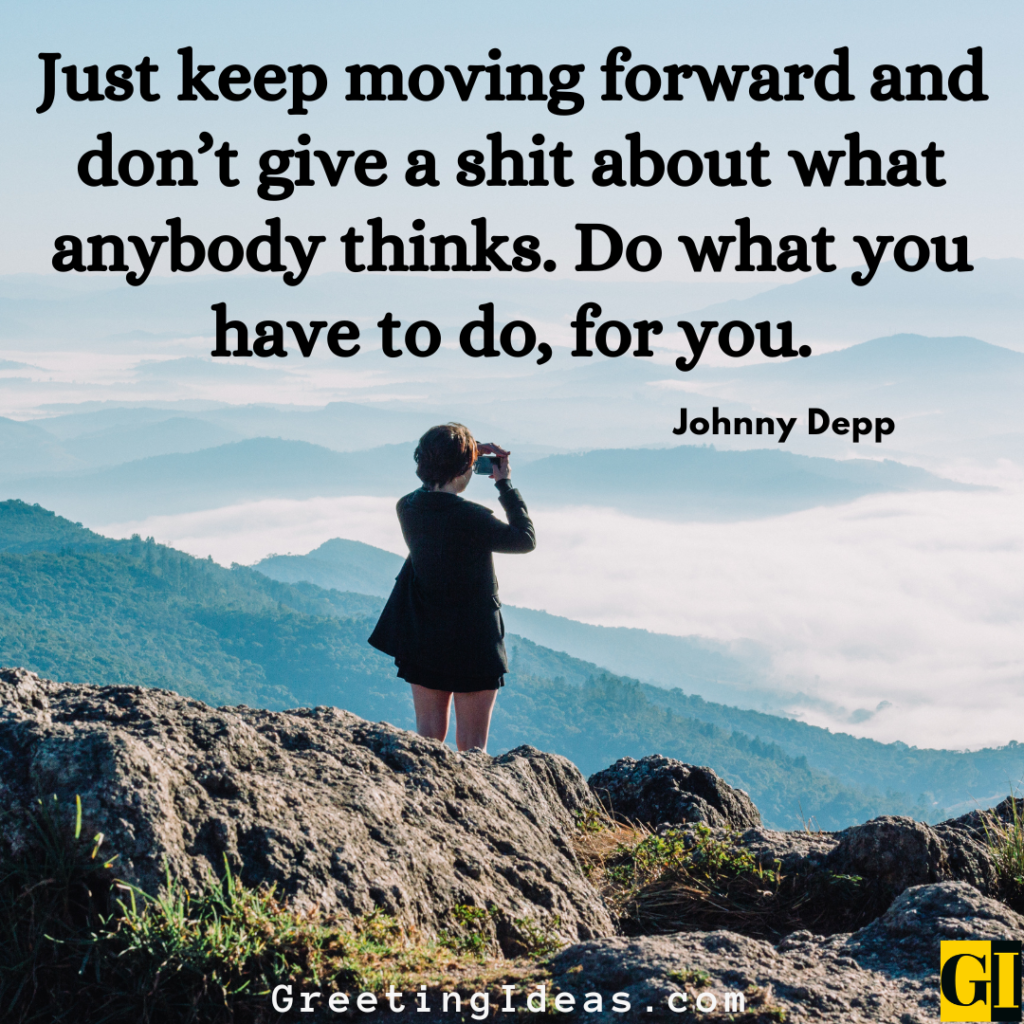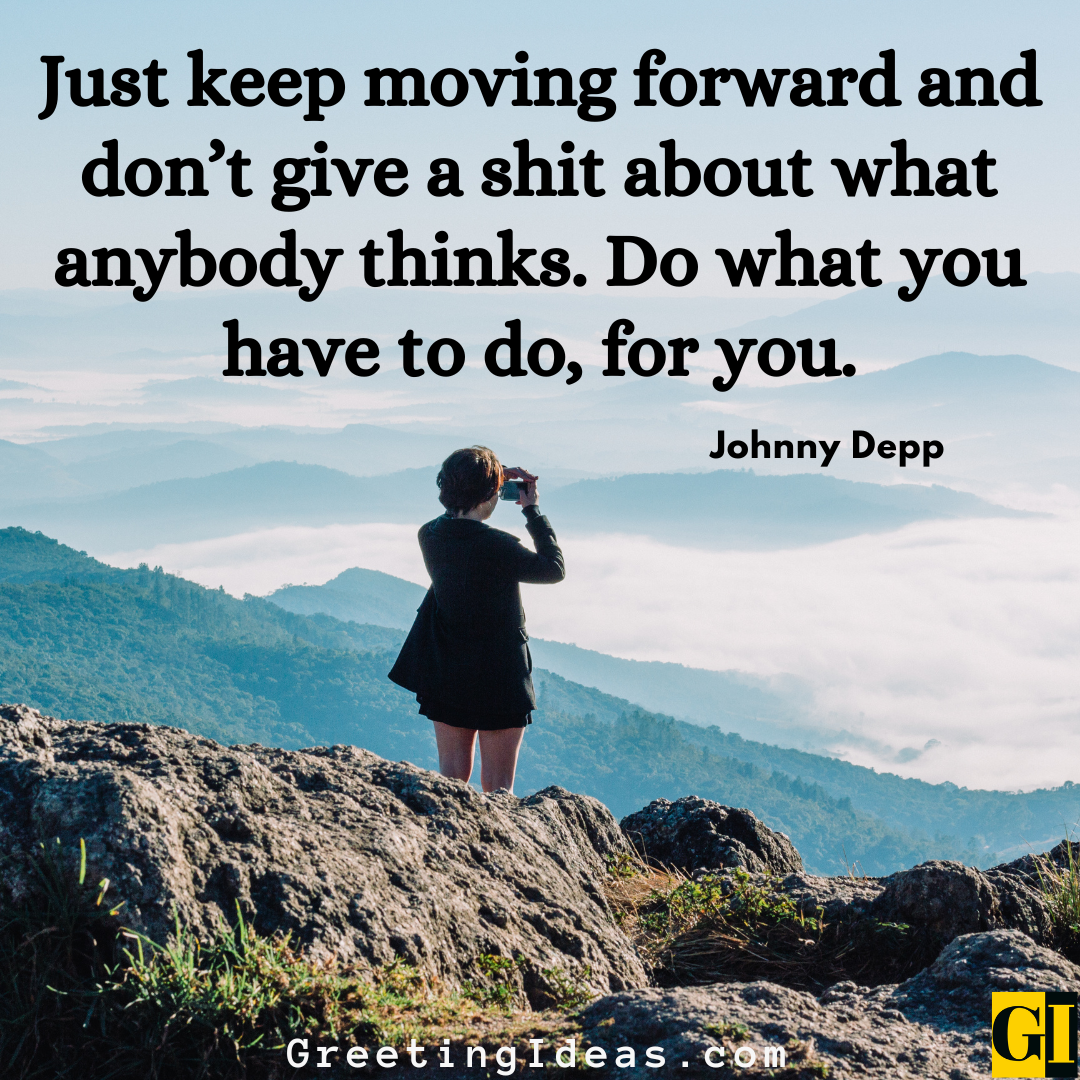 Also Read: 90 Motivational Keep Going Quotes During Tough Times
The bigger your obstacle, the bigger your future. Don't get discouraged, keep moving forward.
– Joel Osteen
As you keep moving forward, you can stay upright even when outside forces try to pull you down.
– Bonnie L. Oscarson
The ability to feel fear and keep moving forward distinguishes the living from the merely breathing.
– Nicholas Lore
Lay low, play dumb, keep moving.
– Roger Stone
Change or stagnate. Keep moving or die.
– Mercedes Lackey
All crosses are easier to carry when we keep moving.
– Neal A. Maxwell
Don't turn around. Don't look back. Keep moving forward. Keep pushing. The pot of gold is at the end of the rainbow, not the beginning.
– Ziad K. Abdelnour
Keep moving; don't stop by to check on whoever else is not willing to go. The entire road is yours to speed on till you get there. Never be discouraged!
– Israelmore Ayivor
Keep moving forward! You don't need permission from anyone in order to move on your own father's land! Go ahead and take the lead!
– Israelmore Ayivor
I find that the best way to do things is to constantly move forward and to never doubt anything and keep moving forward, if you make a mistake say you made a mistake.
– John Frusciante
Continue to reinvent. Keep things moving and changing and growing and always a little bit out of reach.
– Jad Abumrad
Sometimes you're left with only 1 choice: Take what's yours and run for your life.
– Jennifer Elisabeth
Inspirational Quotes To Keep Moving Forward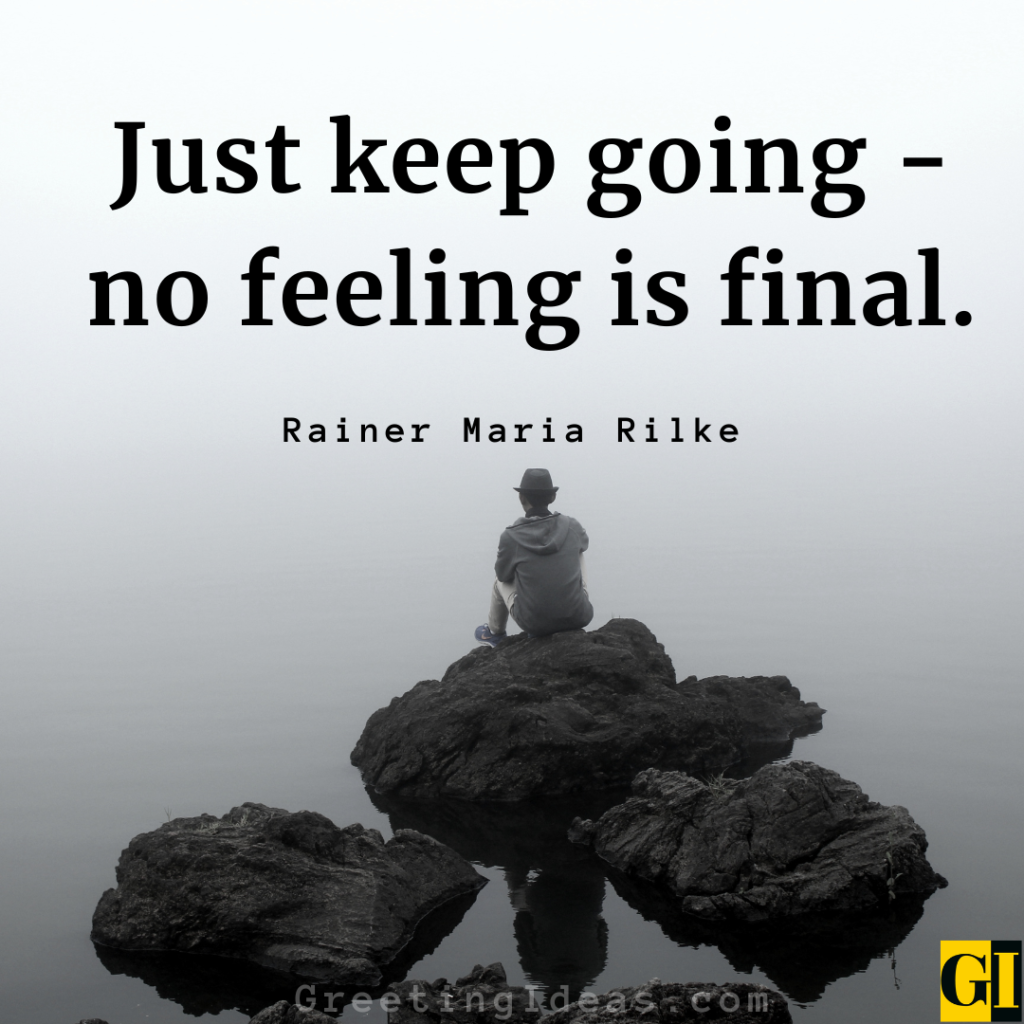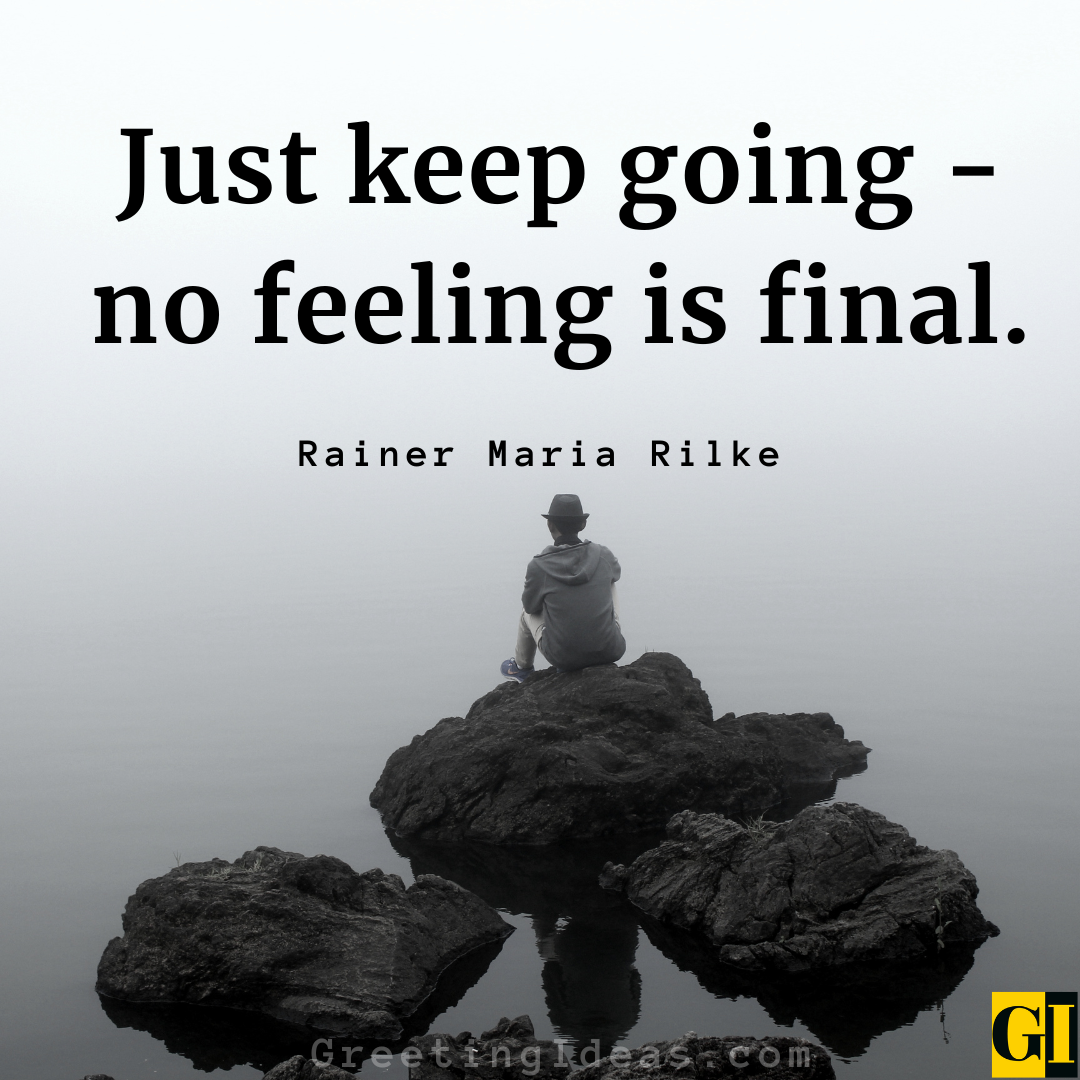 Also Read: 55 Best Empowering Quotes Sayings For Inner Betterment
You are always a student, never a master. You have to keep moving forward.
– Conrad Hall
Keep moving. Don't get bogged down. Don't think about the bad stuff. Smile and joke even when you don't feel like it.
– Rick Riordan
Keep moving in the direction of your dreams. No matter how slows it may seems, stay focus, you will get to the finish line.
– Lailah Gifty Akita
Keep moving forward, even one or two steps, in your own way. Those who live out their lives to the fullest, unperturbed by the noisy clamor around them, are the true winners.
– Daisaku Ikeda
It's good to be challenged, to keep moving forward, and keep being inspired and scared. I feel like, if you're not afraid of something, you shouldn't do it. If you're just coasting through things, what's the point? You're not learning.
– Nina Dobrev
The most important aspect of being on a spiritual path may be to just keep moving.
– Pema Chodron
Keep moving, no matter how slow you move, you will definitely arrive at your destination.
– Lailah Gifty Akita
Keep moving. Don't stop. But don't rush. Don't race around. Sure and steady gets you there every time.
– Neale Donald Walsch
Keep going; your destination is getting closer.
– Debasish Mridha
Just keep going. Everybody gets better if they keep at it.
– Ted Williams
The secret is to just keep moving.
– Franka Potente
You've got to keep moving, keep creating.
– Godfrey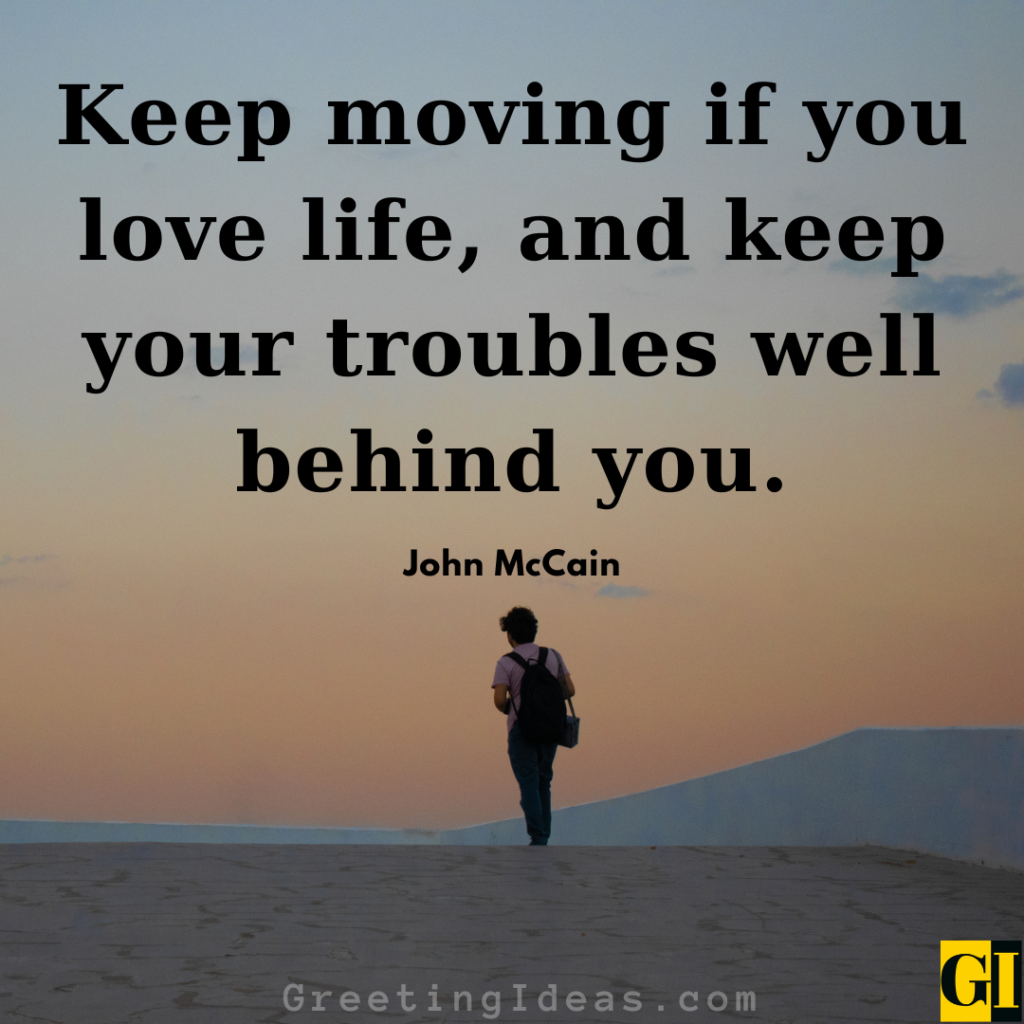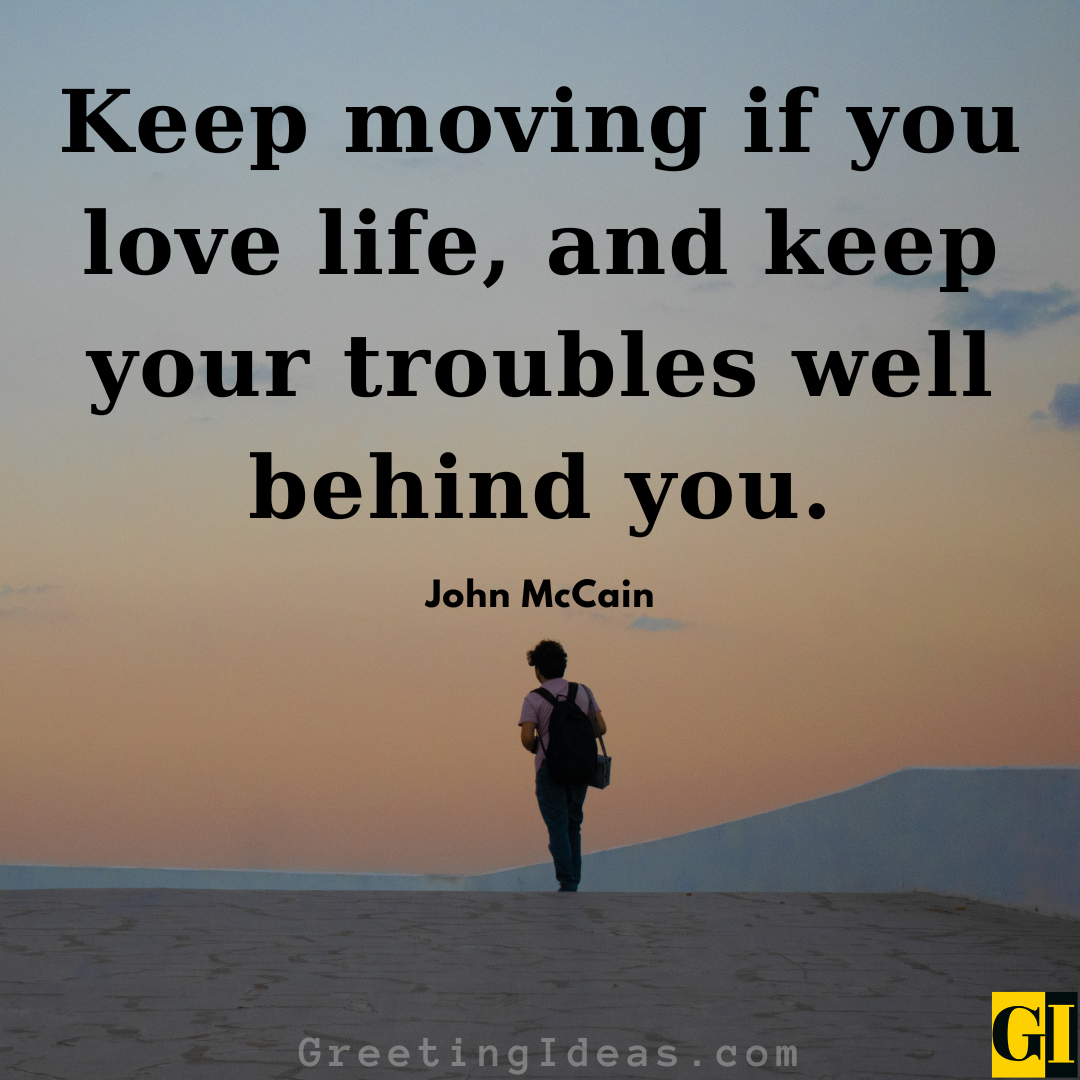 Also Read: 100 Inspiring Daily Positivity Quotes For Mental Health
We hope you liked reading our famous keep moving quotes collection.
Share it with your loved ones and in social circles.
Sharing is Caring!