FTC disclaimer. This post contains affiliate links, and I will be compensated if you purchase through one of my links.
Keep reading our fighting leukemia quotes and sayings from cancer survivors and specialists who have raised hope and awareness with their words.
Both for the individual and their family members, it is deep trauma and a process of intense pain to undergo any cancer treatment.
Do you know Leukemia accounts for more than 35 % of all blood cancer diagnoses in the United States?
Leukemia affects both children and adults. When bone marrow and other lymphatic systems undergo mutation, it is diagnosed as Leukemia.
The white blood cells of the blood-forming tissue turn malignant and obstruct the body's ability to keep infections at bay.
Leukemia and lymphoma society symbolically uses an orange ribbon to raise awareness campaigns among global communities.
September 4th is recognized as world leukemia day.
We hope our inspirational leukemia quotes collection is a meaningful read.
Best Leukemia Quotes And Sayings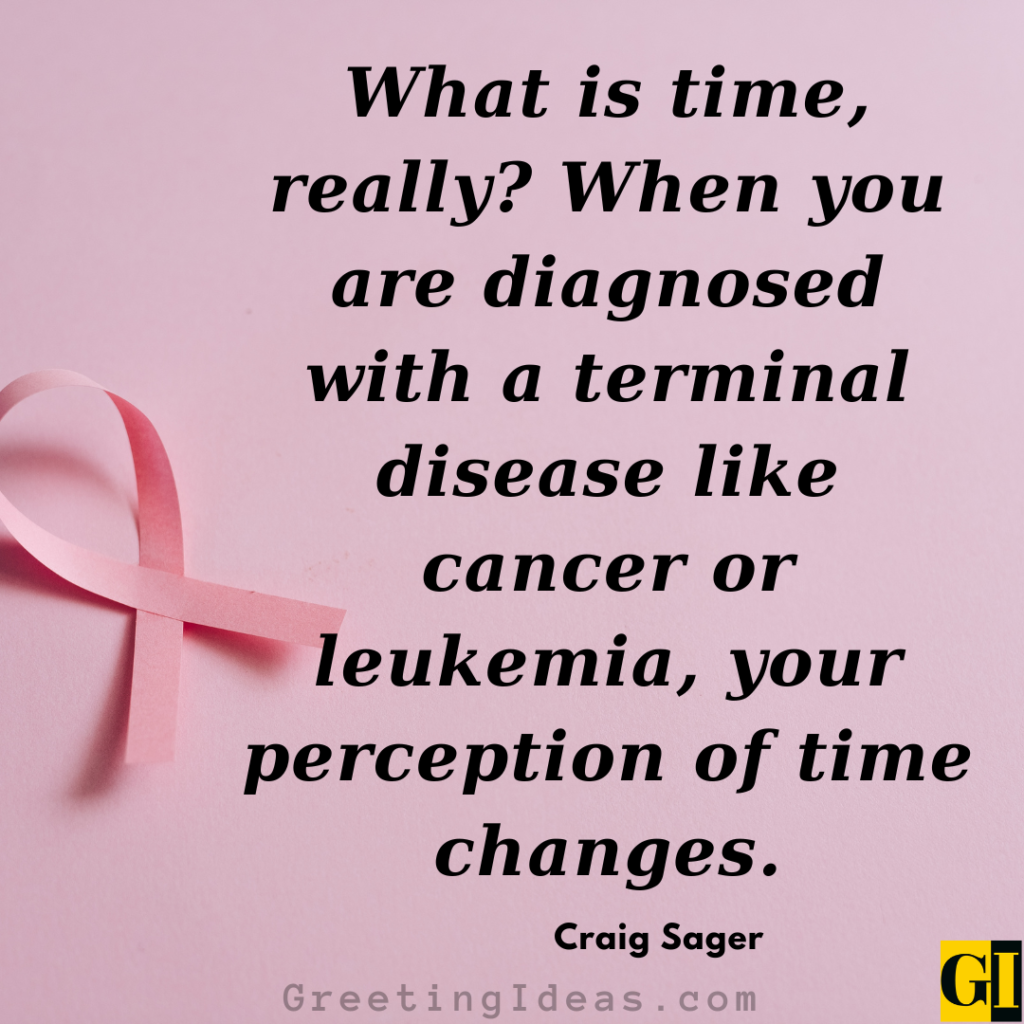 Also Read: 76 Top Courage Quotes Sayings To Find Strength Within
I think everybody has their pain. For me, the time that I really had to grow up was when I was 15 and I had my best friend die of leukemia. Watching somebody so strong go through that is definitely something that will give you a little bit of depth. There have been a lot of things that have happened in my life that has forced me to grow up.
– Lindsey Haun
I have a fan who suffered with leukemia, and apparently, the only thing that helped him through that was my music, so of course that's the ultimate sense of achievement. It's an incredible feeling.
– James Arthur
What is time, really? When you are diagnosed with a terminal disease like cancer or leukemia, your perception of time changes.
– Craig Sager
I don't know why I deserved the illness in the first place, but then I don't know why I deserved to be cured. Leukemia is like that. It mystifies you. It changes your life.
– Siddhartha Mukherjee
My experience of cancer has made me a much stronger person. People say that I must look at life differently now. Not at all! I still work too hard and do not find enough time to spend with family and friends. I looked at my cancer as nothing more than a blood disorder and something that I was going to beat.
– James Fisher
I won't give up until we've beaten blood cancers in children for good (currently 9% success rate) because I don't want any other kids to go through what I've been through. One day I even want to walk the North Pole!
– Joe Smale
Some cancers are curable, while others are highly incurable. The spectrum is enormous. Metastatic pancreatic cancer is a highly incurable disease, whereas some leukemia forms are very curable. There is a big difference between one form and another.
– Siddhartha Mukherjee
There was a lot of pain. I've broken a lot of bones out there, but it was what I loved doing. I didn't really choose to have leukemia. This is just a battle that was given me.
– Susan Butcher
I support the Leukemia-Lymphoma Society. Stem cell research is a big part of curing these diseases. I'm a big supporter of stem cell research.
– Jeff Gordon
The sky was pouring and so did her heart. Everything hidden were now oozing out.She had almost got him drenched in tears. She still had a lot to tell and he, a lot to hear. He had to know all that she had ever loved was he. That was their last rain together. And, that was a day before the doctor declared, she was in the last stage of Leukemia.
– Shatabhisha Debata
If I missed a game, that meant I was losing the battle. I'm not going to let leukemia affect me.
– Craig Sager
In order that people who suffer from depression seek treatment without a second thought, the stigmas must further fall until we reach a point in time when that person with leukemia and that person with depression both receive the same level of sympathy and the same level of rigorous treatment. Both people deserve it.
– Gayle Forman
Yes, thanks to God. My life has a goal, much more important than my artistic activities, that is the struggle against Leukemia.
– Jose Carreras
The happiest moment in my life? When my doctor told me I was completely cured of leukaemia.
– Jose Carreras
Leukemia is evidently psychosomatic in origin and at least eight cases of leukemia had been treated successfully by Dianetics after medicine had traditionally given up. The source of leukemia has been reported to be an engram containing the phrase 'It turns my blood to water.'
– L. Ron Hubbard
Leukemia Quotes And Its Awareness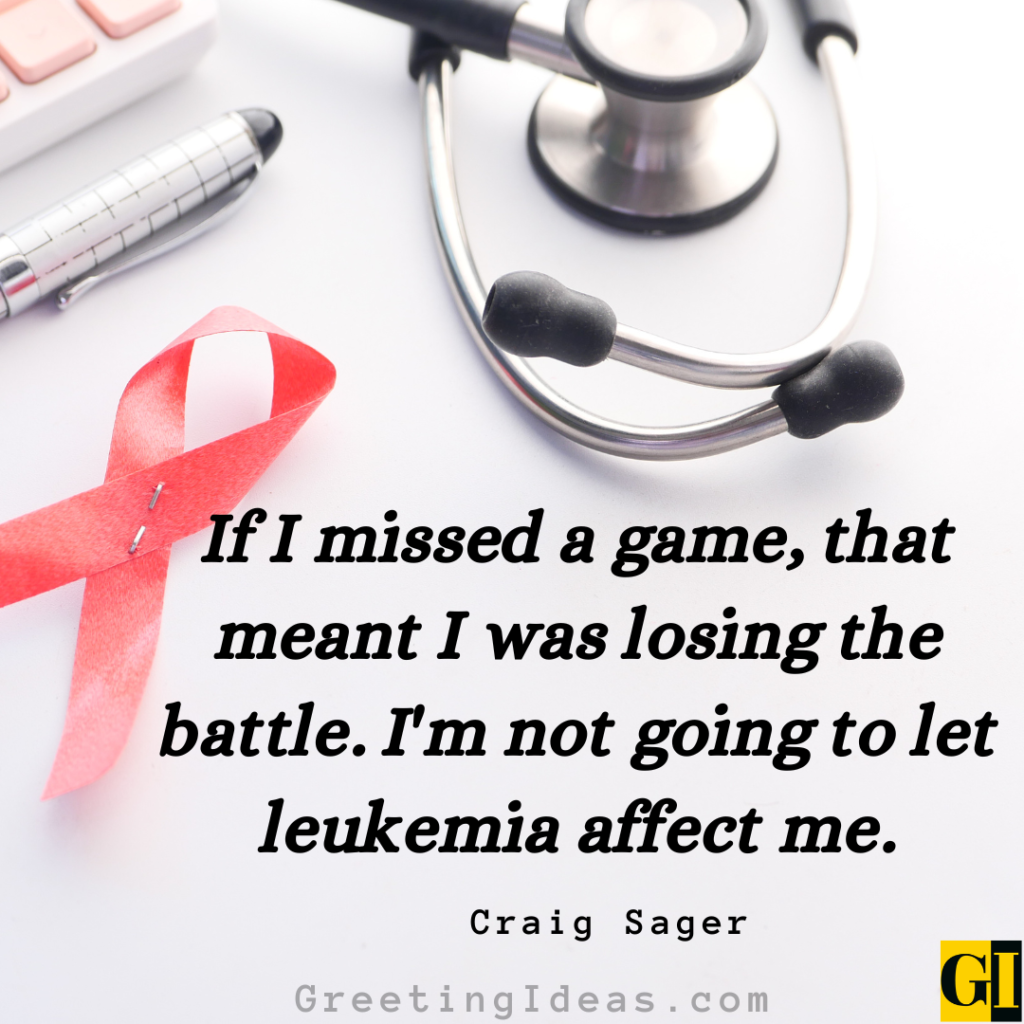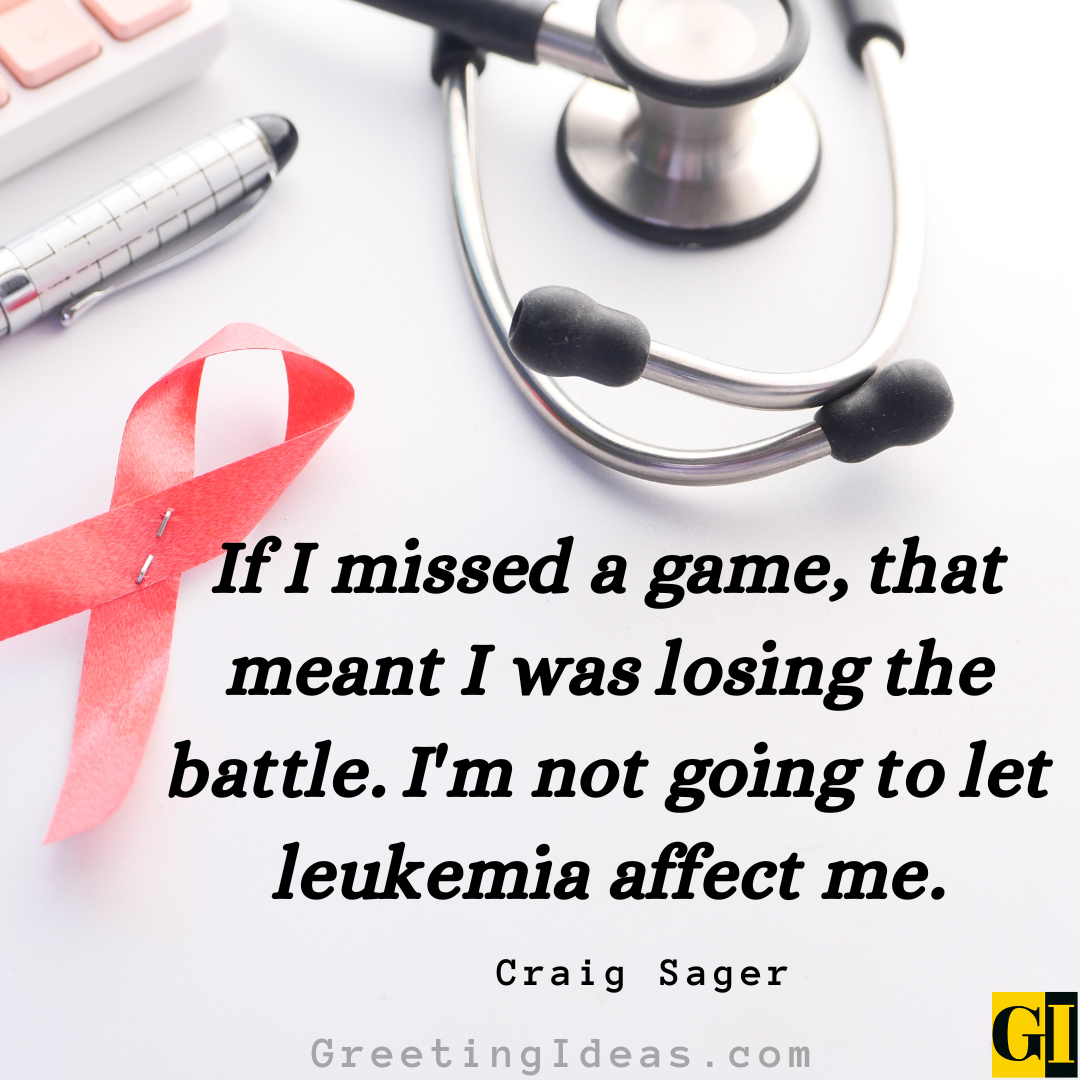 Also Read:  30 Motivating Have a Strong Mind Quotes and Sayings
I'm a leukemia survivor,and I recall during my darkest days in the hospial when my friends would come to see me, especially the male friends- they had certain mortality issues with their visit.
– Lew Temple
Leukemia is cancer of the white blood cells – cancer in one of its most explosive, violent incarnations. As one nurse on the wards often liked to remind her patients, with this disease even a paper cut is an emergency.
– Siddhartha Mukherjee
People naturally want to know about what happened, about my leukemia. They ask the same questions again and again. And there have been so many positive conclusions, even through the bad times, that I don't mind at all to be reminded of my struggles.
– Jose Carreras
People always stay the age that they died at. My big brother died of leukemia when I was six. He was eight. Now when I think of him, he's always eight, and he's still my big brother. He never changes, and the part of me that remembers him never changes.
– Christopher Moore
Because I work on leukemia, the image of cancer I carry in my mind is that of blood. I imagine that doctors who work on breast cancer or pancreatic cancer have very different visualizations.
– Siddhartha Mukherjee
The great success stories of chemotherapy were always in relatively obscure types of cancer. Childhood leukemia constitutes less than two percent of all cancers and many of chemotherapy's other successes were in diseases so rare that many clinicians had never even seen a single case.
– Ralph W. Moss
Many children use an alternative vocabulary for complex disease names. Hence, some say 'smiling mighty Jesus' in place of spinal meningitis or 'Luke and Leia' instead of leukemia.
– Darshak Sanghavi
The young girl was named Christina, and she was dying. She knew that. Bone cancer. Leukemia. They called it first names like that, but she knew its last name was death.
– David Duchovny
Leukemia was a malignant proliferation of white cells in the blood. It was cancer in a molten, liquid form.
– Siddhartha Mukherjee
My mum died of leukemia when I was in high school – she lost her life at 4. It was very hard, and I didn't do that much in Chicago after that. I actually sat around and didn't do anything for three years. I didn't know what I wanted to do anymore because my everything was gone. I was a mama's boy, and I had to turn into a man real quick.
– Cory Hardrict
The fact that the general incidence of leukemia has doubled in the last two decades may be due, partly, to the increasing use of x-rays for numerous purposes. The incidence of leukemia in doctors, who are likely to be so exposed, is twice that of the general public. In radiologists, the incidence is ten times greater.
– Isaac Asimov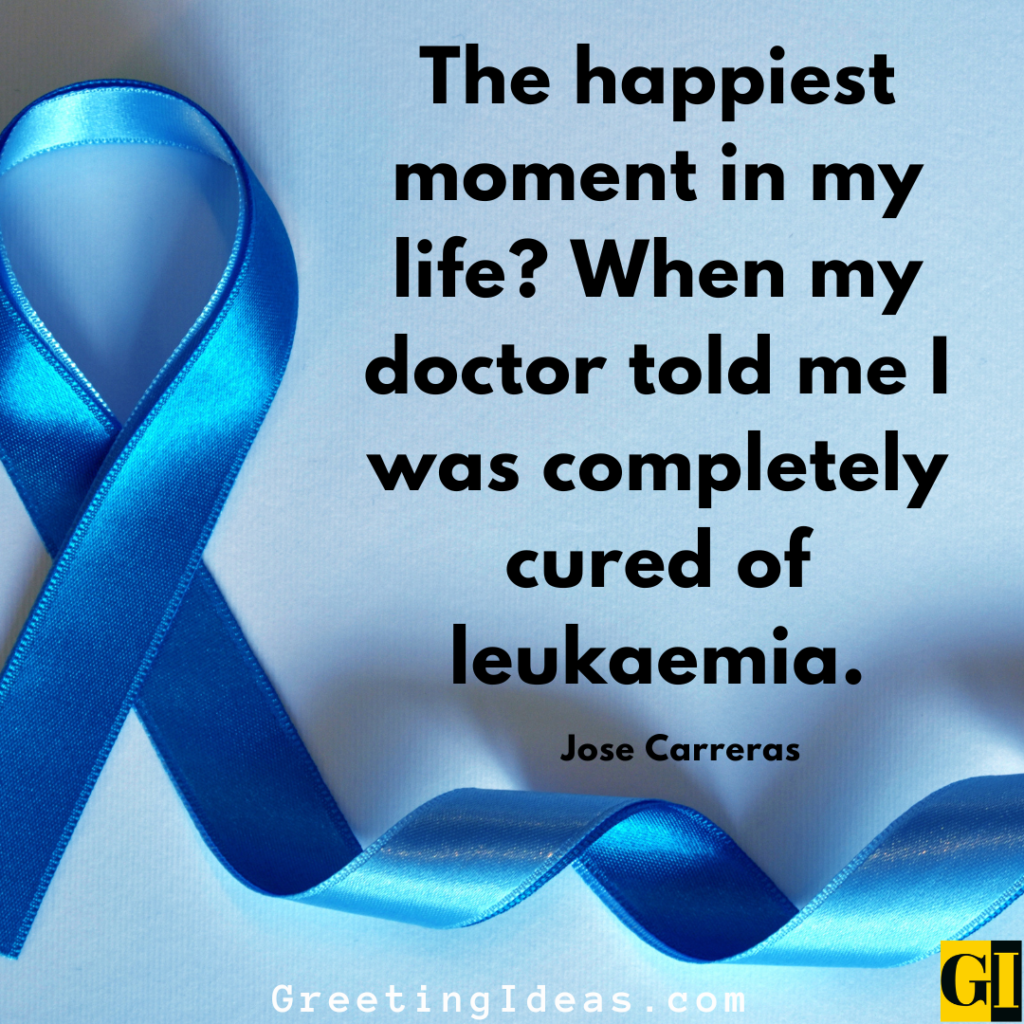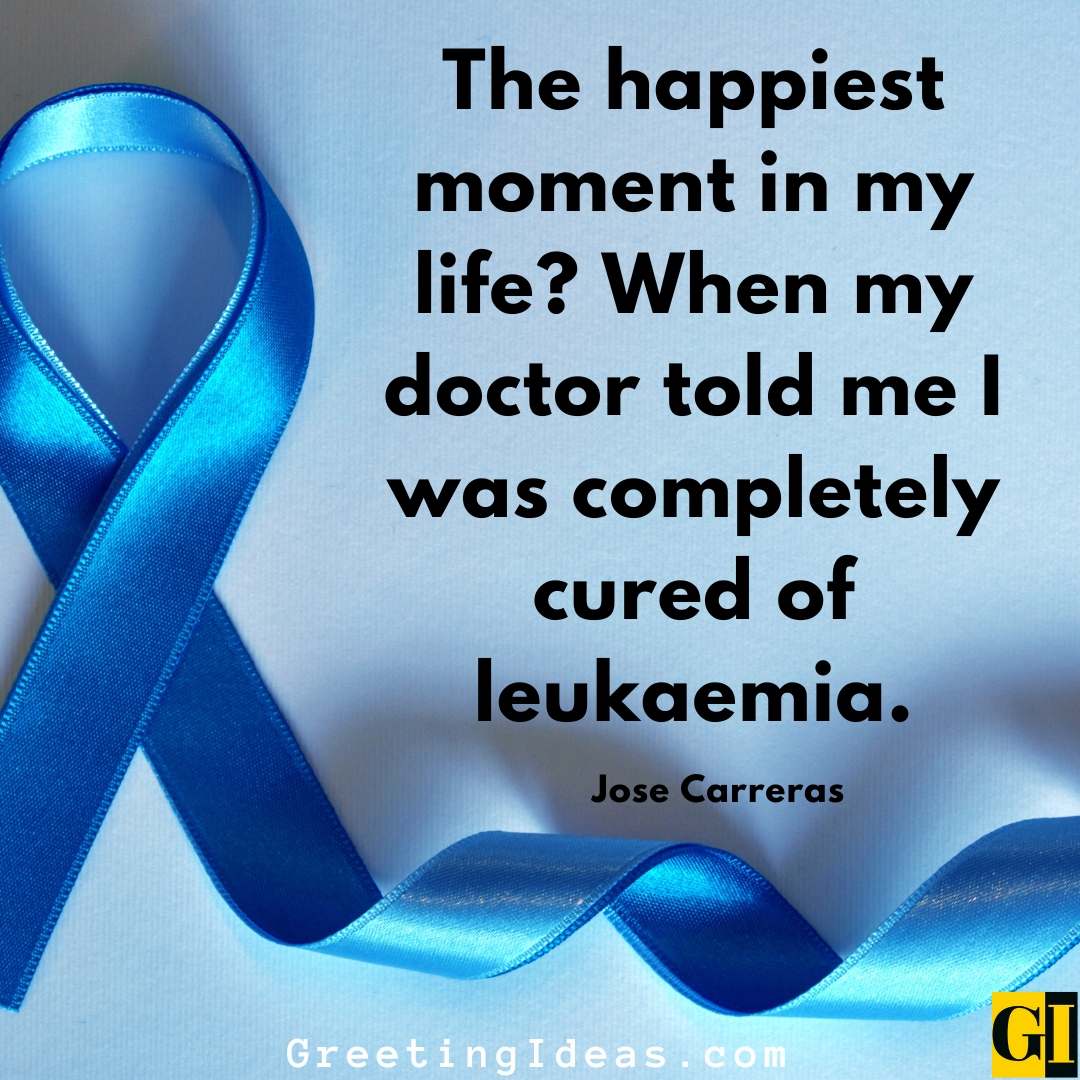 Also Read: 30 Inspirational Overcoming Disease Quotes and Sayings
We hope you liked reading our famous leukemia quotes collection.
Please share it with your friends and in social circles.
Sharing is Caring!