FTC disclaimer. This post contains affiliate links, and I will be compensated if you purchase through one of my links.
Keep reading our heartful Los Angeles quotes and sayings where everybody is somebody who has arrived in the city of Angels with lofty dreams.
After New York, Los Angeles is one the most populated metropolis in the U.S. Apart from having gorgeous beaches and a great vacation spot, L.A. is home to Hollywood and the television industry.
Los Angeles (unofficially The City of Angels) is also popularly seen as the world's entertainment capital.
We hope our handpicked quotes about Los Angeles will interest you greatly.
Inspiring Los Angeles Quotes And Sayings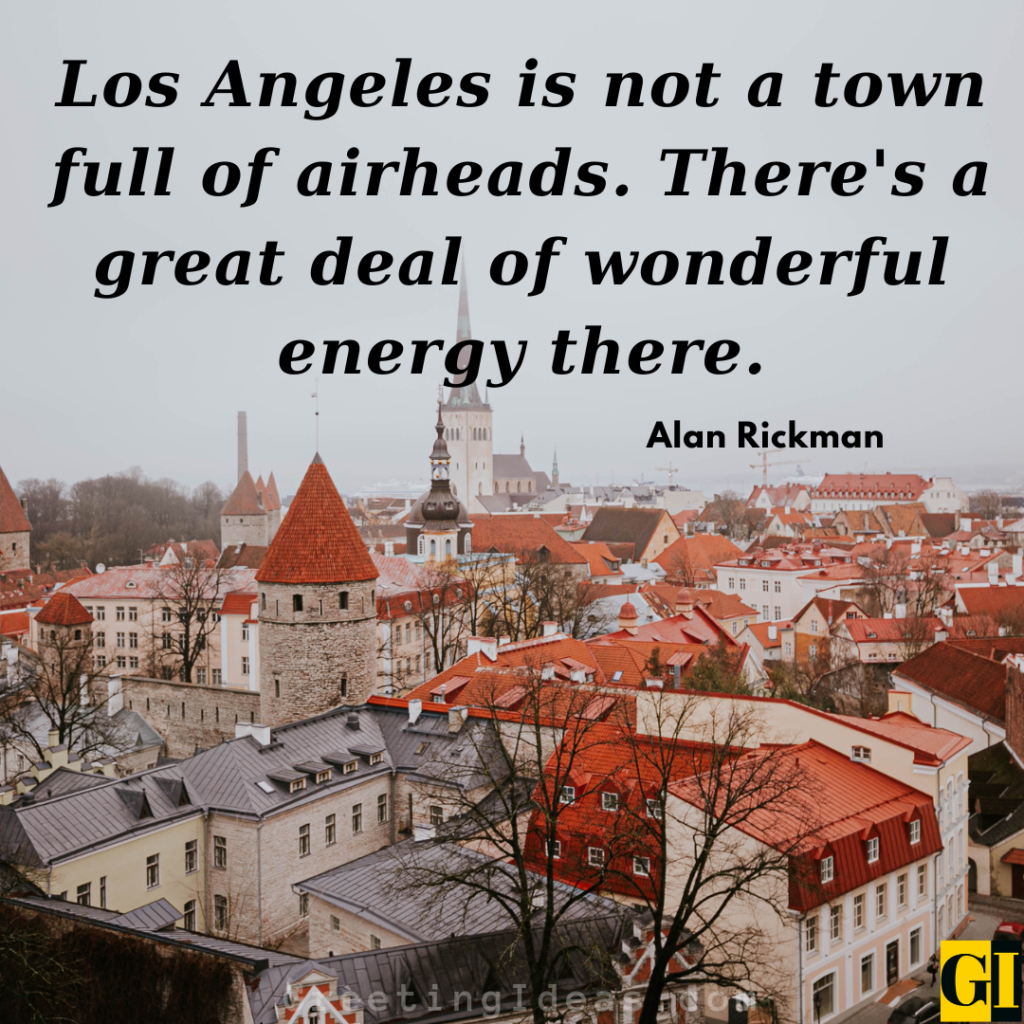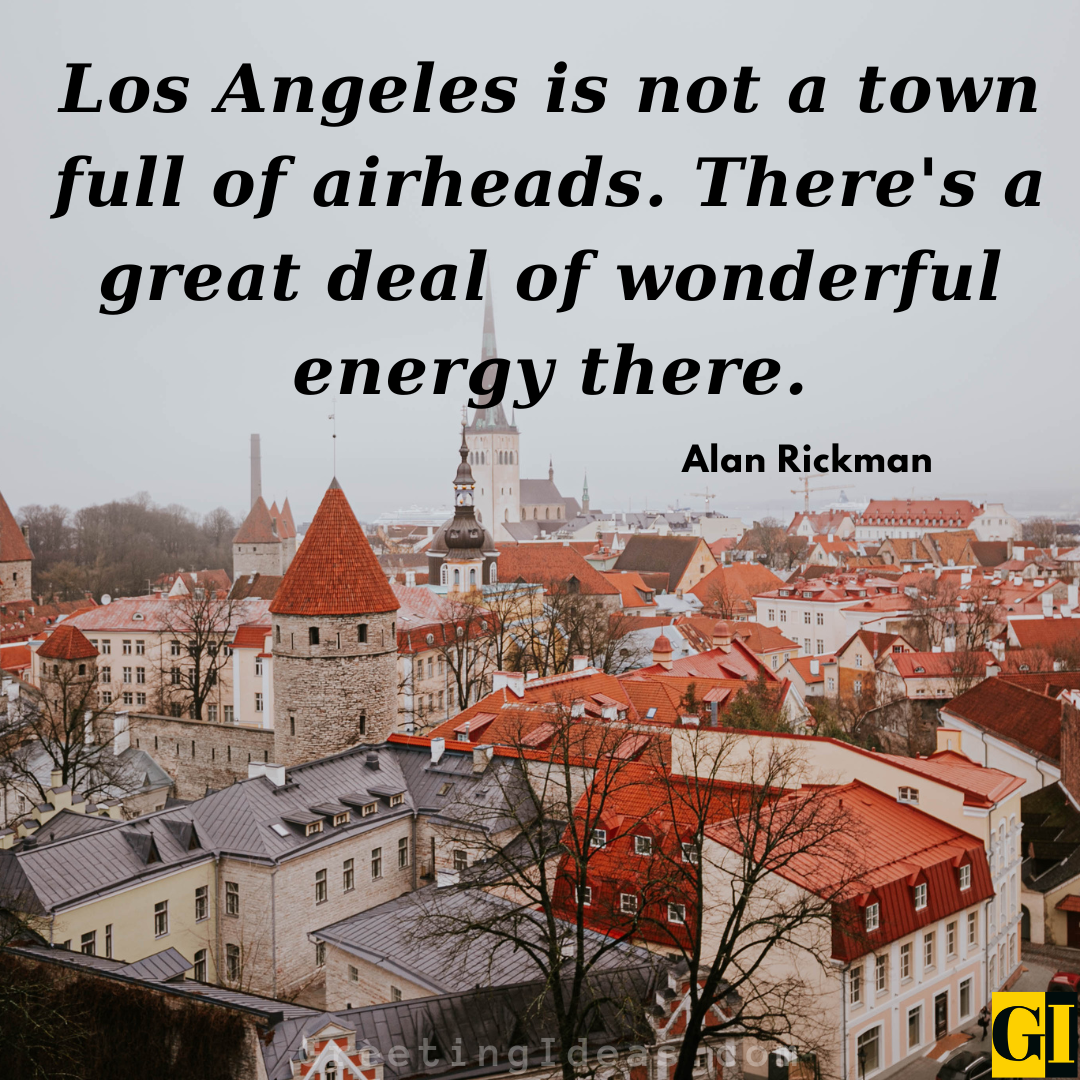 Also Read: 75 Fascinating Las Vegas Quotes and Sayings
Los Angeles is one of those places where somebodies become nobodies and nobodies become somebody.
– Carlos Ruiz Zafón
Los Angeles is a one horse town. It's entirely driven by the entertainment business and that's what it is.
– Jason Priestley
With Los Angeles, it's kind of a love hate thing. Sometimes I think it's marvelous, and sometimes I think it's a dump. It's so fake and I can't deal with how fake it is.
– Joe Elliott
Los Angeles is the great experiment. The things we are going through now, the whole country will be going through in a few years.
– Gary Phillips
In Washington, the first thing people tell you is what their job is. In Los Angeles you learn their star sign. In Houston you're told how rich they are. And in New York they tell you what their rent is.
– Simon Hoggart
Los Angeles is not a town full of airheads. There's a great deal of wonderful energy there.
– Alan Rickman
In Los Angeles everyone is a star.
– Denzel Washington
Los Angeles is 72 suburbs in search of a city.
– Dorothy Parker
The town is an advertisement for itself; none of its charms are left to the visitor's imagination.
– Christopher Isherwood
Los Angeles is often described as the nadir of vapidity, a smog choked space cradle.
– Diablo Cody
Los Angeles is an industry town, and it has great facilities and personnel. The disadvantage is that everyone there seems to talk about the same subject matter.
– Carter Burwell
Los Angeles has no seasons, so it's kind of hard to keep track of time here. The lines between spring, summer, fall, and winter all blur like my vision. I get stuck on repeat for different measures of eternity.
– Kris Kidd
Famous Los Angeles Quotes And Sayings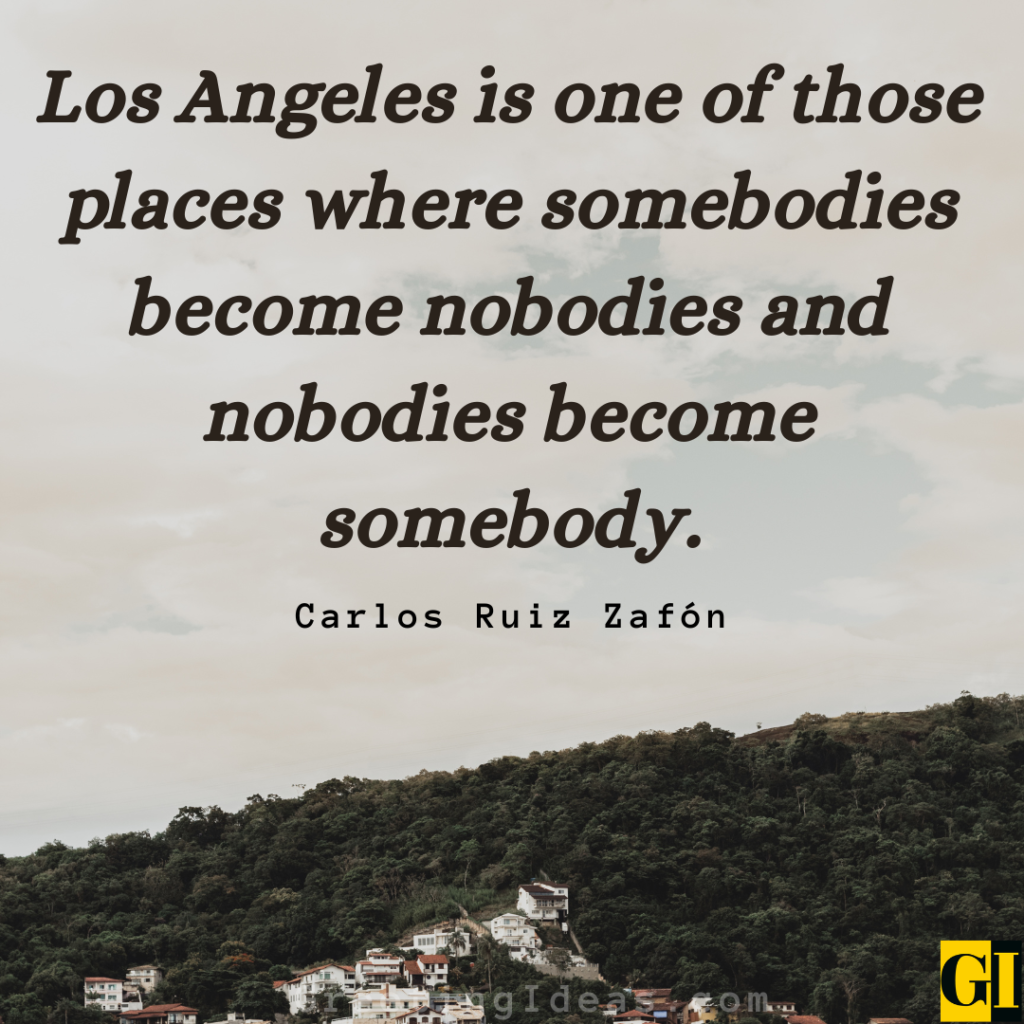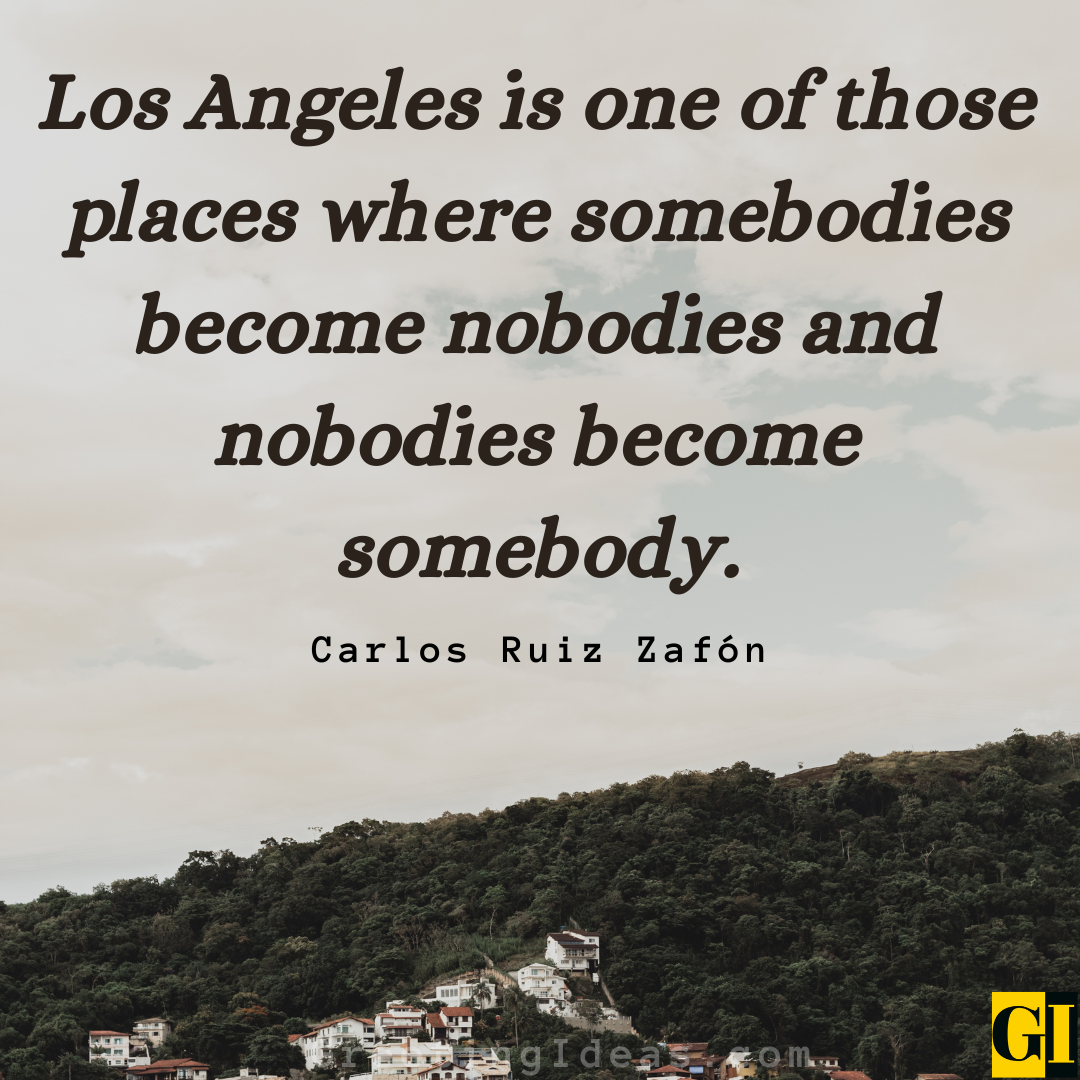 Also Read: 20 Best Washington DC Quotes and Sayings
Los Angeles is a large city like area surrounding the Beverly Hills Hotel.
– Fran Lebowitz
Los Angeles and all of Southern California is destined to become the greatest metropolitan area the world has ever known.
– Otis Chandler
Los Angeles is such a widespread city, sometimes it's hard to see your friends, and food is a great way to get together it's a great way of giving love.
– Sofia Milos
The great thing about Los Angeles is that you can get so much money in this town by constantly failing. You can get a lot of television deals that don't go anywhere, but you still get paid.
– Daniel Tosh
In Los Angeles, people dress with the deep and earnest hope that people will do nothing but stare at them.
– Ellie Kemper
Los Angeles gives one the feeling of the future more strongly than any city I know of. A bad future, too, like something out of Fritz Lang's feeble imagination.
– Henry Miller
Los Angeles is a planetary city making perishable toys from realities.
– David Rowbotham
Los Angeles is a great place. Where else can you smell the air and see it coming at you at the same time.
– Jackie Gayle
When you're in Los Angeles, everybody you meet is writing a movie, and they want you to be in it. Every cab driver is writing a movie!
– William Sadler
In Los Angeles, you drive around, and you're coming back from a club or something, and all of a sudden, you'll encounter a coyote. And they're very lean, hungry looking animals.
– Dan Gilroy
I turn up in Los Angeles every now and then, so I can get some big money films in order to finance my smaller money films.
– John Hurt
Los Angeles is the place where British people come to exceed their worth.
– Ryan Cartwright
Los Angeles, give me some of you! Los Angeles come to me the way I came to you, my feet over your streets, you pretty town I loved you so much, you sad flower in the sand, you pretty town
– John Fante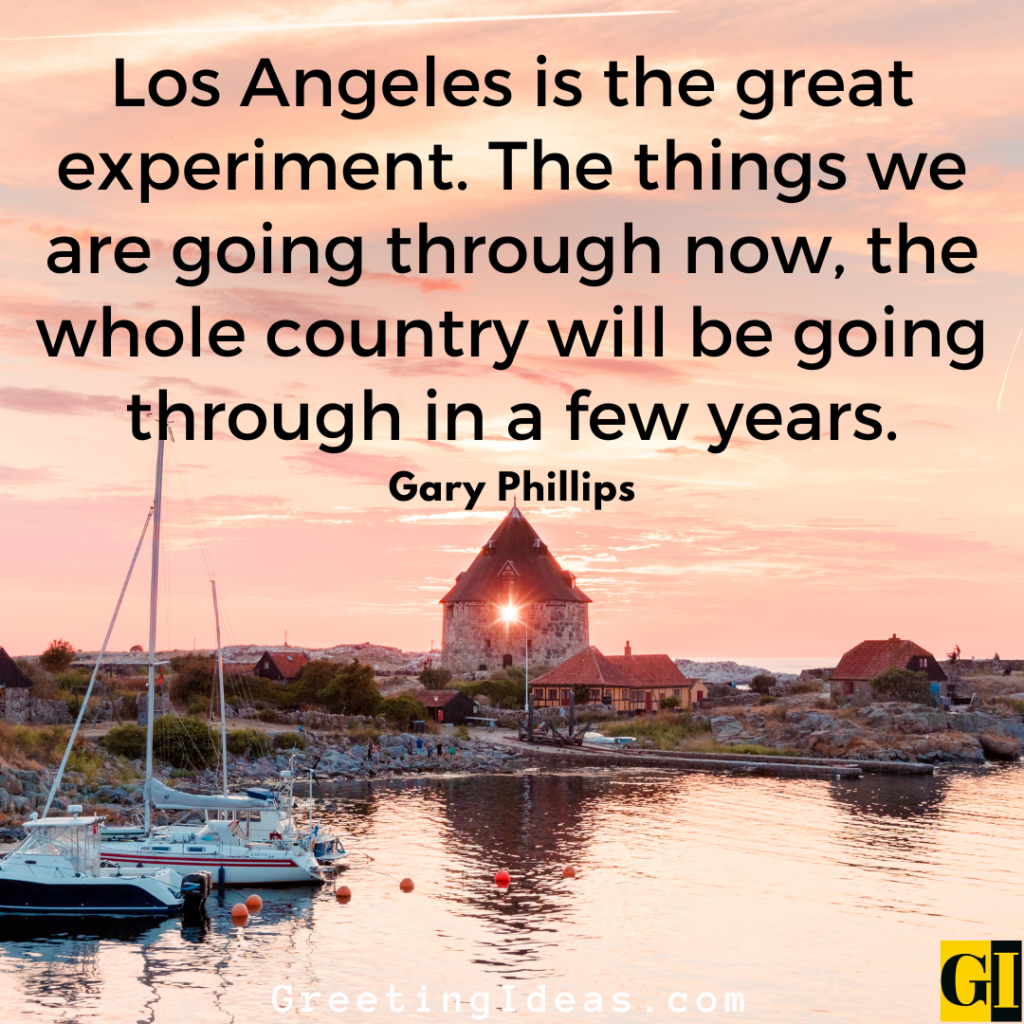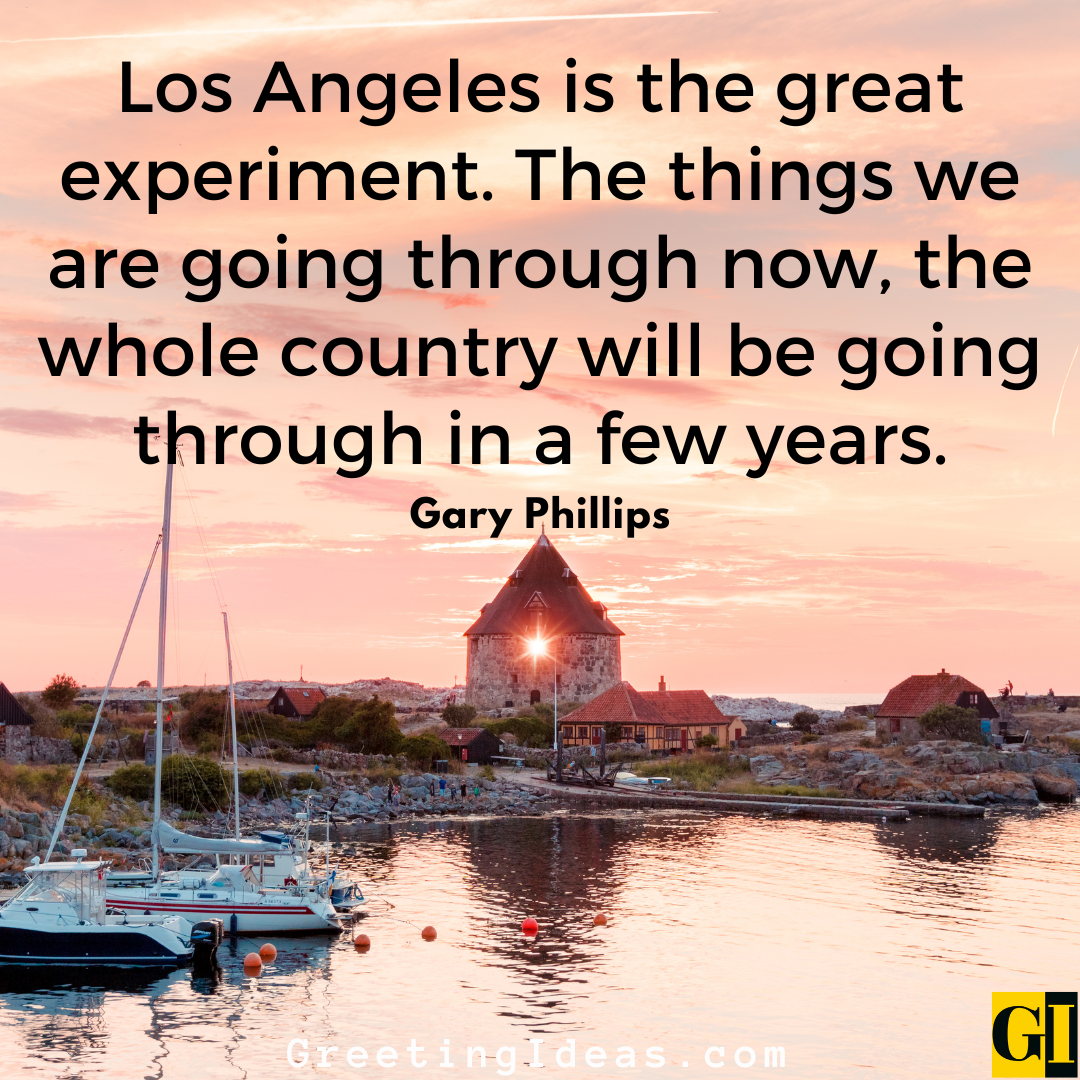 Also Read: 75 Patriotic America Quotes to Celebrate USA Memorial Day
We hope you liked reading our funny and famous Los Angeles quotes collection.
Share it with your loved ones and in social circles.
Sharing is Caring!