FTC disclaimer. This post contains affiliate links, and I will be compensated if you purchase through one of my links.
Read our motivational Somali quotes and sayings from renowned authors, writers, international diplomates, and peacemakers.
Somalis are a clan of East Cushitic people belonging to the country Somalia located in the Horn of Africa.
Somalia consisted of the longest coastline in Mainland Africa and had been infamously known for maritime piracy and armed robbery on the coast.
There has been an ongoing civil war brewing in Somalia since 1980 despite international efforts to maintain peace and order.
Best Somali Quotes and Sayings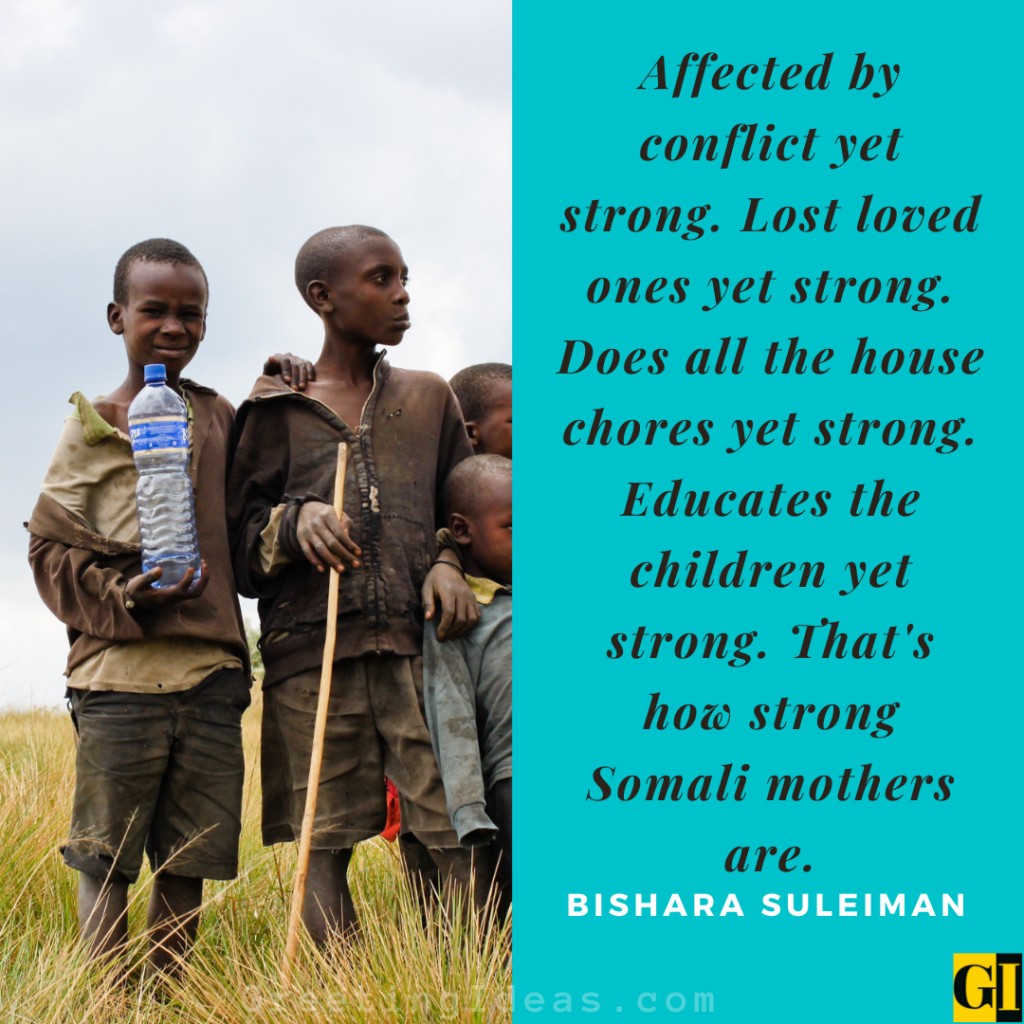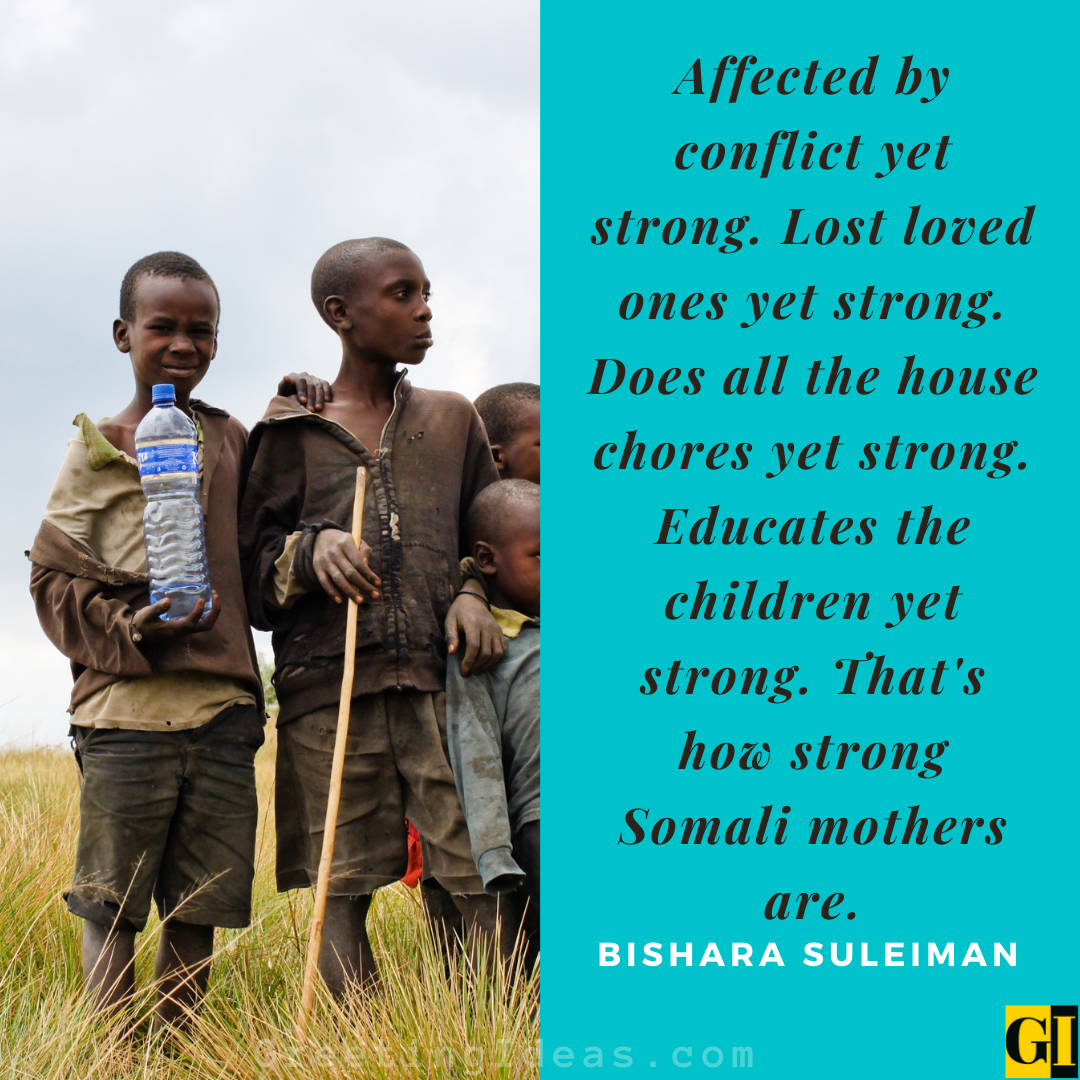 Insecurity off the Somali coast has escalated sharply. It is very worrying.
– Andrew Mwangura
To the Somali, the Amerikaan is weird, to the American GI, the Somali is an ingrate and a skinny.
– Nuruddin Farah
While Somalia is normally one of the poorest and most food insecure countries in the world, current conditions are dire and way beyond the typically resilient Somali peoples' capacity to cope. The window of opportunity to avert disaster is quickly closing.
– Nicholas Haan
Somalis have made my city of Wilmington, Delaware on a smaller scale. There is a large, very identifiable Somali community.
– Joe Biden
Over the course of my life, I have made many transitions – most of them taking me further away from my Somali roots and steadily toward the enlightened mentality of Western democracy.
– Ayaan Hirsi Ali
We are helping our Somali brothers get rid of these narrow-minded attackers. The Somali people do not support the extremists, they are on the side of our soldiers.
– Yoweri Museveni
Many in the Somali community are excited to vote and support candidates who have shown an ability to lead with integrity and not use props and gatekeepers to get their votes.
– Ilhan Omar
When people put labels on us, it doesn't always enclose everything that we are. So even though I'm proud to be Somali, I'm proud to be American, at the end of the day, I'm still Halima, and I take things from both sides and combine them, and I make my own little category. I'm me!
– Halima Aden
Affected by conflict yet strong. Lost loved ones yet strong. Does all the house chores yet strong. Educates the children yet strong. That's how strong Somali mothers are.
– Bishara Suleiman
I am a Somali nationalist fighting for a free and united Somalia, and this is considered by the US administration to be terrorism.
– Unknown
Famous Somali Quotes and Sayings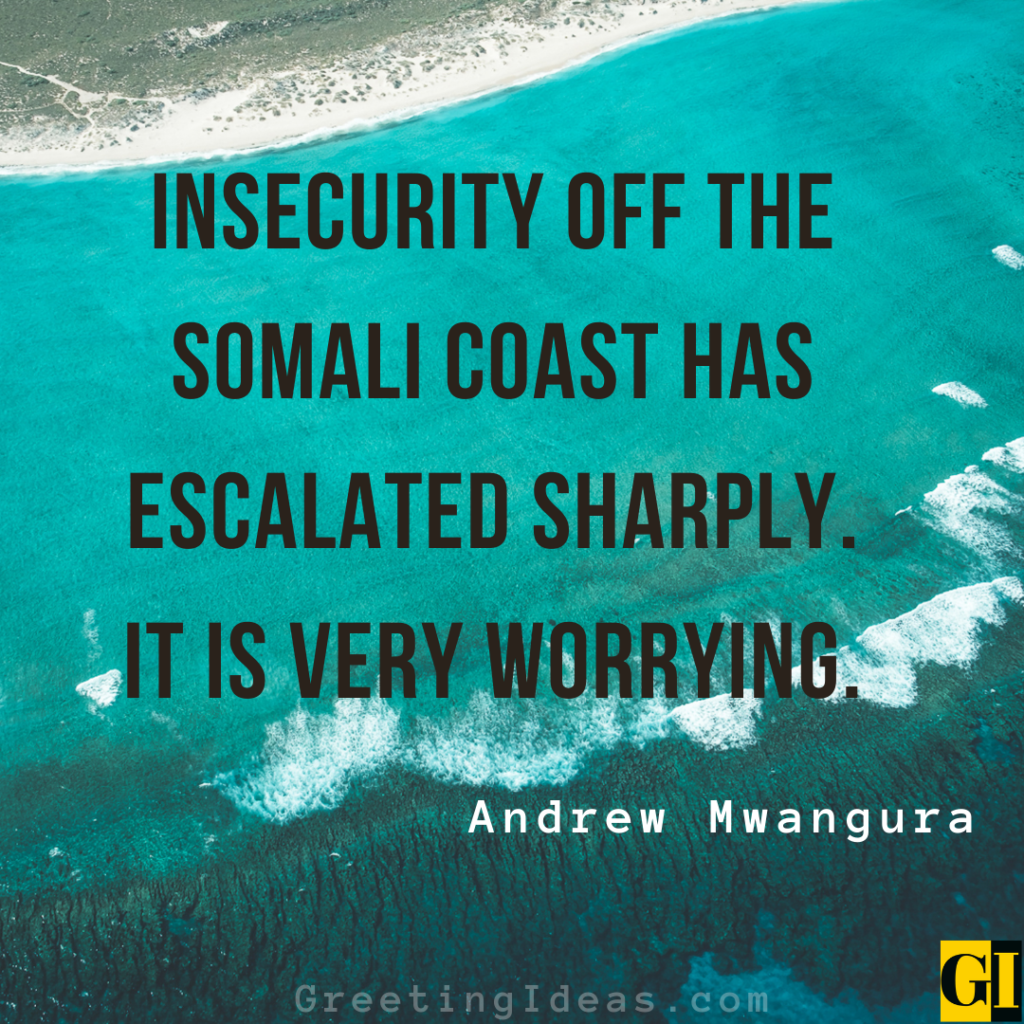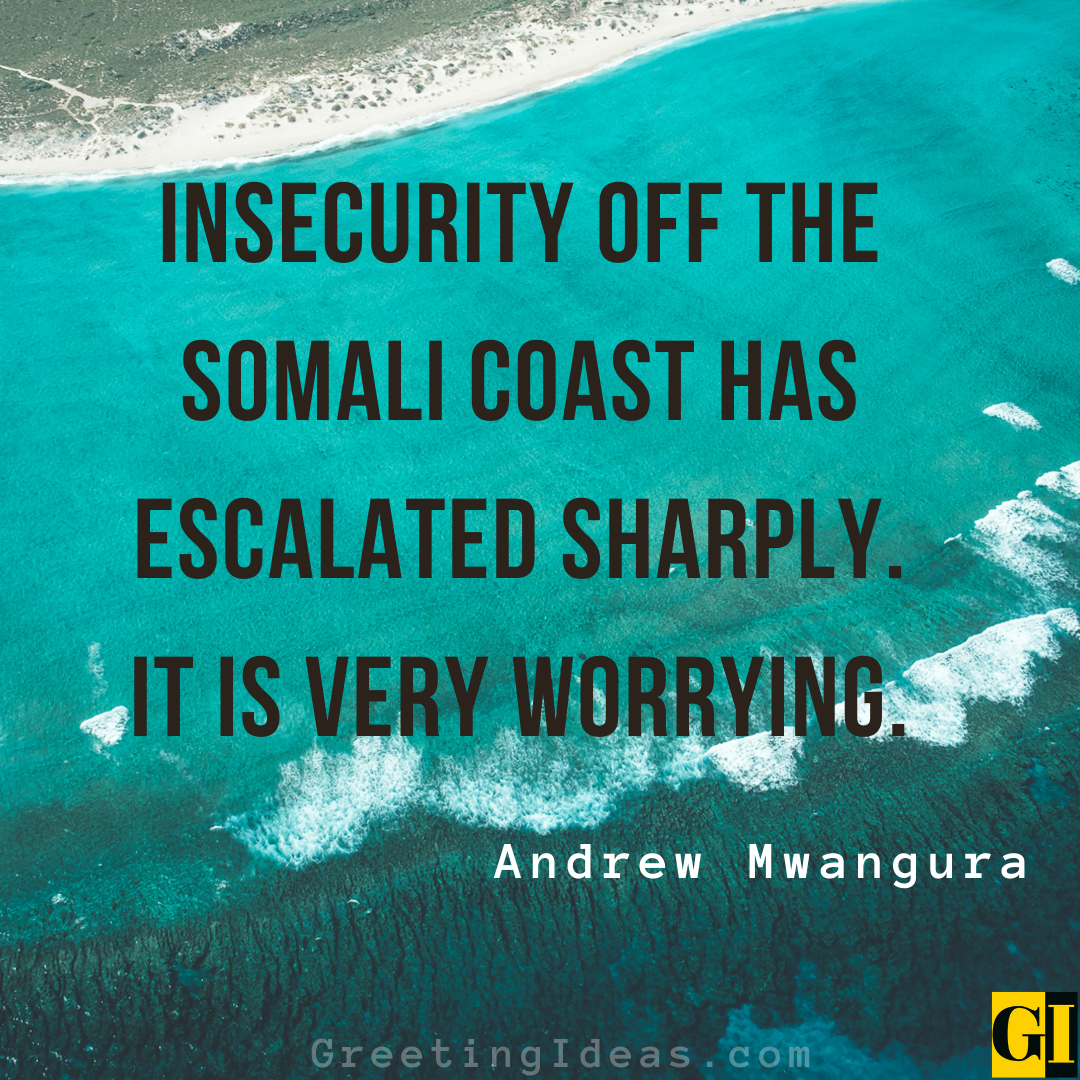 What I always emphasize is that I am a representative who happens to be Somali.
– Ilhan Omar
I think the guys who are sort of infantry in Somali piracy are not unlike low-level drug dealers in urban areas in America, who see it as, you know, not having many other options. I think it comes down to money and needing to survive.
– Cutter Hordiene
My kids are the reason I continue to strive for something better. They know – as kids who are Muslim, Somali, black Americans – that they've always been part of a struggle and that change isn't easy.
– Ilhan Omar
I think now, we in the international community are belatedly wanting to show our solidarity with the Somali peoples and also do our best to help them move to better times.
– Jan Egeland
Somali maritime violence is a response to greedy Western nations, who invade and exploit Somalia's water resources illegally. It is not a piracy, it is self defence. It is defending the Somalia children's food.
– Muammar al-Gaddafi
I was always made aware of inequality in society, that there was a class system. In Somalia, we have clan structures. My mother's family is ethnically not Somali, and so we spoke often about what it meant to be 'other' in that way.
– Ilhan Omar
I did not come to power to divide Somali but to unite them, and I will never deviate from this path. I shall respect a Somali individual as long as he deserves respect, but if he turns away from the correct path, then that is not my business.
– Siad Barre
Somali is turning into a desert. Rwanda, you can hardly find a place to plant a potato, it's so crowded.
– Jim Fowler
In Somali, when we see injustice we say 'dhiiga kuma dhaqaaqo?' which translates into 'does your blood not move?'
– Warsan Shire
It is only the Somalis themselves – and I don't hide that fact when I meet the political leaders here – they themselves have to stop their old practices of fighting each other every time they have a problem. They have to learn how to do peaceful conflict resolution.
– Jan Egeland
Somali Quotes on Life and Conflict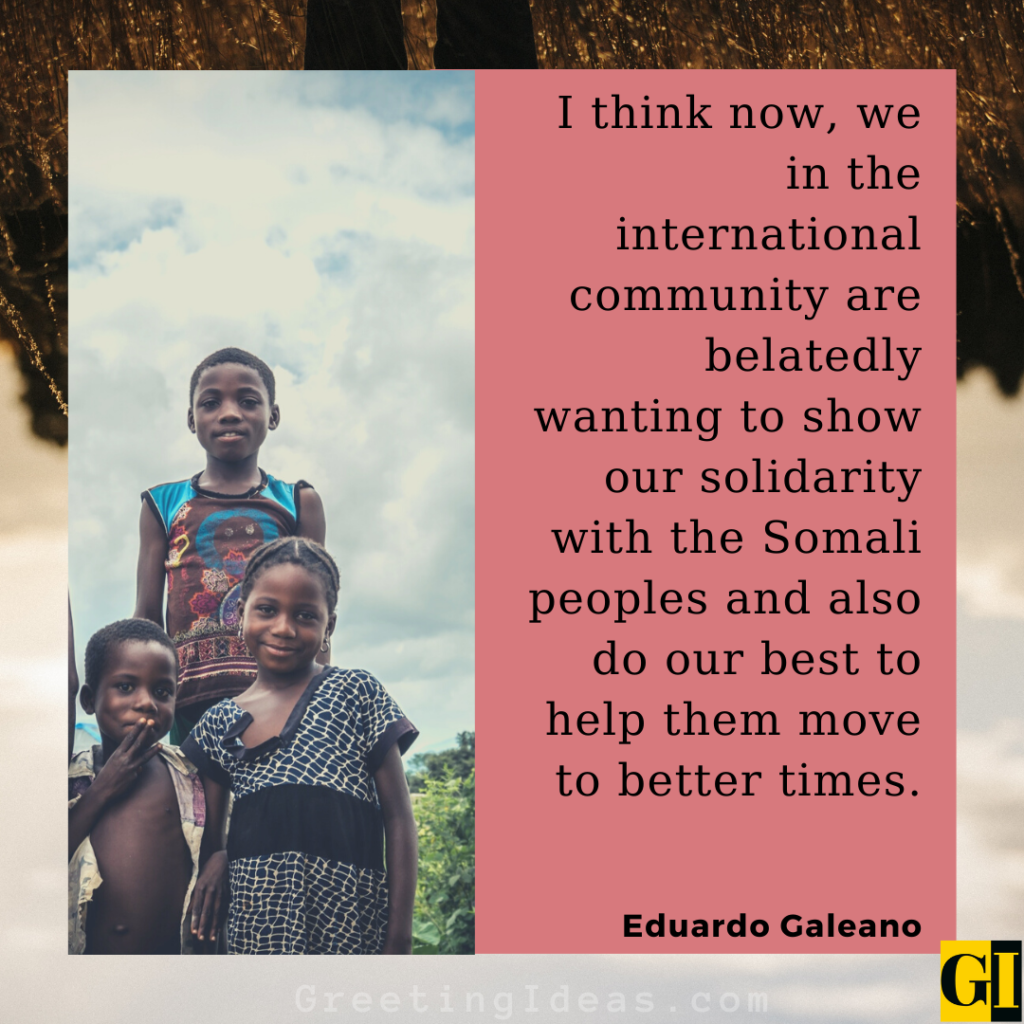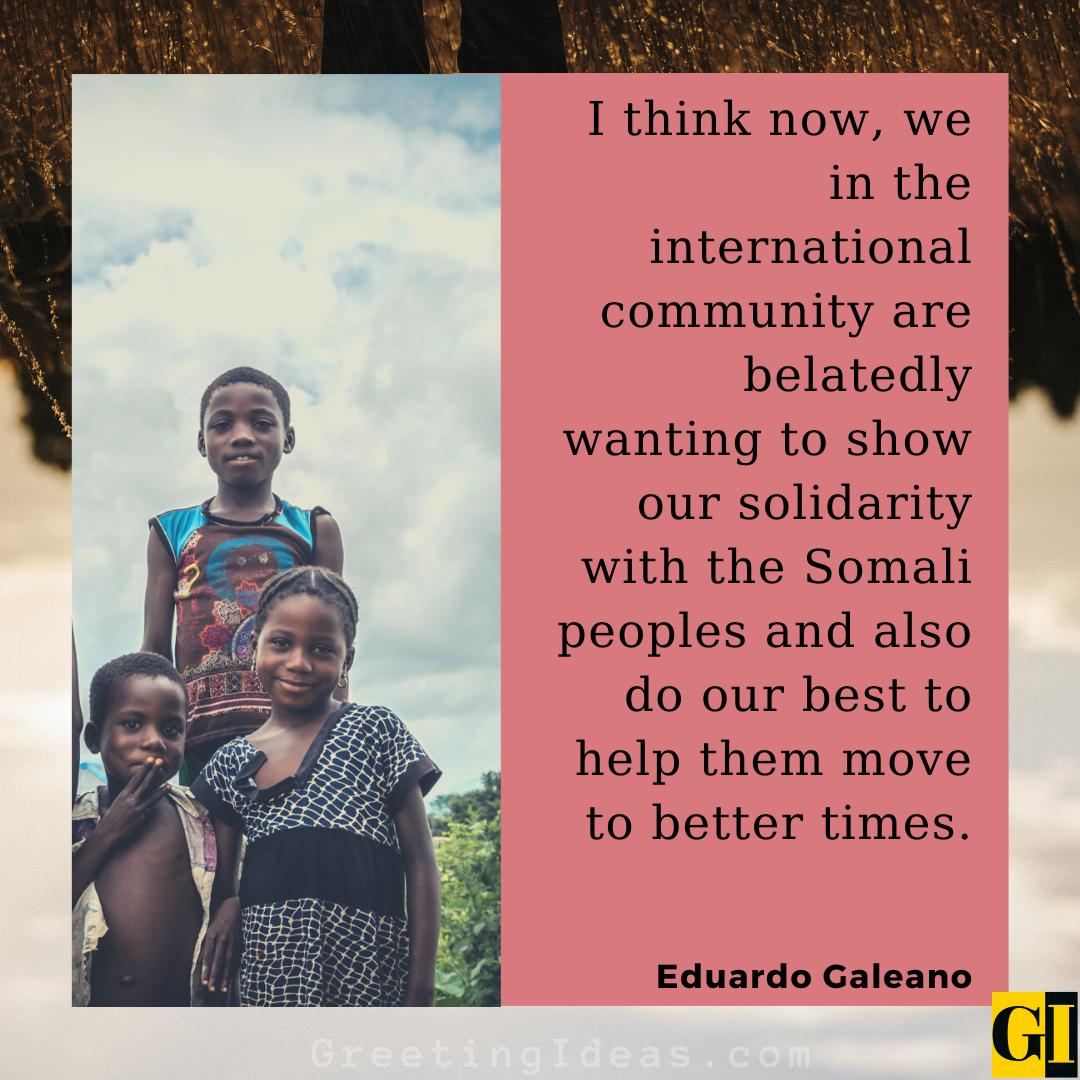 We hope you found our Somali quotes collection useful.
Share it with your loved ones and in social circles too.
Which Somali quotes and sayings struck a chord with you?
Let us know in the comments!