FTC disclaimer. This post contains affiliate links, and I will be compensated if you purchase through one of my links.
December is always connected to the rainy and snowy cold winter season.
If you live anywhere in the northern hemisphere, you know what a day in December feels like.
December, the last month of the year, is all about cold nights, snowy days that either rekindle romance, or the bone-chilling winds might remind of the dreaded loneliness of one's heart.
The hello and happy December quotes also remind us Christmas and holidays are around the corner.
People wait for December to come as families greet each other in a festive mood, with holiday vibes filling the entire aura of the place.
We hope these dear and happy December quotes and sayings lift your winter mood in the best possible way.
Best December Quotes and Sayings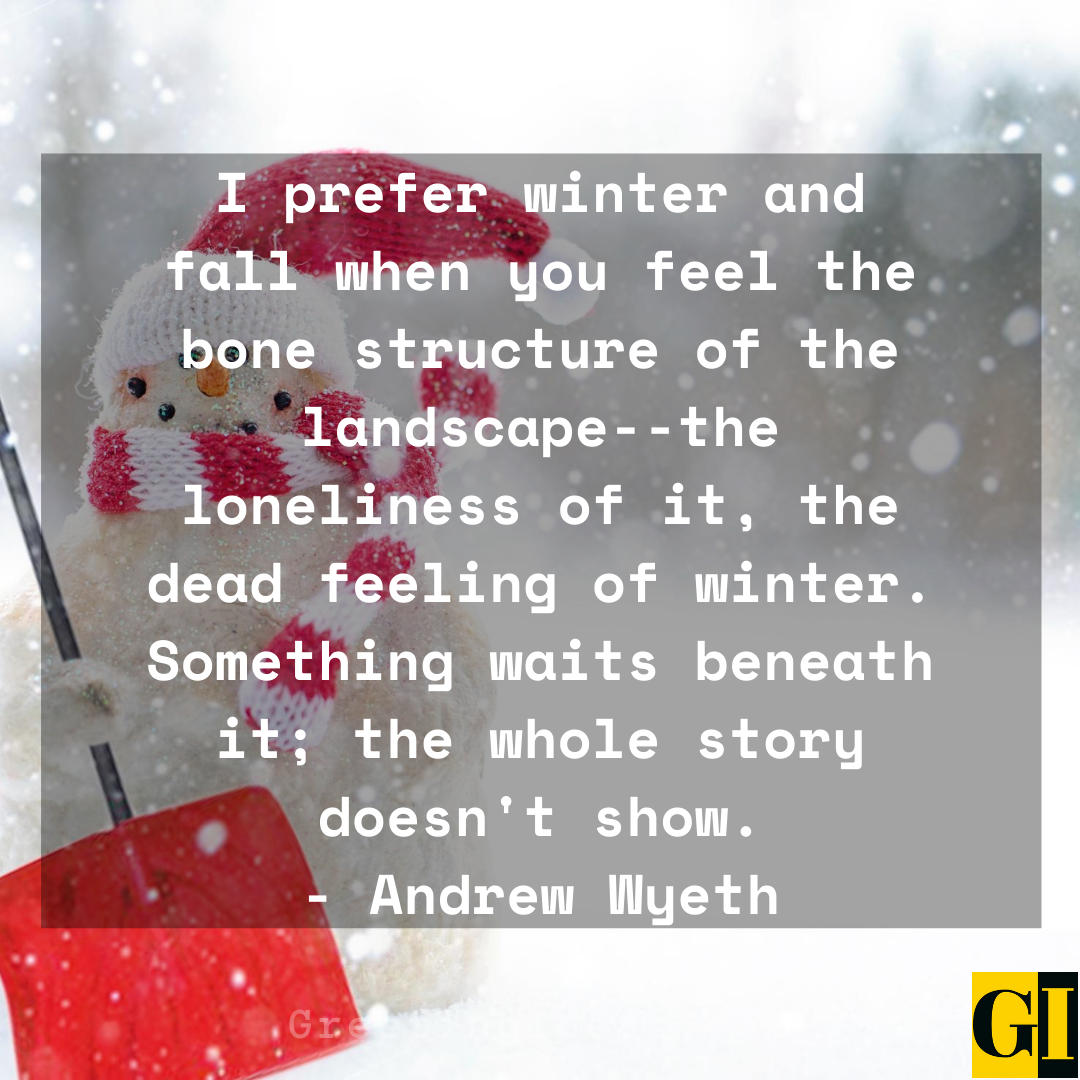 Also Read: 50 Inspiring Everyday is A New Day Quotes and Sayings
No matter what my fortune may be, or where I may roam, in December, I'll be going home.
– Floyd Huddleston
If we make it through December, everything's gonna be alright I know; it's the coldest time of winter and I shiver when I see the falling snow.
– Merle Haggard
This looks like a December day, it looks like we've come to the end of the way.
– Willie Nelson
I prefer winter and fall when you feel the bone structure of the landscape–the loneliness of it, the dead feeling of winter. Something waits beneath it; the whole story doesn't show.
– Andrew Wyeth
May and October, the best-smelling months? I'll make a case for December: evergreen, frost, wood smoke, cinnamon.
– Lisa Kleypas
December's wintery breath is already clouding the pond, frosting the pane, obscuring summer's memory.
– John Geddes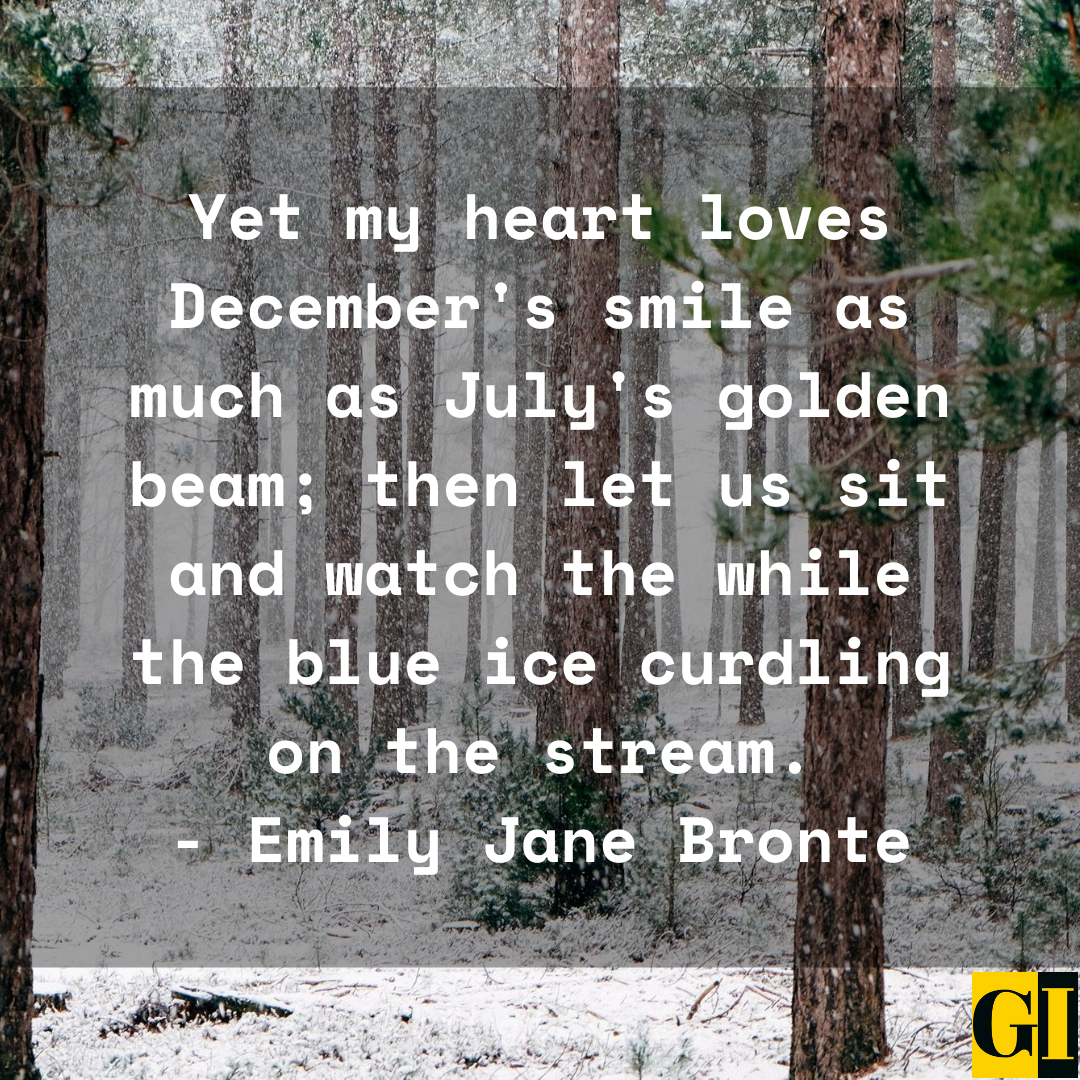 Also Read: 50 Sad and Painful One Sided Love Quotes and Sayings
In December ring; Every day the chimes; Loud the gleemen sing; In the streets their merry rhymes. Let us by the fire Ever higher; Sing them till the night expire!
– Henry Wadsworth Longfellow
Ah, distinctly I remember it was in the bleak December; And each separate dying ember wrought its ghost upon the floor.
– Edgar Allan Poe
Outside the house it was storming, a busy downfall of flakes that the wind blew lightly across acres of old snow left from December.
– Gladys Hasty Carroll
Yet my heart loves December's smile as much as July's golden beam; then let us sit and watch the while the blue ice curdling on the stream.
– Emily Jane Bronte
Remember This December; That love weighs more than gold!
– Josephine Dodge Daskam Bacon
When dark December glooms the day, and takes our autumn joys away.
– Walter Scott
Hello and Happy December Quotes and Sayings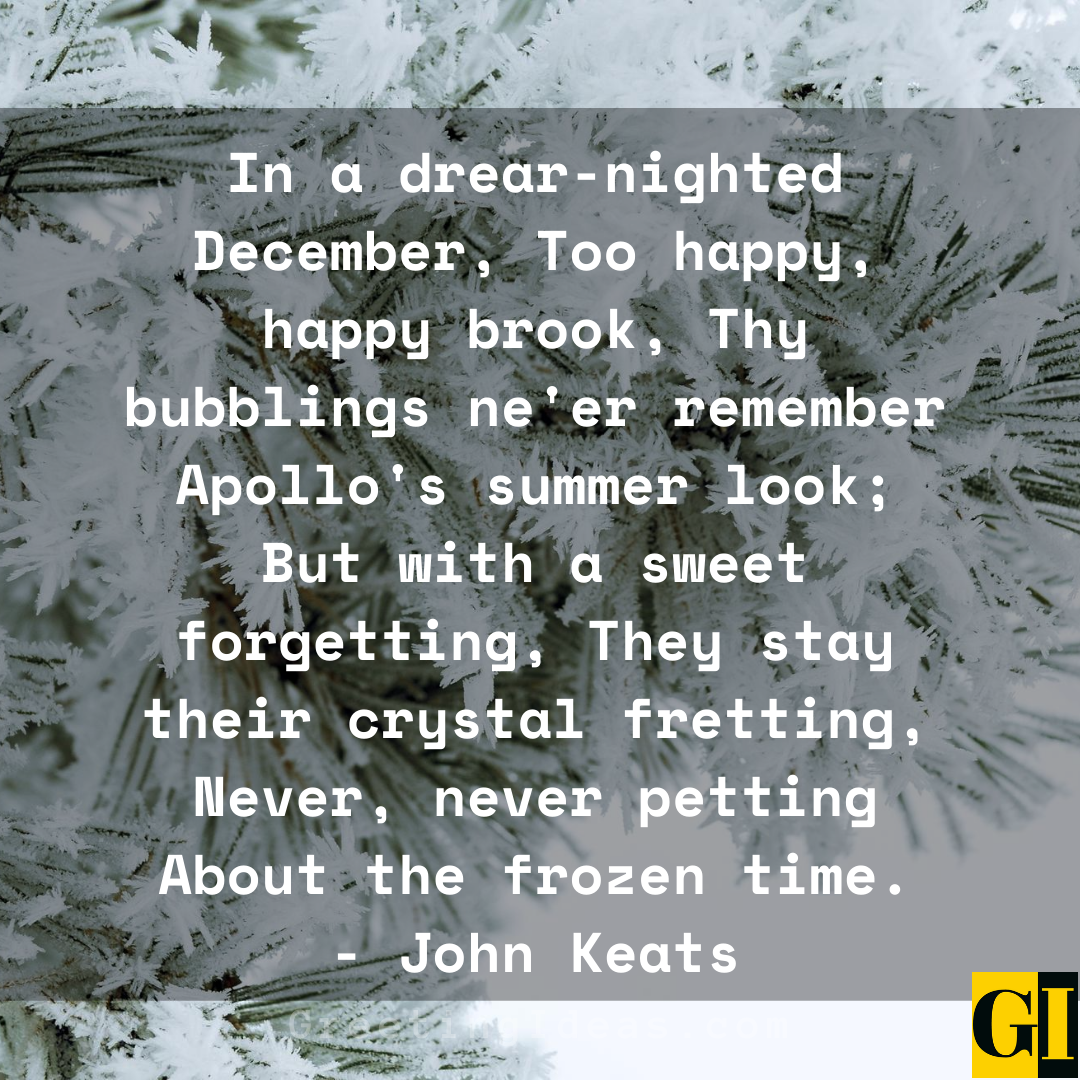 Also Read: 20 Happy and Welcome April Quotes and Sayings
In cold December fragrant chaplets blow, And heavy harvests nod beneath the snow.
– Alexander Pope
December drops no weak, relenting tear, By our fond Summer sympathies ensnared, Nor from the perfect circle of the year; Can even Winter's crystal gems be spared.
– Christopher Pearce Cranch
In a drear-nighted December, Too happy, happy brook, Thy bubblings ne'er remember Apollo's summer look; But with a sweet forgetting, They stay their crystal fretting, Never, never petting; About the frozen time.
– John Keats
When I was a child, my December weekends were spent making cards, decorating the tree, hanging the wreath and preparing brandy butter and peppermint creams.
– Pippa Middleton
It was snowing. It was always snowing at Christmas. December, in my memory, is white as Lapland, though there were no reindeers. But there were cats.
– Dylan Thomas
In the bleak midwinter, frosty wind made moan, earth stood hard as iron, water like a stone; snow had fallen, snow on snow, snow on snow, in the bleak midwinter, long ago.
– Christina Rossetti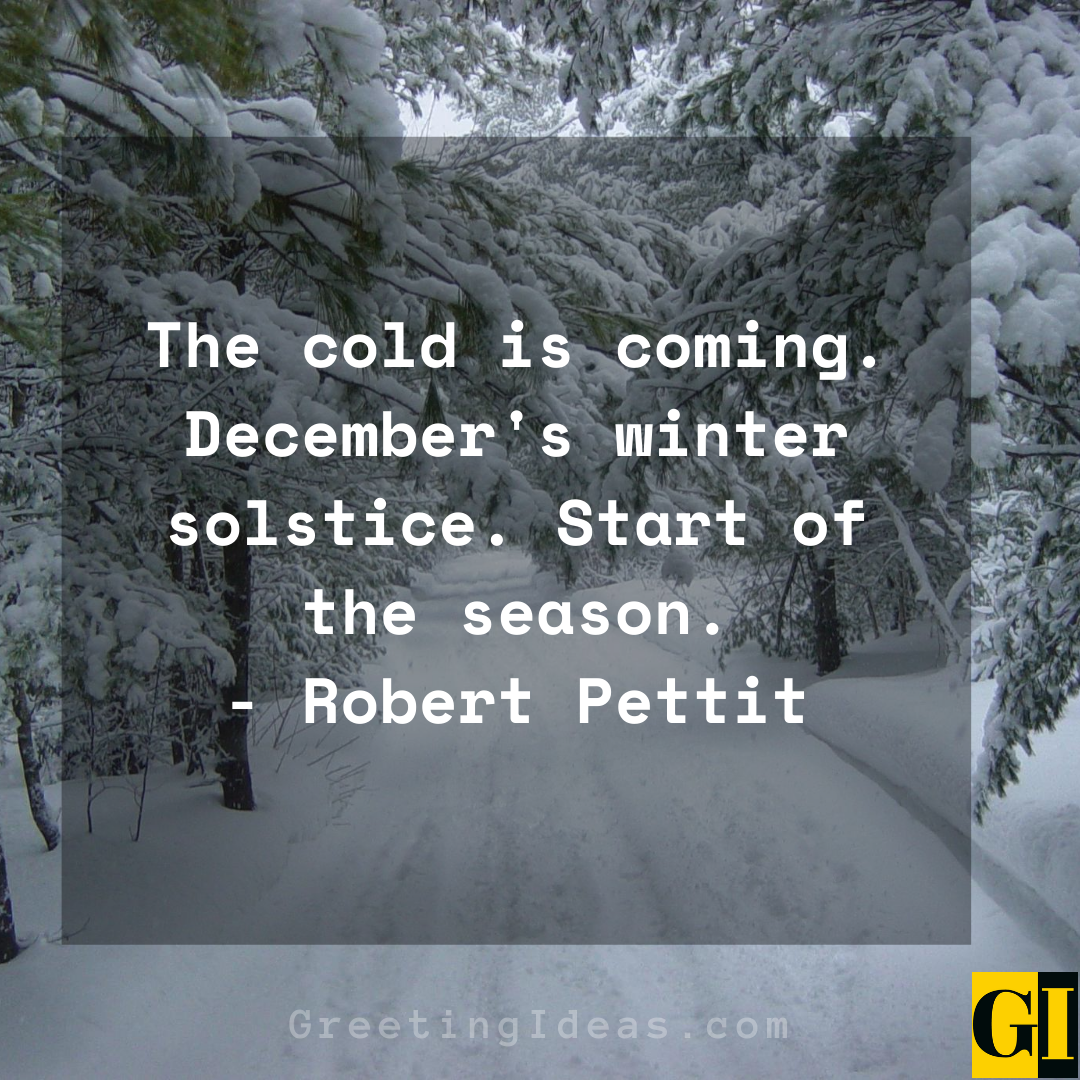 Also Read: 35 Hello and Welcome October Quotes, Sayings, Phrases
When December comes, can 'The Nutcracker' be far behind? No, it can't – not in America, anyway.
– Robert Gottlieb
Chill December brings the sleet, Blazing fire, and Christmas treat.
– Sara Coleridge
December 25th has become guilt and obligation.
– Phil Donahue
It is the middle of December now, and we are about to travel to Switzerland – where we plan to ski a little, relax a little, and shoot a Dutch politician a little.
– Hugh Laurie
People can't concentrate properly on blowing other people to pieces if their minds are poisoned by thoughts suitable to the twenty-fifth of December.
– Ogden Nash
The cold is coming. December's winter solstice. Start of the season.
– Robert Pettit
Welcome Dear December Quotes and Sayings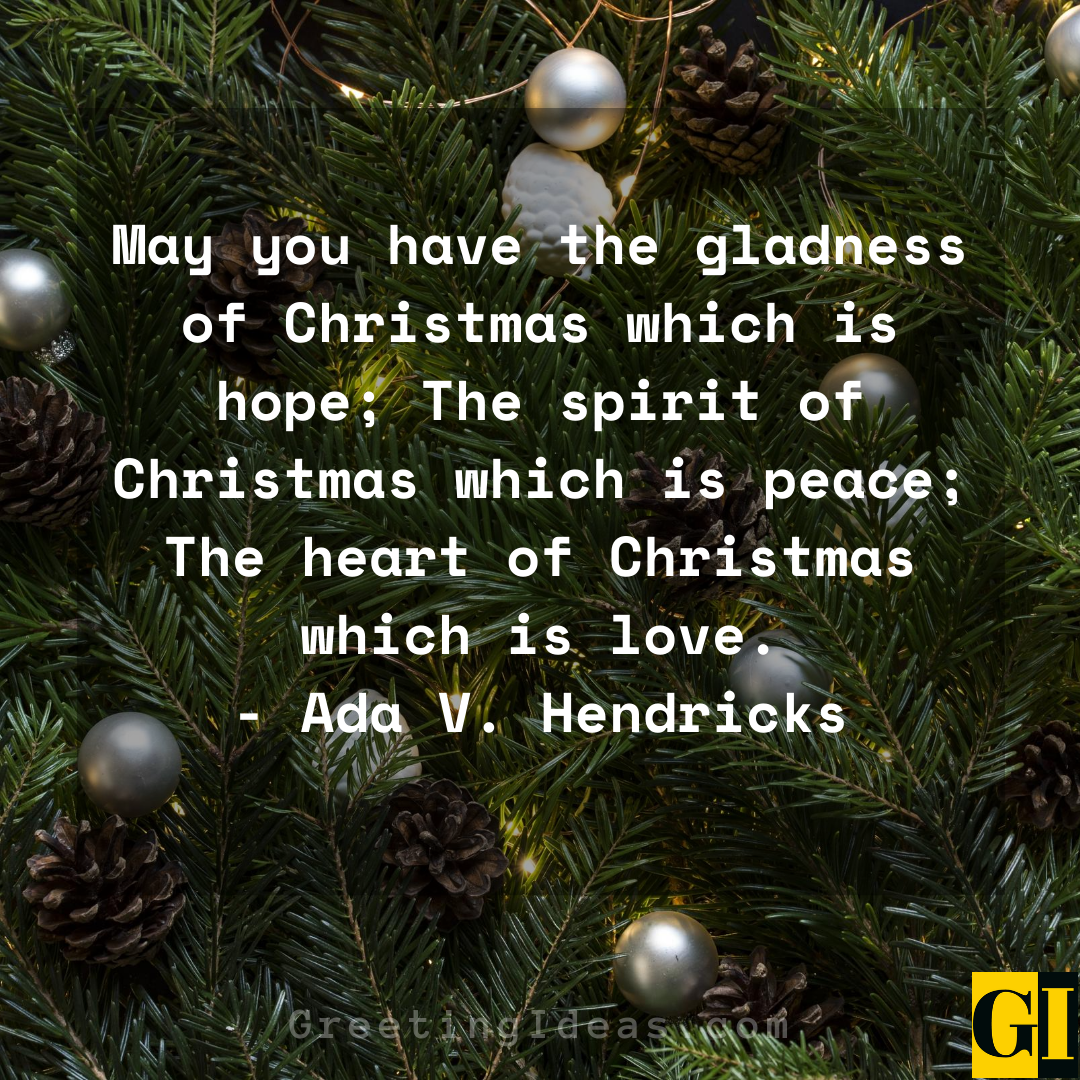 Also Read: 30 Famous and Cozy Fall Autumn Quotes, Sayings, and Images
I know. I'm lazy. But I made myself a New Years resolution that I would write myself something really special. Which means I have 'til December, right?
– Catherine O'Hara
The sun that brief December day; Rose cheerless over hills of gray, And, darkly circled, gave at noon; A sadder light than waning moon.
– John Greenleaf Whittier
Cold in the earth and fifteen wild Decembers, From those brown hills, have melted into spring.
– Emily Bronte
May you have the gladness of Christmas which is hope; The spirit of Christmas which is peace; The heart of Christmas which is love.
– Ada V. Hendricks
I was surprised my quilt and pillow were cold. I see that now the window's bright again. Deep in the night, I know the snow is thick, I sometimes hear the sound as bamboo snaps.
– BaiJuyi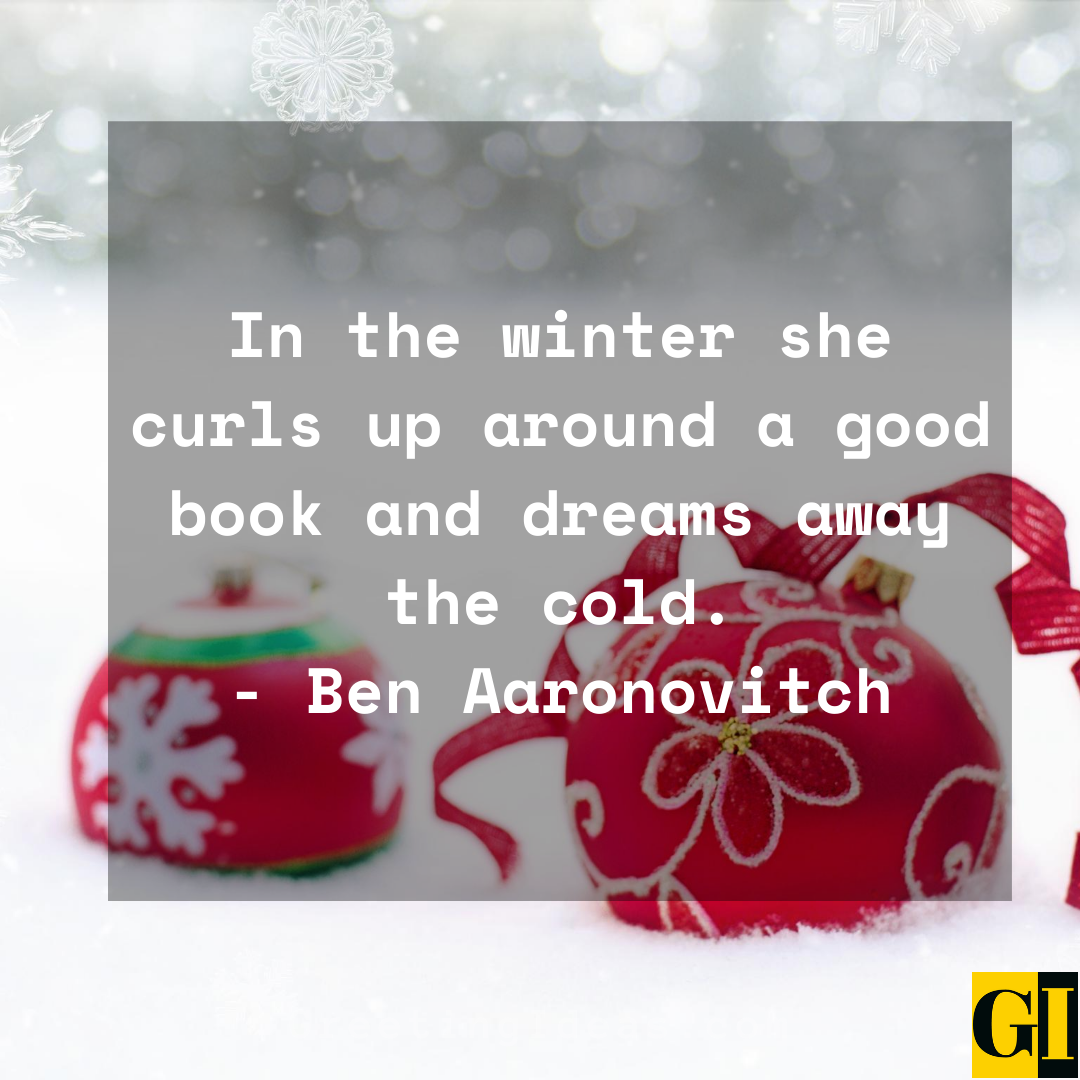 Also Read: Best Quotes About Breeze to Enjoy Summer and Cold Mornings
In the winter she curls up around a good book and dreams away the cold.
– Ben Aaronovitch
Christmas is a time when you get homesick even when you're home.
– Carol Nelson
If cold December gave you birth; The month of snow and ice and mirth; Place on you hand a Turquoise blue; Success will bless whate'er you do.
– Unknown
December was a horrible month.
– Sandy Bryant
On the 1st day of December, 1830, I was confirmed, and in accordance with the word of the Lord I was ordained an Elder under the hands of the Prophet.
– Orson Pratt
I don't mean to burst anyone's bubble, but there is no scriptural or historical basis for December 25th actually being the day that Jesus was born.
– Charity Sunshine Tillemann-Dick
Motivating December Quotes to get through the Harsh Winter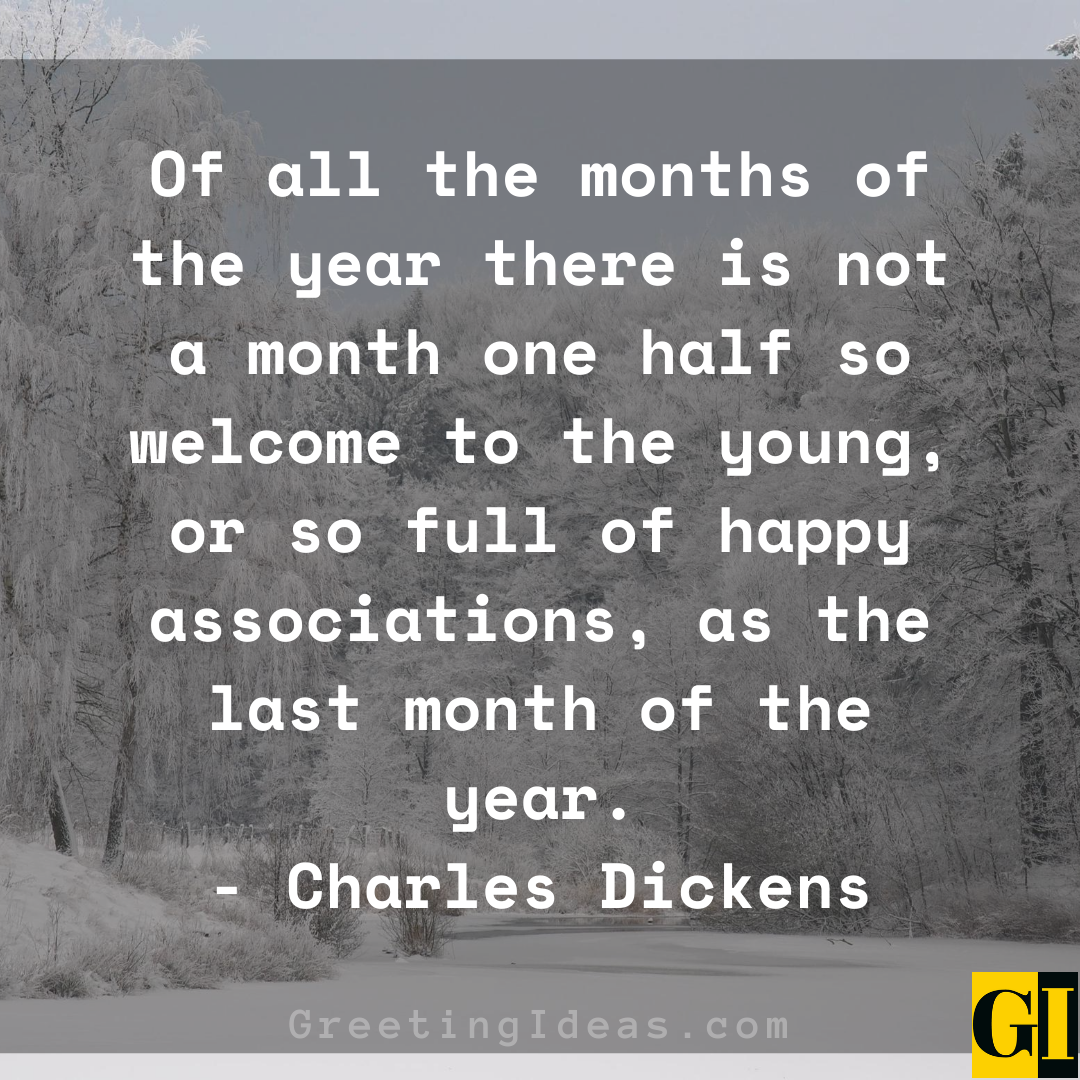 Also Read: 30 Feeling Alone Quotes to Overcome Sadness and Emptiness
Shout now! The months with loud acclaim, Take up the cry and send it forth; May breathing sweet her Spring perfumes, November thundering from the North. With hands upraised, as with one voice, They join their notes in grand accord; Hail to December! say they all, It gave to Earth our Christ the Lord!
– J.K. Hoyt
Of all the months of the year there is not a month one half so welcome to the young, or so full of happy associations, as the last month of the year.
– Charles Dickens
Happy, happy Christmas, that can win us back to the delusions of our childhood days, recall to the old man the pleasures of his youth, and transport the traveler back to his own fireside and quiet home!
– Charles Dickens
He had been walking for a long time, ever since dark in fact, and dark falls soon in December.
– Charlotte Riddell
The holly and the ivy, when they are both full grown, of all trees that are in the wood. The holly bears the crown. O, the rising of the sun, and the running of the deer the playing of the merry organ. Sweet singing in the choir.
– Christmas Carol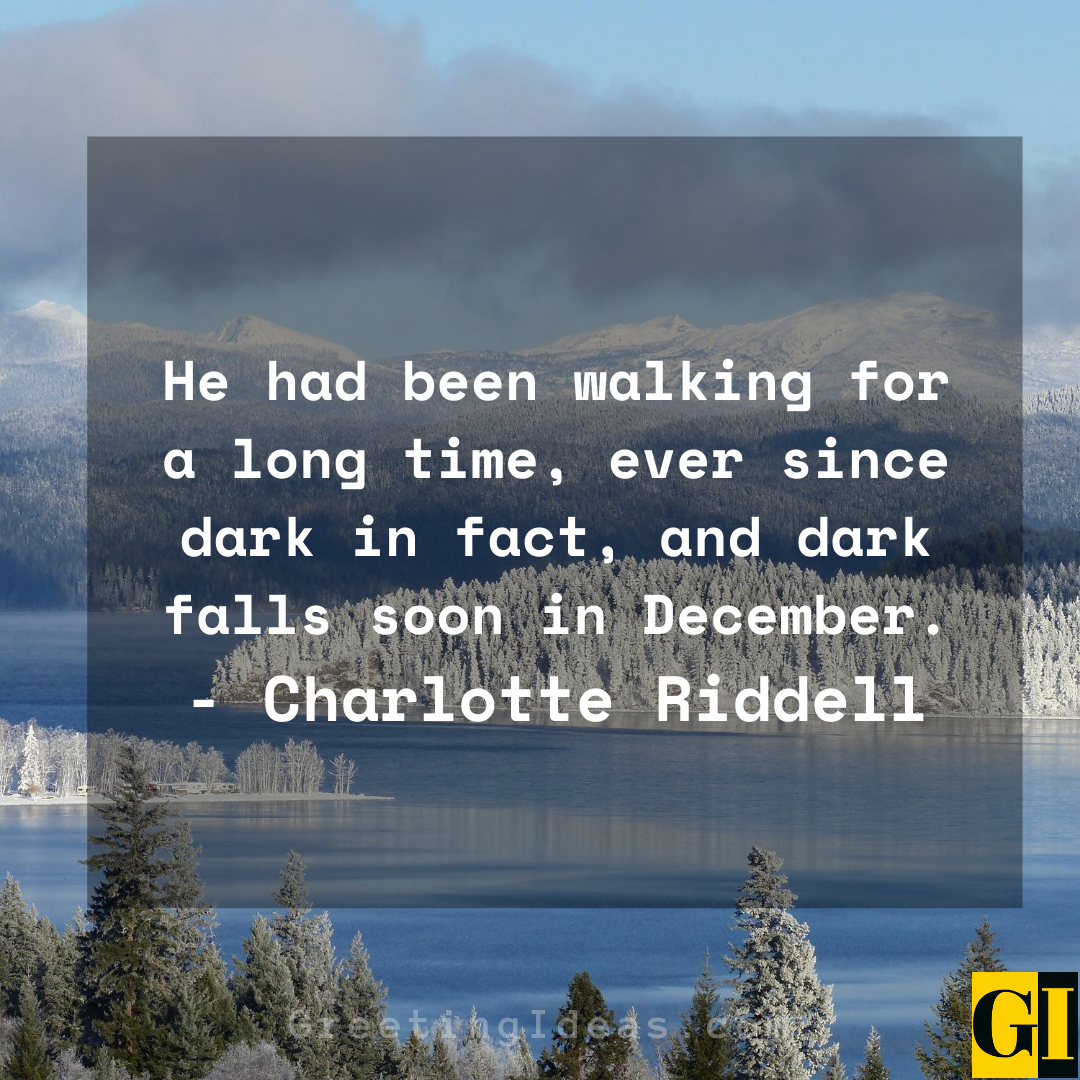 Also Read: 20 Wise Old Owl Quotes, Sayings, and Phrases
Will love be true as December frost, or fickle and fall like the rose in June?
– Clement Scott
Do your heart and head keep pace? When does hoary Love expire, when do frosts put out the fire? Can its embers burn below all that chill December snow?
– Edmund Clarence Stedman
It seems like everything sleeps in winter, but it's really a time of renewal and reflection.
– Elizabeth Camden
Yesterday, December 7, 1941, a date which will live in infamy, the United States of America was suddenly and deliberately attacked by naval and air forces of the Empire of Japan.
– Franklin Delano Roosevelt
I heard the bells on Christmas Day; Their old, familiar carols play; And wild and sweet the words repeat Of peace on earth, good-will to men!
– Henry Wadsworth Longfellow
Top December Quotes and Sayings for Calendars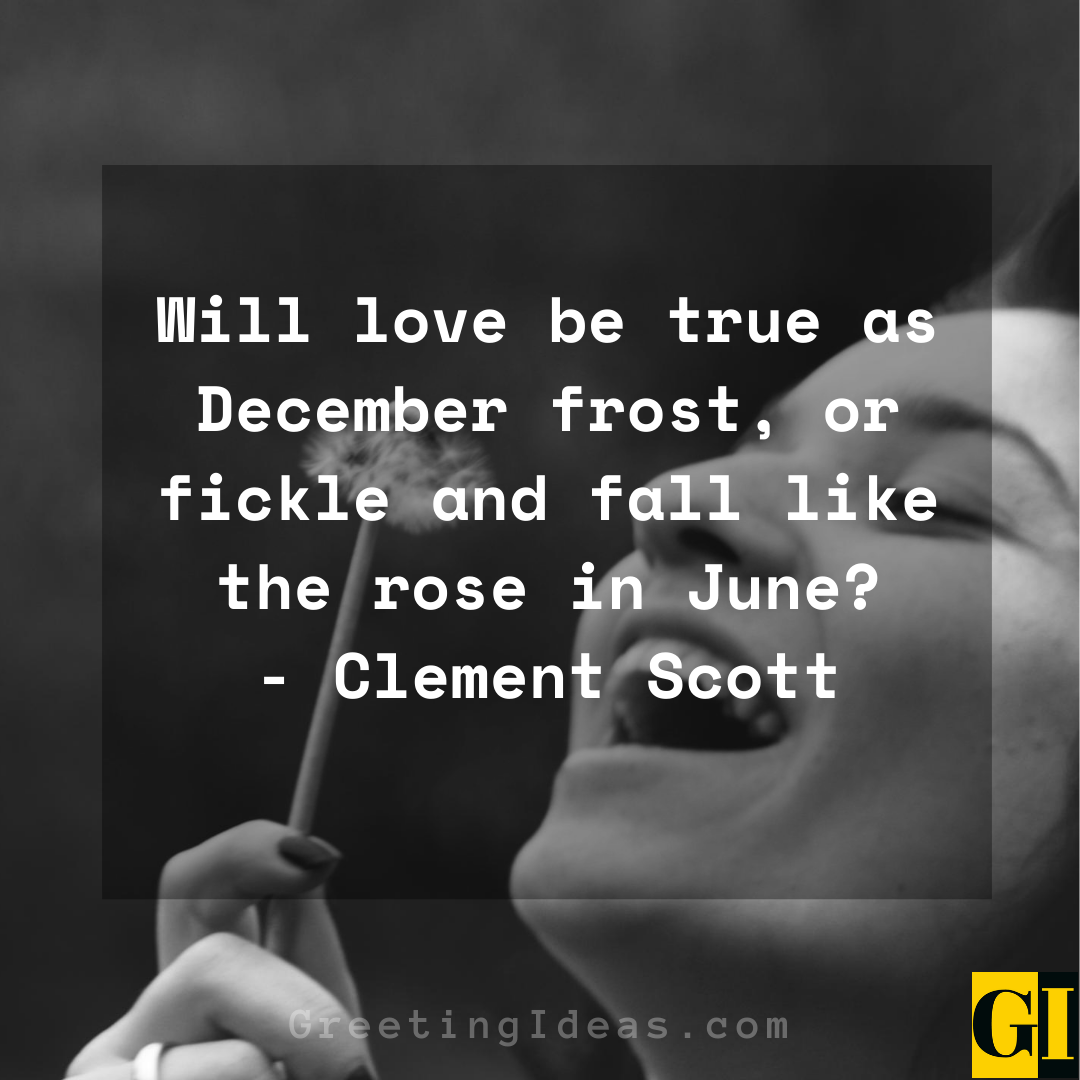 Also Read: 50 Insightful Accepting Change Quotes and Sayings
Through the small tall bathroom window the December yard is gray and scratchy, the trees calligraphic.
– Dave Eggers
As we struggle with shopping lists and invitations, compounded by December's bad weather, it is good to be reminded that there are people in our lives who are worth this aggravation, and people to whom we are worth the same.
– Donald E. Westlake
How did it get so late so soon? Its night before its afternoon. December is here before its June. My goodness how the time has flew. How did it get so late so soon?
– Dr. Seuss
A manager's job is simple. For one hundred sixty-two games you try not to screw up all that smart stuff your organization did last December.
– Earl Weaver
And last December drear, with piteous low-drooped head. In a voice of desolation crying out, The year is dead. And so, with changeful gear, with smile or frown or song, the months, in strange variation, are ever gliding along.
– Edgar Fawcett
God gave us memories so that we might have roses in December.
– James M. Barrie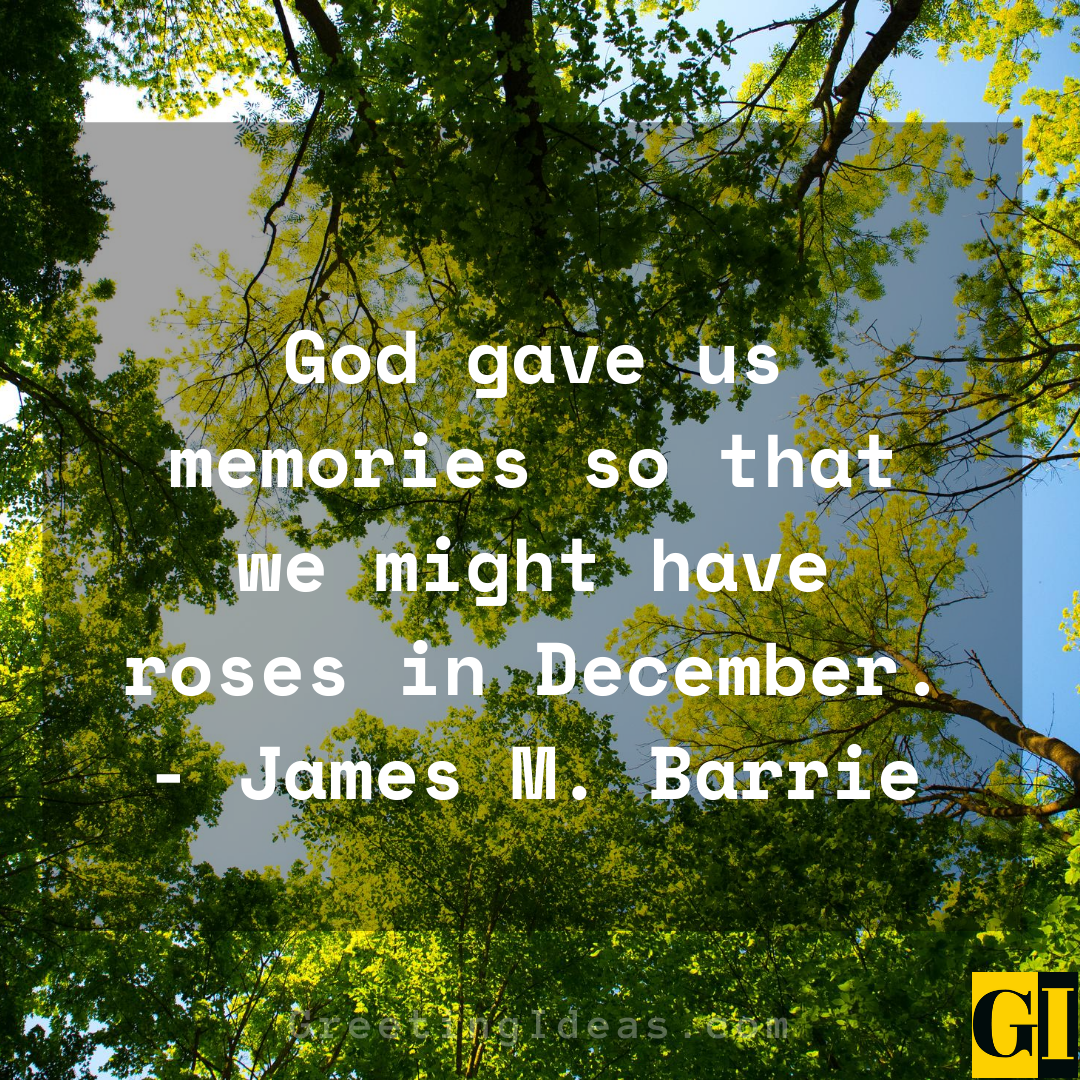 Also Read: 20 Aesthetic Orange Quotes, Sayings, and Phrases
There must be something ghostly in the air of Christmas — something about the close, muggy atmosphere that draws up the ghosts, like the dampness of the summer rains brings out the frogs and snails.
– Jerome K. Jerome
If the October days were a cordial like the subacids of fruit, these are a tonic like the wine of iron. Drink deep or be careful how you taste this December vintage. The first sip may chill, but a full draught warms and invigorates.
– John Burroughs
I have often thought, it happens very well that Christmas should fall out in the Middle of Winter.
– Joseph Addison
From December to March, there are for many of us three gardens – the garden outdoors, the garden of pots and bowls in the house, and the garden of the mind's eye.
– Katherine S. White
Every December, I host a tree-trimming party. I serve chili with cornbread and lots of good wine. It's a wonderful party, and it shows how much adults like to play.
– Maya Angelou
Wintry it ain't no complaints. Snowier. Storefronts are showier, light displays glowier. Shoppers are prowling, blizzard howling. Drifts a-heaping, lords a-leaping, yule logs burning, gifts returning. Winds are keen for 2015.
– Old Farmer's Alamanac
Funny December Quotes for Work and Holidays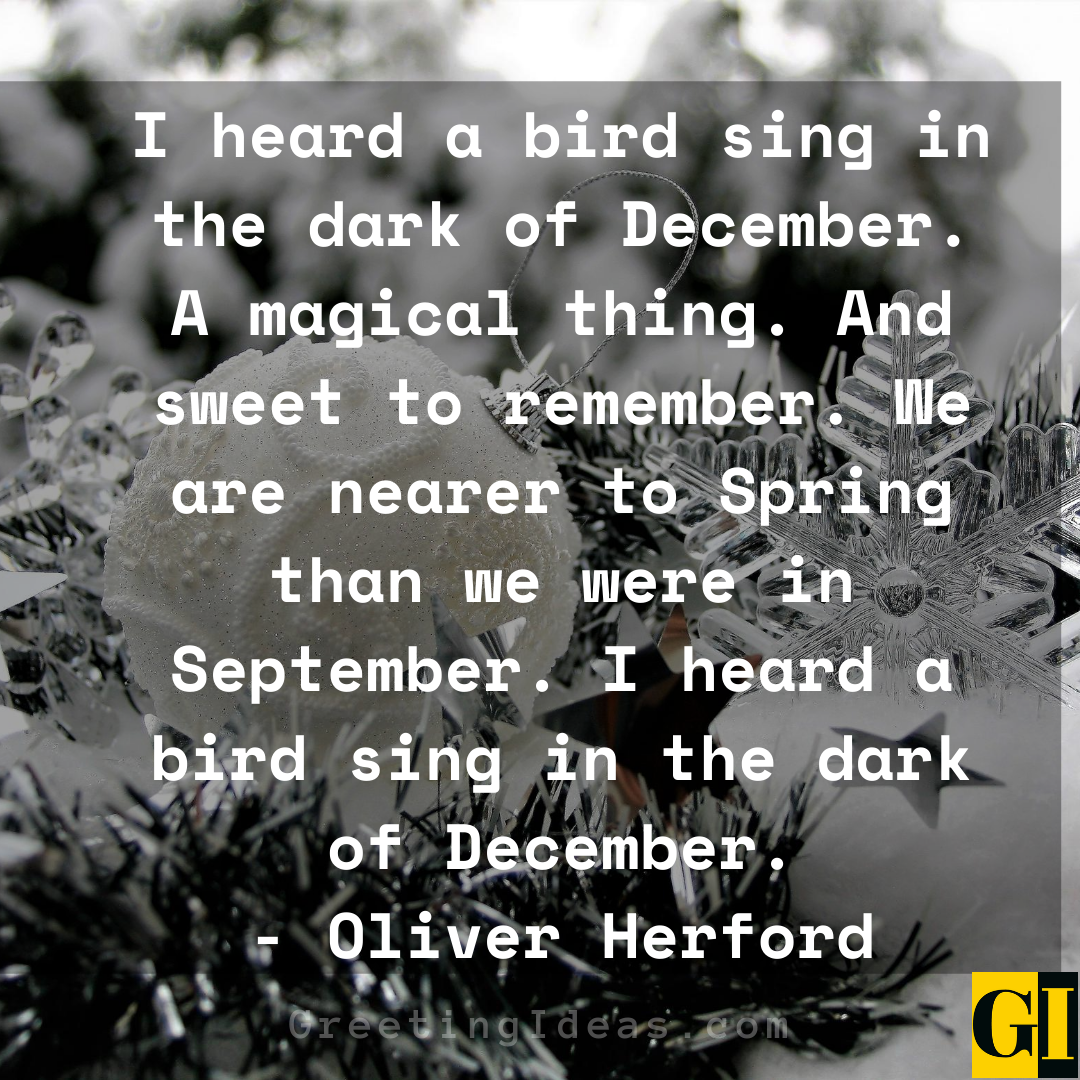 Also Read: 30 Motivating Adaptability Quotes to Embrace Change
I heard a bird sing in the dark of December. A magical thing. And sweet to remember. We are nearer to Spring than we were in September. I heard a bird sing in the dark of December.
– Oliver Herford
Christmas begins about the first of December with an office party and ends when you finally realize what you spent, around April fifteenth of the next year.
– P.J. O'Rourke
I wander forth this chill December dawn: John Frost and all his elves are out, I see, As busy as the elfin world can be, Clothing a world asleep with fleecy lawn.
– Robert Buchanan
He had waited a long time for this special December. Now that it was almost upon him, he wasn't frightened, but he was eager, he decided. He was eager for it to come. And he was excited, certainly. All of the Elevens were excited about the event that would be coming so soon.
– Lois Lowry
The gardening season officially begins on January 1st, and ends on December 31.
– Marie Huston
December is the toughest month of the year. Others are July, January, September, April, November, May, March, June, October, August, and February.
– Mark Twain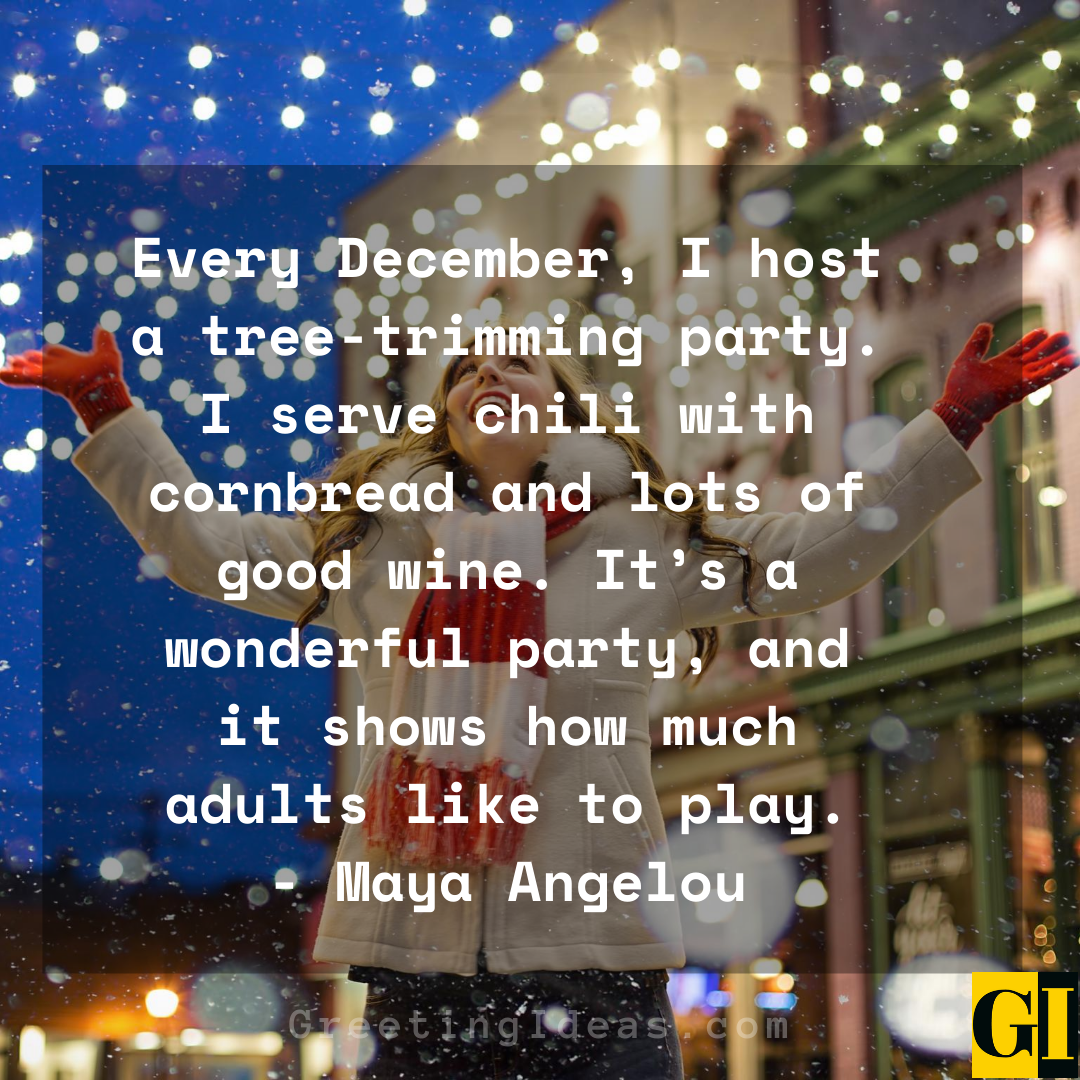 Also Read: 90 Motivating Seize the Opportunity Quotes and Sayings
But it's a long, long while From May to December; And the days grow short when you reach September.
– Maxwell Anderson
Herat, 8 December. What a day it was! God save me from any more adventures on a drained stomach.
– Robert Byron
It was December, I had never felt so cold, the eel soup lay heavy on my stomach, I was afraid I'd die, I turned aside to vomit, I envied them.
– Samuel Beckett
Come, come thou bleak December wind, And blow the dry leaves from the tree! Flash, like a Love-thought, thro'me, Death And take a Life that wearies me.
– Samuel Taylor Coleridge
Farewell, old year; we walk no more together; I catch the sweetness of thy latest sigh, And, crowned with yellow brake and withered heather, I see thee stand beneath this cloudy sky. Here in the dim light of a grey December We part in smiles, and yet we met in tears; Watching thy chilly dawn, I well remember I thought: thee saddest-born of all the years.
– Sarah Doudney
Interesting Waiting for December Quotes and Sayings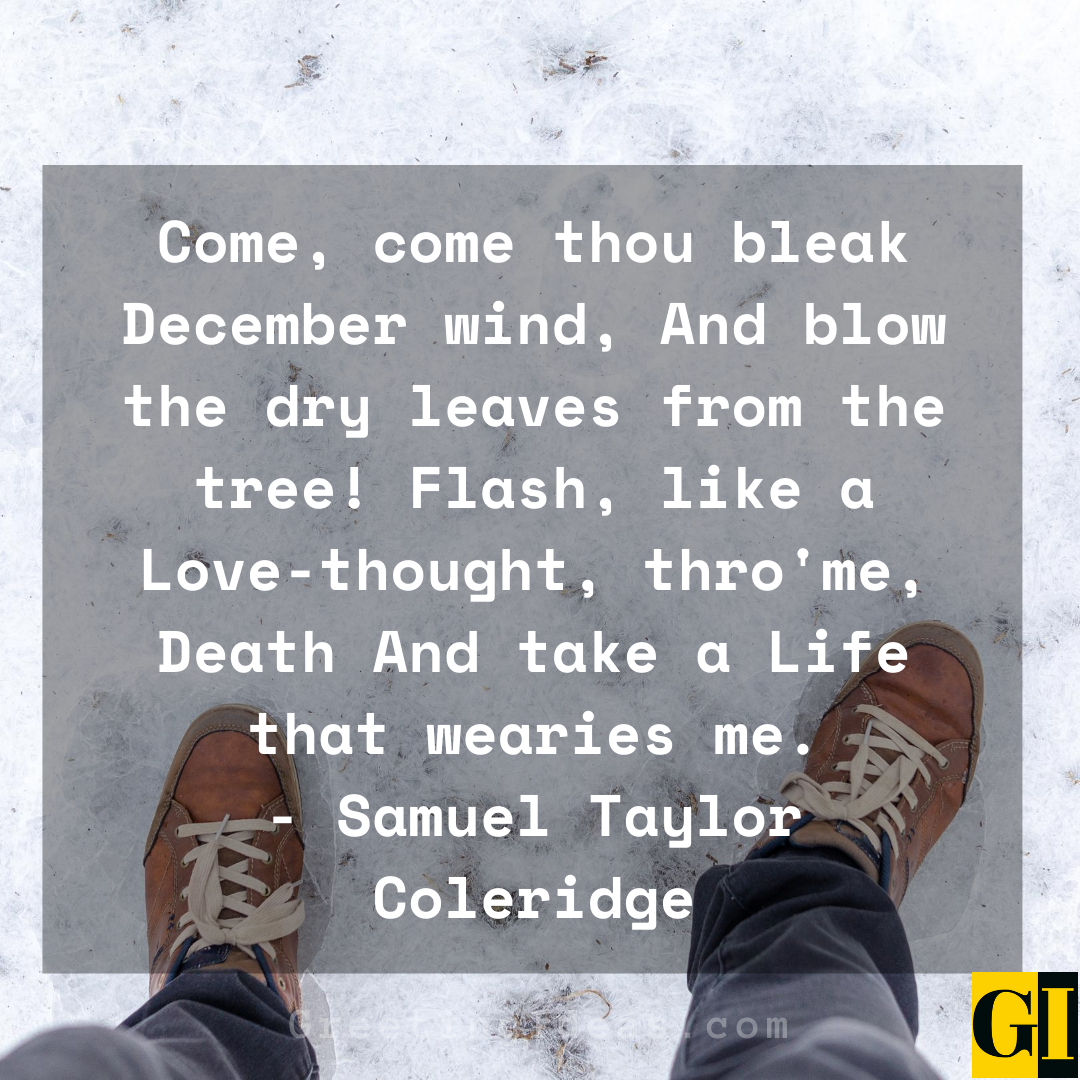 Also Read: 30 Best Addiction Quotes and Sayings for Self Healing
It is December, and nobody asked if I was ready.
– Sarah Kay
At Christmas I no more desire a rose Than wish a snow in May's new-fangled mirth; But like of each thing that in season grows.
– William Shakespeare
Men are April when they woo, December when they wed. Maids are May when they are maids, but the sky changes when they are wives.
– William Shakespeare
How like a winter hath my absence been. From thee, the pleasure of the fleeting year. What freezings have I felt, what dark days seen? What old December's bareness everywhere.
– William Shakespeare
What should we speak of when we are old as you? When we shall hear the rain and wind beat dark December? How in this our pinching cave, shall we discourse the freezing hours away?
– William Shakespeare
I remember, I remember how my childhood fleeted by. The mirth of its December, and the warmth of its July.
– Winthrop Mackworth Praed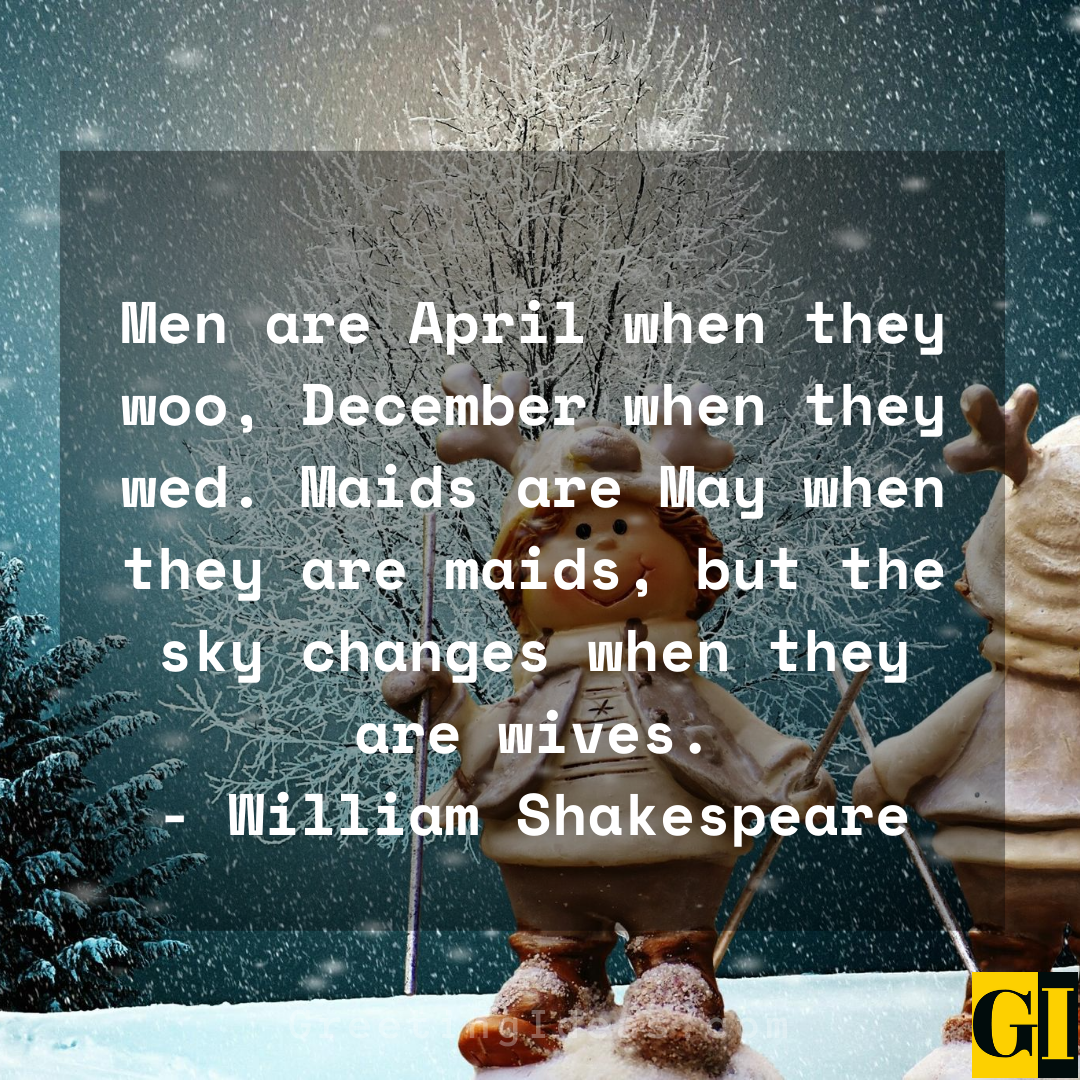 Also Read: 35 Best Openness Quotes and Sayings in Relationship
Spring passes and one remembers one's innocence. Summer passes and one remembers one's exuberance. Autumn passes and one remembers one's reverence. Winter passes and one remembers one's perseverance.
– Yoko Ono
If winter comes can spring be. We're nearer to spring than we were in September, I heard a bird sing in the dark of December, January, Febmar, aprimay, apricots, beneath the bough.
– Sylvia Plath
Full of certificates rolling back into the tree trunks, a few old papers flocking away. Someone we loved has fallen from our thoughts, making a little, glittering splash like a bicycle pushed by a breeze. Otherwise, not much has happened, we fell in love again, finding that one red feather on the wind.
– Ted Kooser
Ah, distinctly I remember it was in the bleak December And each separate dying ember wrought its ghost upon the floor. Eagerly I wished the morrow; vainly I had sought to borrow from my books surcease of sorrow – sorrow for the lost Lenore — For the rare and radiant maiden whom the angels name Lenore.
– Unknown
This is what I have heard at last the wind in December lashing the old trees with rain unseen rain racing along the tiles under the moon wind rising and falling wind with many clouds trees in the night wind.
– W. S. Merwin
Having contemplated this admirable grove, I proceeded towards the shrubberies on the banks of the river, and though it was now late in December, the aromatic groves appeared in full bloom.
– William Bartram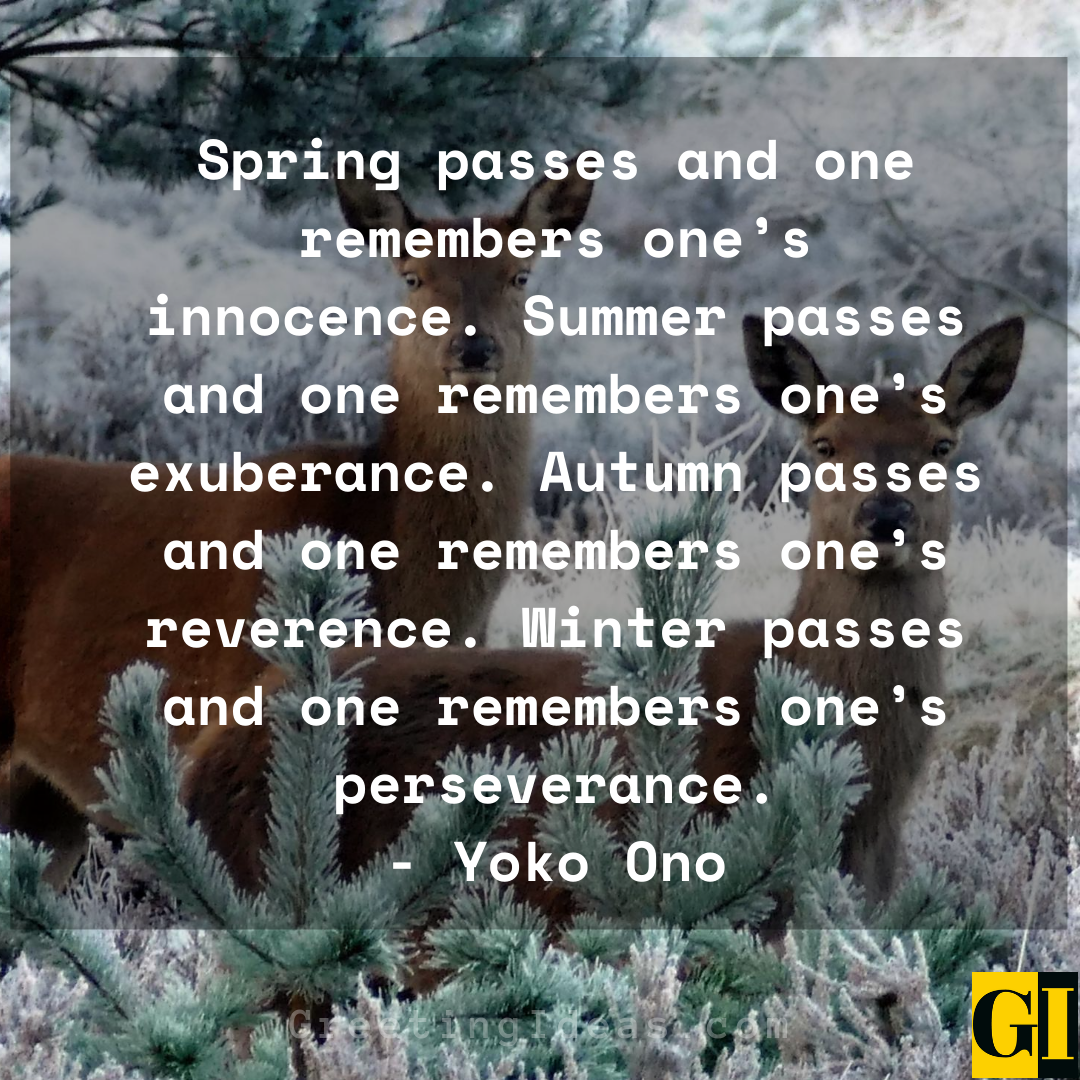 Also Read: 50 Inspirational Overcoming Obstacles Quotes and Sayings
We hope you enjoy reading our famous December quotes and sayings collection.
Share it with your loved ones and in social circles too.
Sharing is Caring!